Compliance vs Advisory Practice is the question. Everyone's talking about accountants moving away from compliance. They say the sweet spot is in business advice. However, how many are actually doing that? And moreover, how easy is it to become an Advisory Practice?
Calxa CEO, Mick Devine, remembers similar discussions at his first meeting as a newly qualified CPA 30 years ago. He says:
"Back then it was mostly just talk. The technology wasn't easily available to give clients up to date, relevant advice on their finances. But that has changed now".
How GST Changed The Landscape
One of the positive side-effects of the introduction of GST in Australia has been the requirement for your business clients to maintain updated accounting records. Reconciled books that are checked on a regular basis are now a reality. While, initially, this often just once a quarter or maybe once a month, the introduction of cloud-based accounting software has meant that your clients' accounts are now commonly updated daily. As an accountant and bookkeeper, having that data online also makes access easier for you. After all, it opens the door for you to provide useful management reports in a timely manner. The start of becoming an advisory practice.
Advisory Practice: What Does It Mean?
This article from Intuit What are advisory services and what do they mean for your practice has an great way of looking at advisory services.
"Taking client challenges and applying strategies to create opportunities in service to their growth."
This matrix gives you an overview how you can define advisory services and ultimately start your journey to an advisory practice.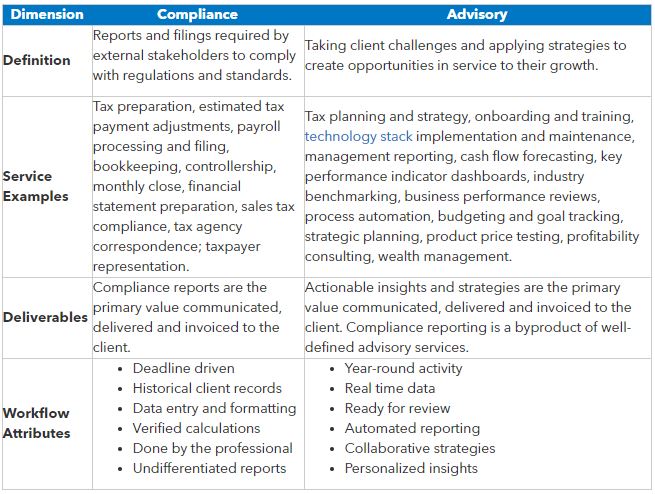 Starting The Conversation
Delivering relevant information to your clients is the first step in providing any sort of advisory service. Therefore, the conversation about what is happening in your client's business needs to begin with good information. Above all, data on what has happened and what the business plans to make happen is paramount.
Most accountants are already having advisory conversations with clients when it comes to tax and business structure. It's a small step from there to talking about the performance of the business and asking probing questions that lead to positive change.
Advisory Practice Tools
Reporting tools like Calxa make it easy to produce the information to measure and monitor what is happening in a business. Similarly, it helps automate your advisory practice to produce and deliver these regularly and simply.
But reports alone do not make you an advisory practice. They are just the catalyst for a conversation with your client. But, it's that conversation that will provide the real value.
Getting Started with Advisory Services
For tips on how to Start a Conversation with your Client, check out our three part blog and video series.
Taking Effort out of Production
Automating the delivery takes your effort out of the production. Foremost, it gives you more time for analysis and discussion with your clients. With Calxa, you can schedule delivery of monthly reports. Furthermore, you know that they will happen reliably month after month. As a tip, deliver a copy to your own inbox and to the client's so that you can have a conversation based on the same up to date information.
Pricing For The Advisory Practice
Calxa's pricing for accountants has been structured to facilitate the automation of your advisory practice services. Starting at $198 (AUD/NZD) per month for the first organisation, the price drops to $11 for each extra organisation. As your practice grows and you use Calxa for more of your clients, you can move up to the Premier 5, 50 or Premier 200 plans. Add as many of your colleagues to the subscription as it includes unlimited users. There is no minimum term, and you can move up and down at any time. This table will show you the economy point per client.
| | | | |
| --- | --- | --- | --- |
| Organisation | Monthly Price | Extra Organisation | Average Cost per Client |
| 5 | $220 | $11 | $44.00 |
| 20 | $385 | $11 | $19.25 |
| 50 | $660 | $11 | $13.20 |
| 200 | $1430 | $11 | $7.15 |
When you consider the time you will save and the value you provide to your clients with regular, reliable reporting, you'll quickly see a return on your investment.
See our pricing page for pricing in other currencies.
Getting Started As An Advisory Practice
If you are hesitant at making the move to the 'advisory practice' model, have a look at Calxa's entry level product Calxa Express. This article Calxa Express Adding Value to Your Practice has some suggestions on how to get started.