Budgeting to make business decisions, intelligently.
Save time budgeting, set up workflows to automatically sync with your financial data and send reports straight to your inbox.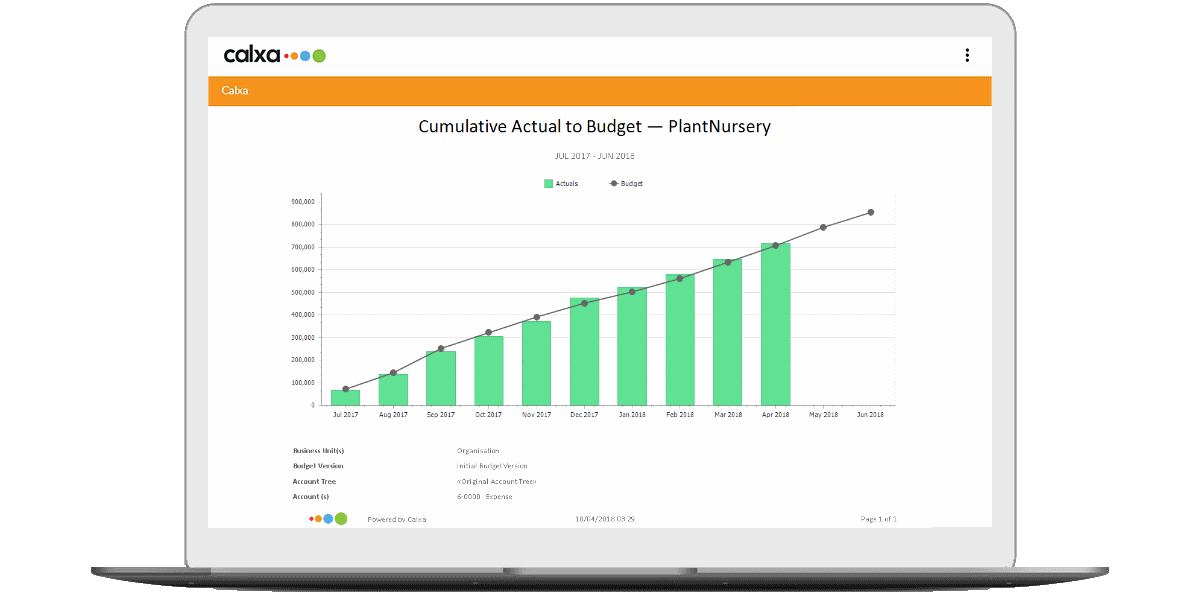 Budgets and business planning
What is a budget?
A budget is a highly detailed financial plan for the upcoming period. Budgeting identifies current available capital, provides an estimate of expenditure and anticipates incoming revenue.
A Business budget can often take weeks to formulate and is performed once— maybe twice— a year.
A business budget enables you to:
control the finances of the business
ensure that the business can fund its current commitments
track strategic objectives
Why is budgeting important for a business?
A carefully constructed business budget allows organisations to continually track their financial position. Budgeting helps with both planning and control of the finances of the business. If there is no control over spending, you may find you are circling your business goals but not actually achieving them.
Knowing your business budget can open up the ability to hire new staff, invest in new product lines and set earning goals in line with the organisations' strategic objectives.
Other benefits include:
The ability to set sales goals
The chance to open lines of credit
The ability to make decisions about salaries, bonuses, benefits and overhead operating expenses
The potential to attract investors
Easier tax preparation
A budget can make your business sustainable. It ensures that money is allocated to those things that support the strategic objectives of the business. A business budget can also help everyone understand the priorities of the business and restricts any spending that is not part of the plan.
By taking the time now to set a budget, you will free up time in the future and give yourself the best chance of achieving the rewards you want for your hard work.
Budgeting vs forecasting
Your budget is your planned revenue and spending. It allows you to allocate funds for specific purposes that you often know in advance. Consider preparing a budget quarterly or yearly.
A forecast may occur on a more frequent basis (often monthly). The figures used in the forecast predict past and current trends in your financial statements. A forecast can give you a more realistic measure of where your business is heading and can help you to avoid problems before they occur.
Cash flow forecasting is one of the most important forecasting tools for business and can also help you keep on top of your bills. It is very useful when seeking finance, as it shows lenders you have the capacity to pay them back.
Build Your Budgets
Whether you want to do cost center budgets or simply plan at the company level, our powerful budget builder can do it.
Import your existing budget or make your own.
Auto-budgets
The auto-budget option in Calxa is great for when you don't have time to give it much thought but need a full budget now.
Cut, Copy and Paste
Copy one or more rows and paste them to the same or another budget. Copy and paste a column to duplicate the budget for a month.
Export and Import
Sometimes you need complex calculations as part of your budget but often they relate to just a few lines.
Budget Builder
Budgeting from scratch but structured in a way that works for you.
Budget Manager
Need to copy or rename a budget? Lock a financial year? Delete a budget? The Budget Manager gives you the tools to do all of that.
Budget Factory
Creating Budget scenarios and drafts for next year.
Budget Reports
Track unspent budgets, re-forecast budgets, track budgets vs actuals and more. View our sample reports below.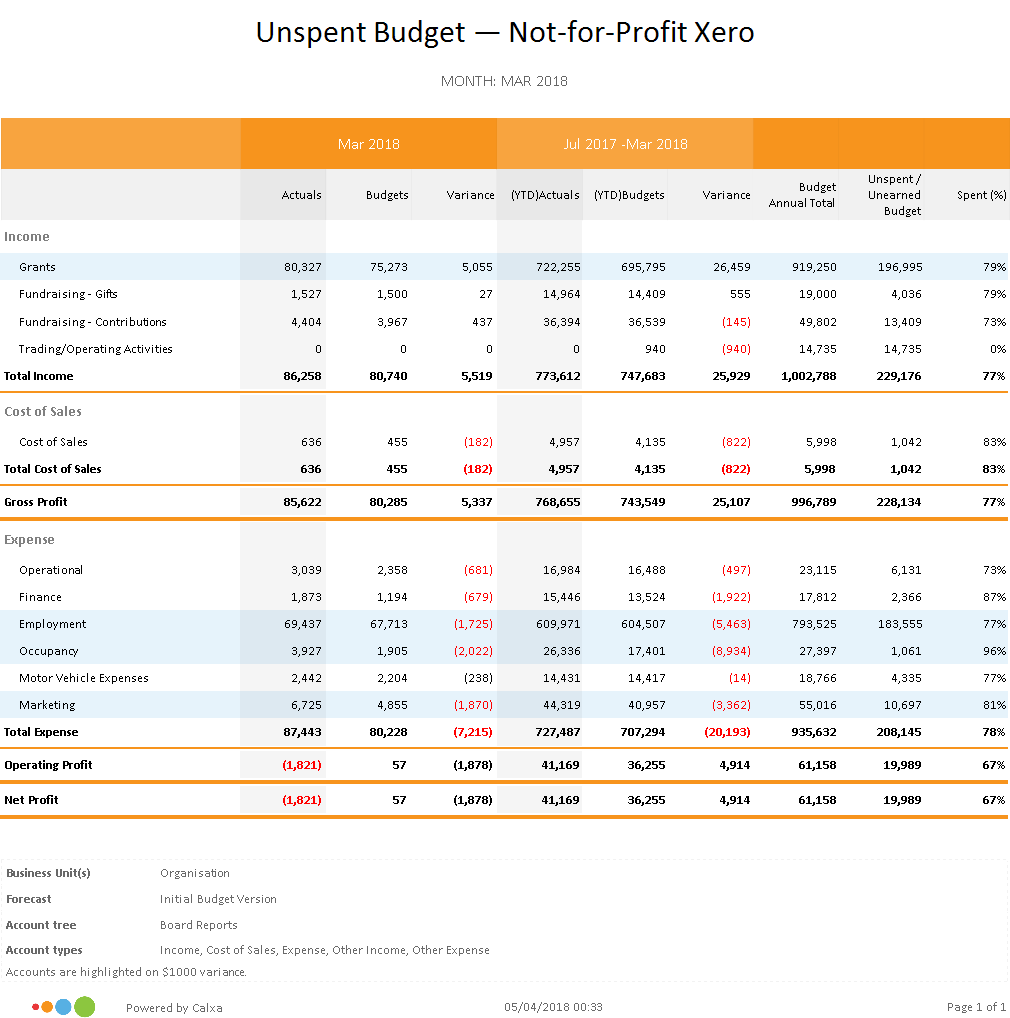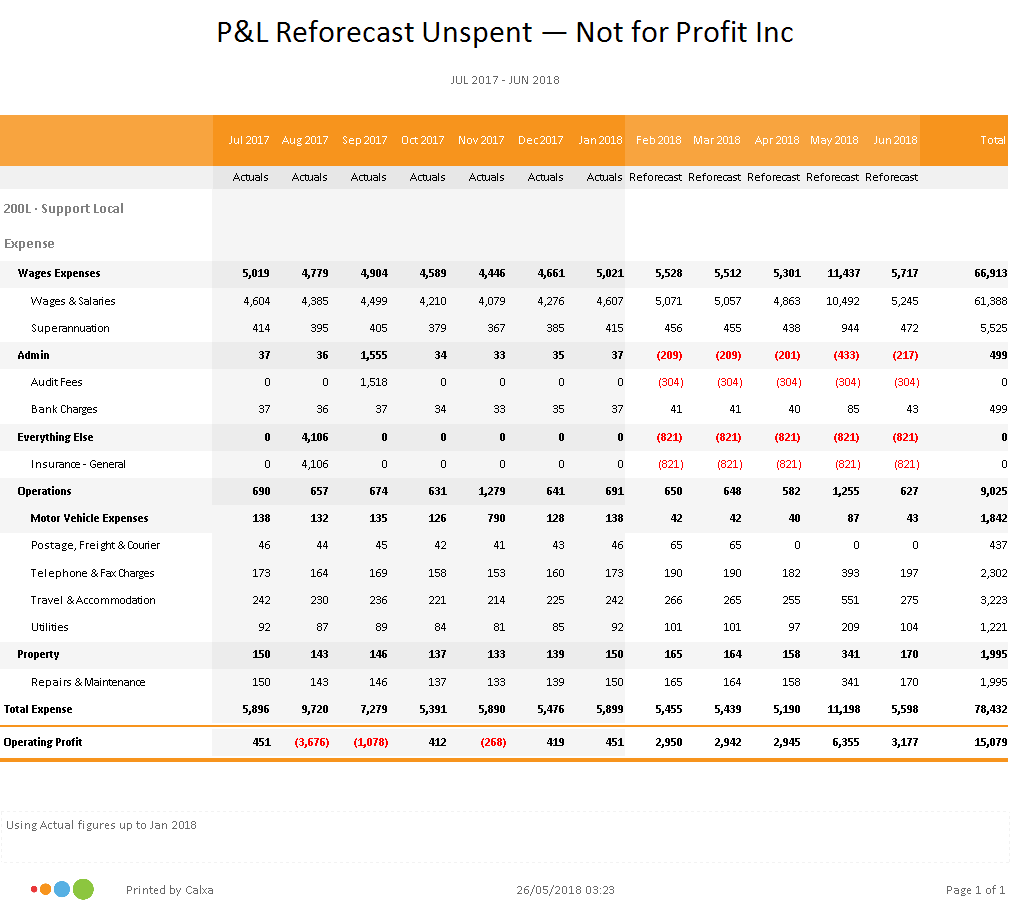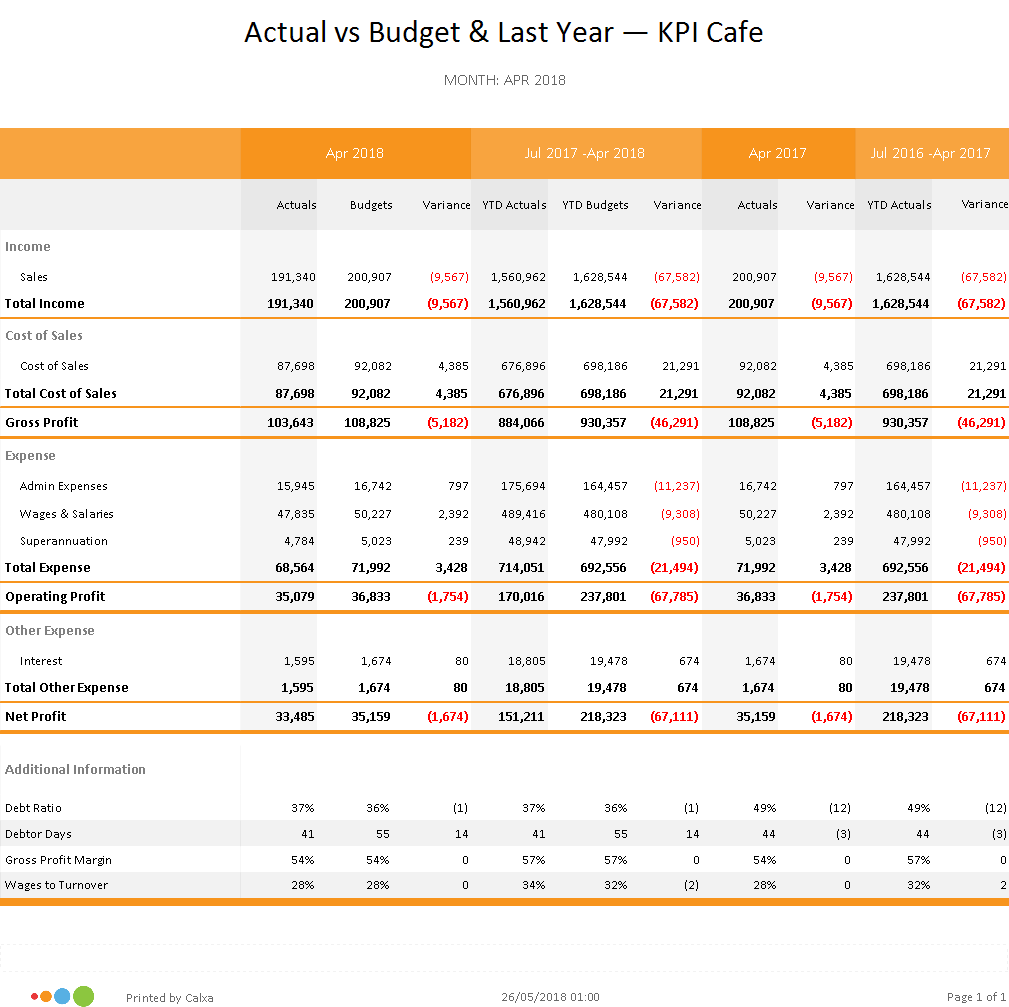 Reports and insights in minutes
We save you time by building your reports with data captured in your accounting software.
Quickly sync your data source (MYOB, XERO or Quickbooks Online) to Calxa.
Calxa Features
Set your business up for success and make better business decisions with Calxa's cash flow forecasting software. Create fast cash flow forecasts and reports that matter to your business.
KPI BUILDER & METRICS
Use the prepared a set of default KPIs or build custom KPIs to dive deep into the company data. Use non-financial metrics to monitor the drivers of performance.
Automate your cash flow reports
Use triggers to kick-start workflows that will automatically update your accounting data and deliver reports straight to your inbox.
Easily share and collaborate
Invite different stakeholders and advisors to share your workspace and collaborate with you. Use our Free Advisor feature to invite your accountant.
Visually spot cash shortages and surpluses
We make sense of your financial data by providing professional looking reports and graphs that help you quickly identify potential issues and opportunities.
Scenario and 'what if' modelling
Calxa helps you plan for future changes with 'what if' analysis. Easily create multiple scenario budgets and compare them side-by-side.
Multi Company Consolidations
Whether there are 2 entities in your group or 50, Calxa will help you produce a consolidated cash flow forecast and a full 3-way forecast.
How to run a Budget report in 3 easy steps
1. Connect your accounts
Integrate Calxa with your company's cloud accounting systems. Calxa works with MYOB AccountRight and Essentials, Xero and QuickBooks Online. Follow the few simple steps to connect your data to our software. Once inside, you can schedule daily, weekly or monthly updates, depending on your needs.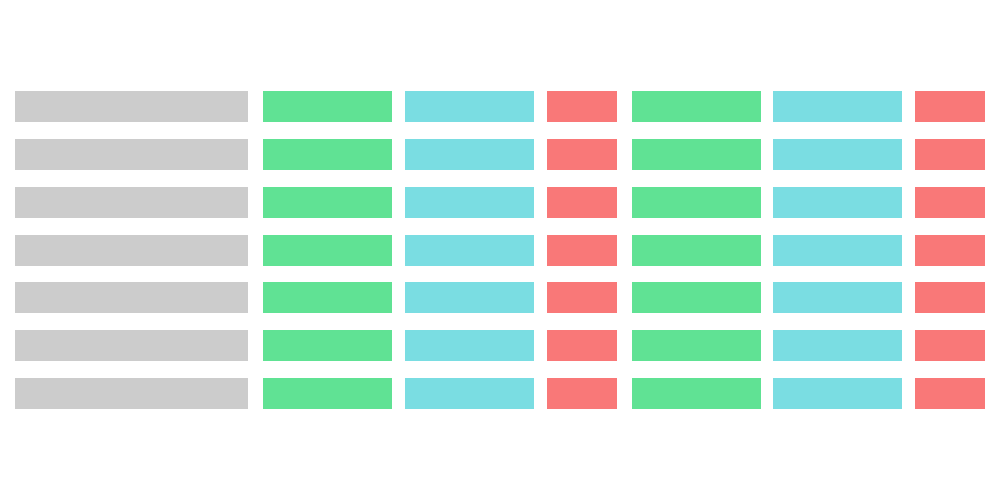 2. Build your budgets
We automatically create your first budget, or you can bring in your own. Import your existing spreadsheet or accounting system budgets. If you're starting from scratch, use the Budget Factory Wizard to create a quick first draft, then manage and fine-tune with our powerful Budget Builder.
3. Run your reports
Our report templates make it easy to create business insights in minutes. Choose from one of our 120+ report templates, or run a chart for an accurate visualisation of your budget vs actuals. Run you unspent budget report or re-forecast budgets monthly, yearly, or even a decade into the future. The choice is yours.
EASY TO USE APP WITH SO MUCH FUNCTIONALITY
Make business decisions intelligently with Calxa
Our Customers Love the Reports
Our Calxa app has grown from 18 years of customer feedback.

Marion Brown - MYOB Consultant, MBS Training Services
Without these forecasts, the bank would have shut them down – a terrible result for such hardworking clients.
Mark Norley - Owner, Punthill Enterprises Pty Ltd
I tried a number of products and found Calxa the easiest to use. Love the online help material.
Barbara Sapwell - Bookkeeper, Progressive Business
Am absolutely loving the Calxa program. The reports look great and the budgeting is so easy.
Frequently Asked Questions
Get in touch if you have more questions
What should I consider when creating a budget?
Creating, monitoring and managing a budget is key to business success.
Creating, monitoring and managing a budget is key to business success. It should help you allocate resources where they are needed so that your business remains profitable and successful. You simply need to work out what you are likely to earn and spend in the budget period.
Consider the following 3 questions:
What are the projected sales for the budget period?
What are the direct costs of sales?
What are the fixed costs or overheads?
Detail your expected revenue and costs in your budget.
How can Budgeting go wrong?
Most often, difficulties are rooted in ill-conceived choices of budgeting method.
There are two common approaches:
• Base-plus: simply take the prior year's actuals and make arbitrary adjustments. If the business is in a stable, perhaps even regulated, market, the approach has some validity. Unfortunately, with deregulation, falling trade barriers, and global competition, there aren't many businesses operating in such a static environment. The result is often a wildly inaccurate budget with little management commitment and little relevance to the strategic plan.
• Zero-base: takes the complete chart of accounts from the general ledger and asks each manager to predict figures for each line item. The result is that managers spend far too much time worrying about minutiae and making random guesses for line items about which they know very little. Again, the budget can be wildly inaccurate and irrelevant to the company's strategic goals.
So what are the options?
Some sophisticated techniques, such as activity-based costing (ABC) can provide dramatic improvement in accuracy, but only address isolated issues. While they may provide clarity in understanding overhead costs, they don't address budgets for sales, margins, cash requirements, and other important metrics.
Unfortunately, as a result of these shortcomings, senior managers can often throw up their hands and simply impose a budget on the organisation. That budget may relate well to the strategic plan, but its accuracy is questionable, and it will lack the commitment of managerial budget holders further down the organisational hierarchy.
How often should I review our budget?
Common business practice is to create a budget for the year and then not look at it again (until the end of the year when they are creating following years budget). Sound familiar? Because so few business owners actually make the time to review their budget over the course of the year, doing so may give you a huge advantage on your competitors. By making it a priority to do a mid-year budget review (or even better, a quarterly review) you are setting yourself and your business up for success.
Why do I need budgeting software?
Preparing a business budget can be complicated. Often, companies spend more time creating a budget than analysing it. By integrating the budgeting process across the organisation, it can be relatively easy to identify and eliminate mismatches.
Best-practice business budgeting requires a solution that provides:
flexibility to accurately model your business,
can cope with multiple users and
adapts easily to rapid change.
One advantage budgeting and forecasting software has over spreadsheet-only budgeting is the ability to create "data trees" and consolidate data across an organisations financial and operational landscape. Calxa can easily create profit & loss statements categorised by department. Balance sheets and cash flow statements can be created and consolidated. Finance departments can deliver polished presentation-style reports as well as effectively drilling down to the transaction details of the reports. These reports help departments track sales goals and expenses. Results can be easily incorporated into the businesses overall cashflow projection, enabling high level forecasts of profits and losses.
What do I need to get started with Calxa?
Calxa works in the cloud. All you need to do is sign up for a free trial online. You will then be prompted to connect to your QuickBooks Online, Xero or MYOB data. Then you are ready to go!
RECENT BUDGETING ARTICLES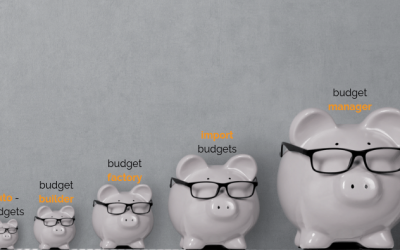 5 Ways of budgeting made easy walks you through the steps of doing your budgets in the Calxa app. Essentially, Calxa is an alternative to preparing budgets in a spreadsheet. If you are looking for ways to make your business budgeting easy, read on. It Doesn't...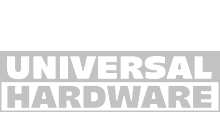 Try Calxa Free for 30-Days
Calxa is the leading financial reporting software for businesses, not-for-profits and accountants. Integrate seamlessly with your Xero, MYOB or QuickBooks Online cloud accounting.