Do you need reports for multi-company consolidations? Calxa gives you a way to do just that. Consolidating reports for several companies can be quite daunting and time consuming. On top of that, it's difficult to track what reports will be needed. To help you, we've identified 6 top reports that will provide you a clearer picture of your organisation's accounts to simplify the consolidation process.
Multi-Company Consolidations with One Click
Before we get started, you're probably wondering how you can access these reports. Within Calxa, you can schedule monthly emails containing your reports. Alternatively, you have the option to send it to your email at the click of a button.
1. Cost Centre Comparison
Sometimes the easiest way to make comparisons is to view companies side-by-side. This report allows you to compare multiple companies across multiples columns. Seeing each company side-by-side with total to show the whole picture of the multi-company consolidation. If you would prefer your report to be less detailed, the Account Trees feature can group and re-order income and costs while maintaining the integrity of your report.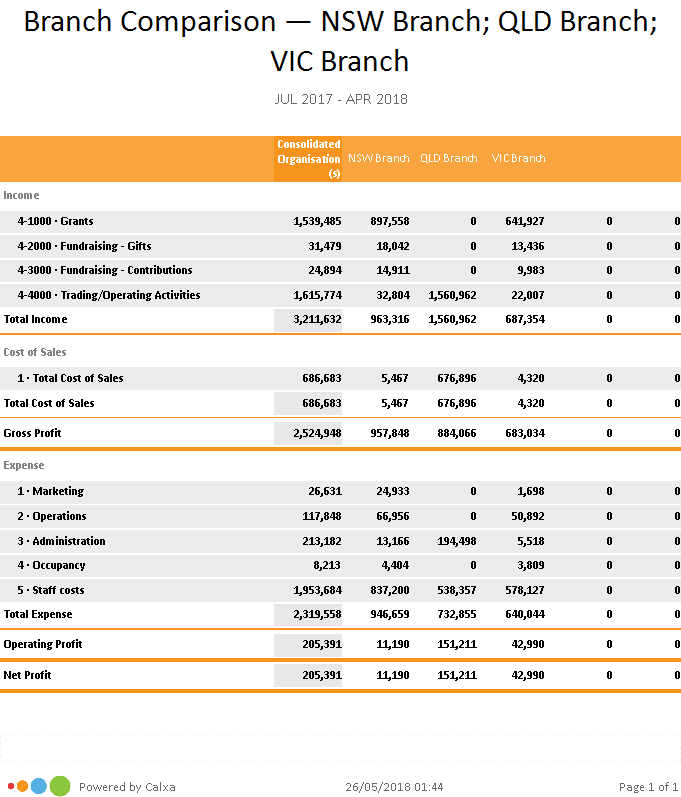 2. Cost Centre Summary
It is important to be aware which of your entities are profitable and which areas need addressing. You can use the Cost Centre Budget Summary  to give you a simplified list of organisations (one line per organisation). This report is a great way to get a snap shot of your multi-entity consolidations. The Report Designer feature gives many options on the columns you can feature and offers alternative display modes. Simply put, you can add or remove columns to suit your needs.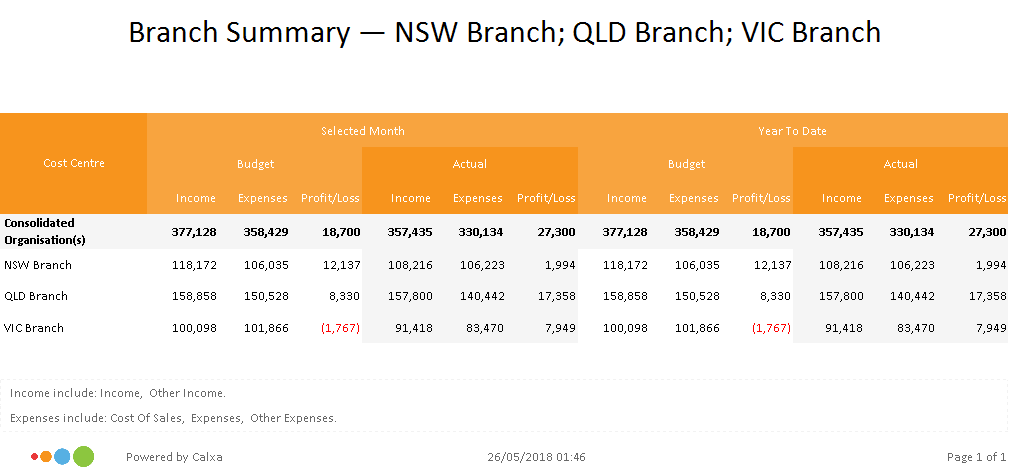 3. Cashflow Forecast
Cashflow is crucial to success. Forecasting cashflow allows your organisation to examine different scenarios and evaluate the effects of cashflow. This feature simplifies the decision-making process (especially for anyone who isn't an accountant). Spreasheeting a multi-company consolidation cash flow forecast is probably one of the more time-consuming tasks. You will find it so much easier with Calxa.
4. Profit & Loss
With Calxa you can optimise the Profit & Loss spreadsheets report to display KPIs: these reports can include built-in KPIs as well as any other you wish to customise.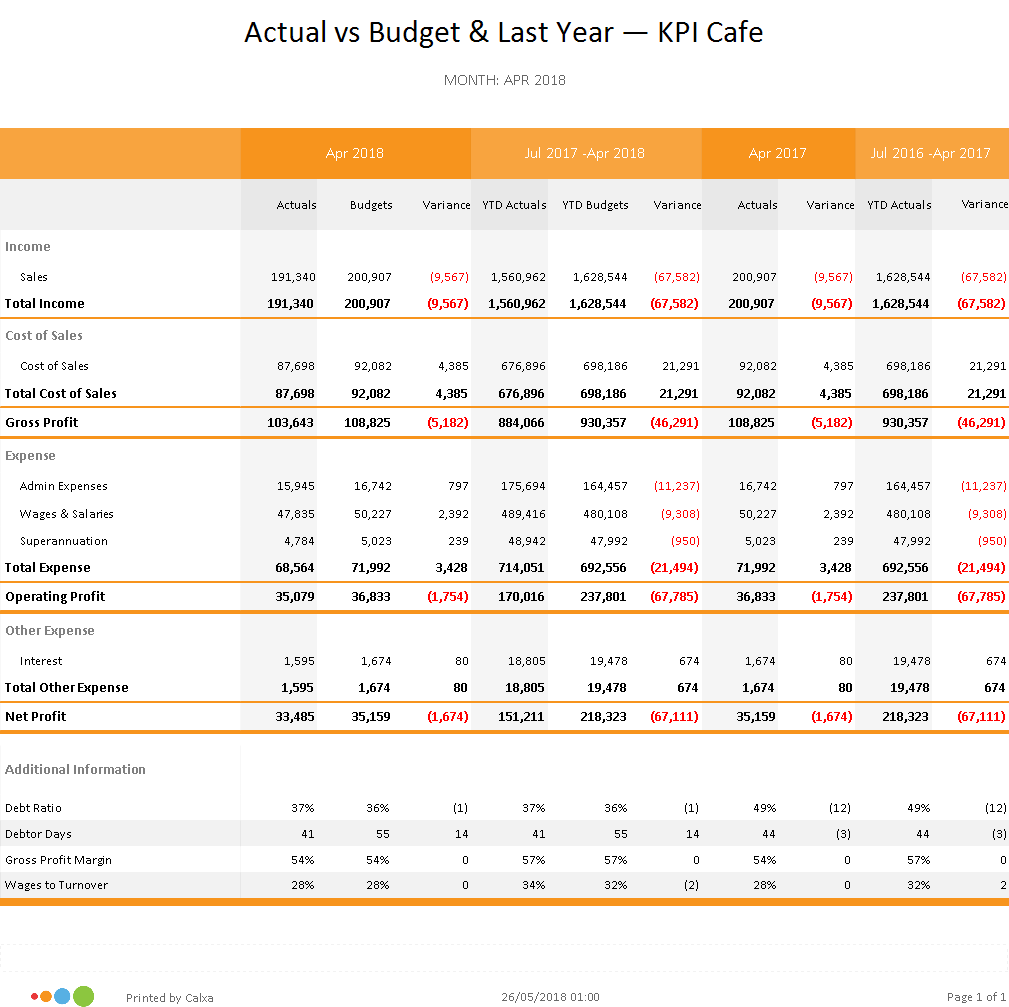 5. Bank Movement Waterfall Chart
Business owners and managers love to see the movement of funds through the business and the Bank Movement Waterfall Chart is a great way to do just that. The chart visually represents the cumulative effect of the positive and negative movements of your bank balance. Run at different levels, using Account Trees to group your accounts, to get a clear view of what's driving your organisation.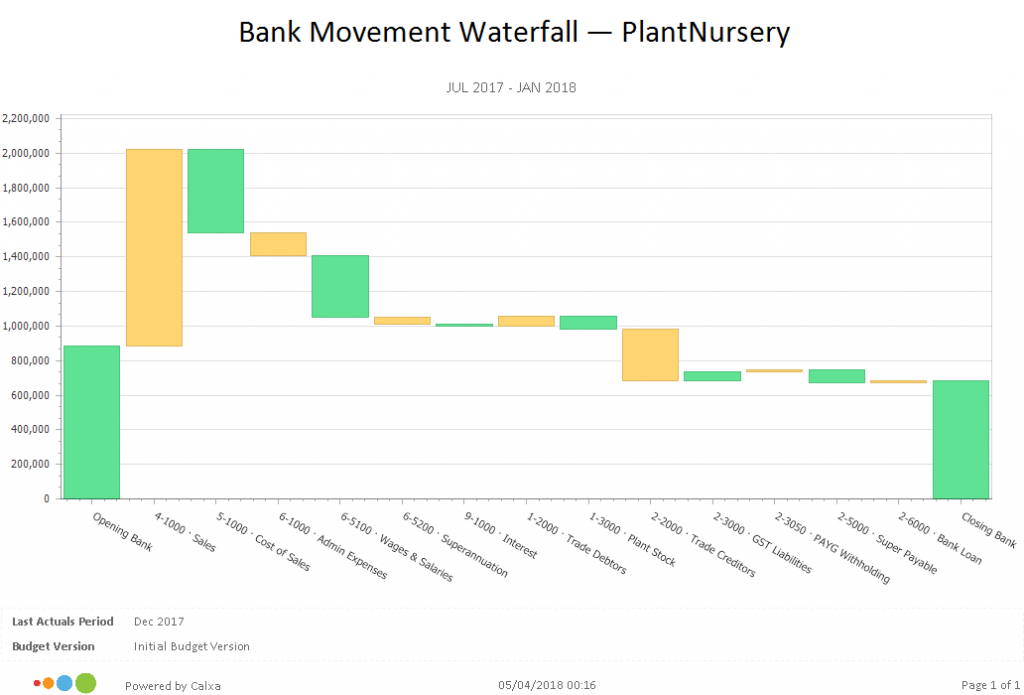 6. Detailed Consolidated Reports
OK, so this one isn't a report, it's the Report Bundle. By simply adding the individual reports into a Report Bundle, you have an automated multi-entity consolidation report. This can be done with virtually any report in Calxa, from financial statements to budget comparisons, to balance sheet or cashflow forecasts. Choose from the many templates available or alternatively create your own Report Bundles. Then schedule or manually send Report Bundles to your email as preferred.
Getting Started with Multi-Company Consolidations
So there you have the 6 reports (well, 5 reports and 1 Report Bundle) we recommend for anyone creating reports for multi-company consolidations. They can provide you with the insights you need to analyse your companies' financial performance and make informed decisions for the future. Multi-entity consolidations can be tricky. We encourage you to try these reports to simplify the consolidation process. See how Calxa can help your small business.