When talking to many of our accounting partners, it often comes up in conversation that the two things that a lot of clients are most worried about are; how much tax they will have to pay, and how much money is (or isn't) in their bank account. Calxa is a great tool for cashflow forecasting, thus helping with the 'money in the bank' question, but have you wondered how Calxa can help you in your tax planning?
Well, we thought we would give ourselves a challenge, and see if we can solve one part of the tax planning equation within a minute.
Tax planning usually involves three steps;
Forecast the business profit position to the end of the financial year,
Work out how the profit is to be distributed to individuals, and the tax implications for each individual, and
Provide strategies for tax minimisation.
Whilst Calxa can't help you with steps 2 and 3, it can certainly assist you in the first step of this process.
With client files now easily accessed through various online platforms, we are assuming that any recoding of transactions is done regularly and the file is reconciled and up to date (as part of monthly or quarterly BAS preparation/GST Returns).
So, if we were undertaking tax planning after completing the third quarter BAS for example, we can easily bring through the actuals into Calxa for the first nine months with the click of a button.
We can then forecast out the remaining three months, using the prior years data and apply, say a 5% increase, again with the click of a button.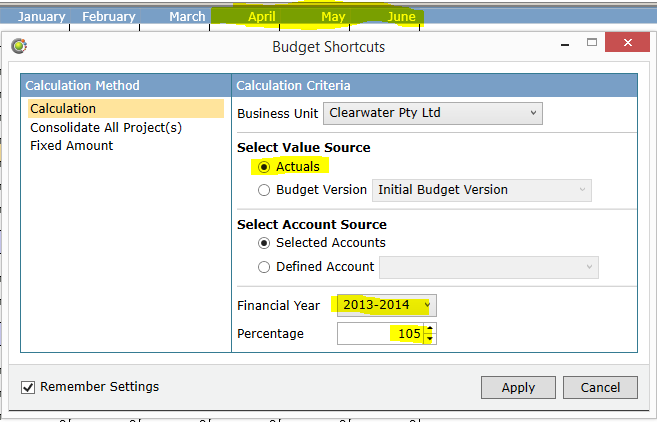 This will then fill our budget (or projection) with 9 months of actuals, and 3 months of forecasts. Various accounting adjustments can then be manually entered into the June period. This can include such things as opening and closing stock figures, amortisation and depreciation estimates, profit on sale of assets, or reversing out non-business related values. And we can manually change any of the others accounts, rather than simply using 105% of the prior year actutals, if the client is able to give us more guidance on the current trading environment.


Notes can be entered against these estimates simply by right clicking the cell and entering a comment, which is useful for providing a reference back to workpapers, or other associated notations.

A 12 month Spreadsheet Profit & Loss Report can then be generated, using Actuals for the first 9 months, and budget (or forecast) for the last 3 months.

And you can also include a report for the Notes you have entered against individual cells in the budget screen, which will provide details on any assumptions that have been made on various accounts.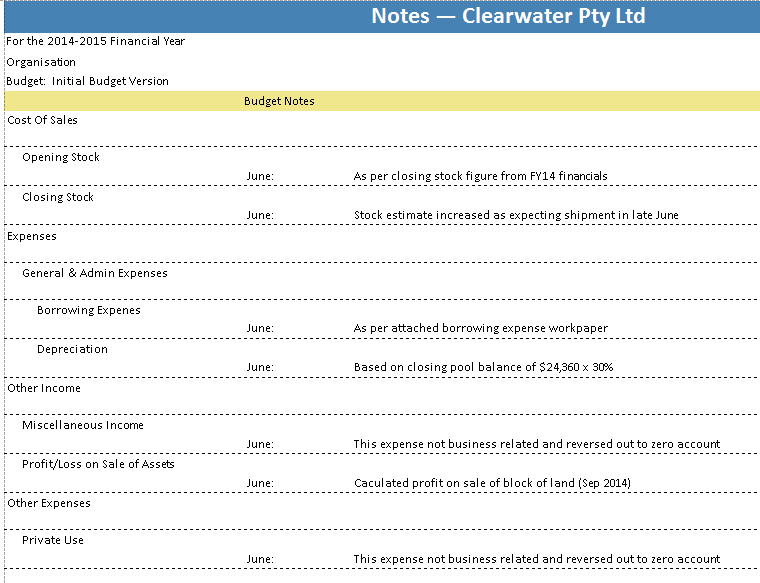 And, as an additional suggestion, you could create a Report Bundle and call it Tax Planning – Client A, which will enable you to simply print out the projections and associated notes with one click of a button.
In the example above, we have been able to create and produce a tax planning set of numbers and associated notes, within one minute. This is obviously a simplistic version, and you still need to have your associated calculations for various accounting adjustments done separately in other workpapers. But we think that for this type of business, and assuming that the accounting data is in good order and the appropriate ledger accounts have been set up, then this could be readily achieved within 15 minutes.
So, let's assume that you charge $900 for a tax planning job, with the breakdown being;
$300 for calculating the business profit position
$300 for calculating the profit distribution to the individuals, and associated tax implications, and
$300 for providing tax minimisation strategies.
If the first part of the job has taken 15 minutes, of which you are charging $300, then you have effectively been able to charge your services out at $1200 per hour. Food for thought?
We do not pretend that we know anything about tax – that's your job. But we do like dealing with numbers, and using numbers that are accurate and have integrity for doing such things as complex forecasting. So, why not add another tool into your toolkit, which may just help you put together the pieces of the tax planning puzzle. Give it a go with one of your client data files, and try it out for yourself; we think you will be pleasantly surprised with the result.