Many of our customers work with companies in different countries and therefore different currencies. From early June, you will be able to consolidate those companies in Calxa using a full multi-currency consolidation. This is in lieu of the current simple company rate method. We will provide average and closing rates for past periods. You can override those rates if you wish and set your own rates for future periods.
Currencies
We will identify the currency used for each entity from the accounting system. After that, you will be able to set a base currency for the workspace. Then, all other currencies are entered against that. We pre-populate historical rates for most currencies with data from the European Central Bank. It will use an average rate for P&L calculations and the monthly closing rate for the end of month balances. You have the option to override these rates to match the actual rates used in your business.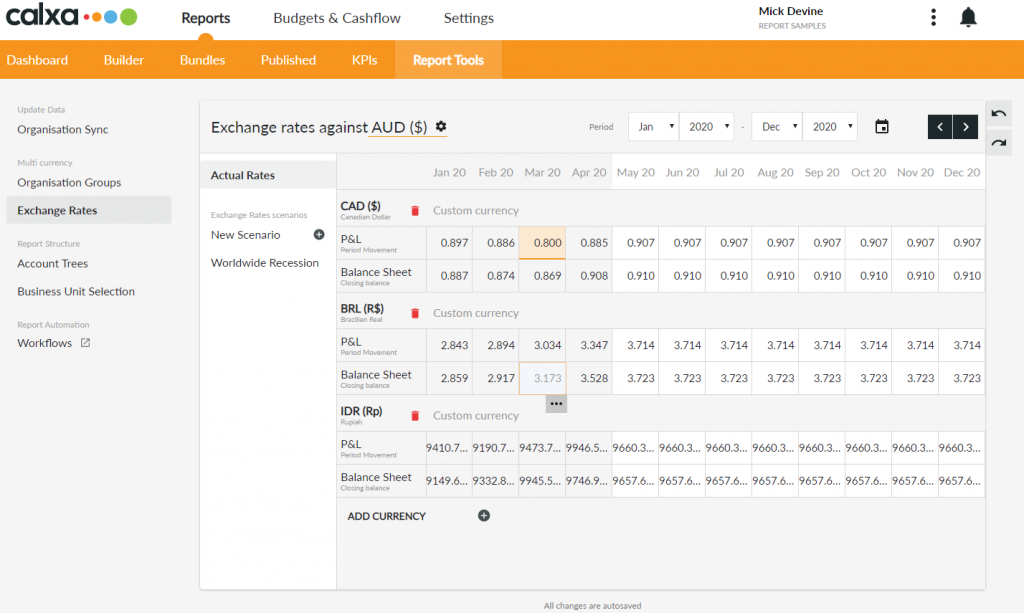 Multi-Currency Scenarios
As with budgets for the future, you may want to look at multiple exchange rate scenarios. For example:
What if the AUD-USD rate drops to 50c?
Or rises to parity?
For many international businesses, even small fluctuations can have a big impact on the profitability of a group. This is why it makes sense to plan ahead for different scenarios. Create as many scenarios as you need to manage the future for your business.
This new feature will make Calxa Multi-Currency Consolidation well suited for groups of companies and franchises trading globally.
Calxa Multi-Currency Consolidation Reporting
When running reports for your multi-currency group, create an Organisation Group with the settings you need. Consider creating as many Organisation Groups as you need for flexibility in your reporting. Regardless of the base currency you have set, or the currencies in each organisation, you can choose any currency for reporting purposes.
For example, you could have one company in CAD (Canadian Dollar), one in BRL (Brazilian Real), another one in AUD (Australian Dollar) and report in CAD. The choice is yours.
Almost all reports in Calxa (except a handful where it doesn't make sense) can be consolidated. You can look backwards at P&L and Balance Sheet and compare to budget.  Or, you can look forward with a full 3-way forecast of cashflow, balance sheet and P&L. See our Top Reports for Multi-Company Consolidations for some examples.
To get started with multi-currency consolidations, have a read of our Best Way to do Group Consolidation Reporting article.