We call it Calxa Unplugged. It means that Calxa now works without a connected accounting system. It's a combination of creating the structure manually and bringing in some from an Excel Spreadsheet.
After many years (did we tell you it was our 10th birthday this month?) of promoting the benefits of linking your reporting and cashflow forecasting tools to your accounting system, we have responded to many requests. So, finally, we have added the option to use Calxa independently. Use Calxa as a standalone version to add a manual organisation with Actuals imported from a spreadsheet.
How to Get Started with Excel Spreadsheet Integration?
When you add a new organisation, you will see the familiar options to connect to MYOB, Xero or QuickBooks, but also a 'Create My Own' Excel option to get you started:
Choose the manual option and we will create the organisation with a basic chart of accounts, as a starting point for you to build it further from there.
During the setup process we will ask you what accounting system you are getting your data from. That is not just because we are curious. We want to gather some data on the most commonly used systems. This will help us later to implement a Trial Balance import for those systems. Or, maybe even a full integration.
Once you have expanded on your chart of accounts, add your business units if you need that level of detail.
Now you are ready to enter budgets and actuals. You can import either of these from your Excel spreadsheet
Account Setup
The accounts we provide you with are mostly those we need to populate the Cashflow Settings. If you are matching an existing system like an ERP system, feel free to re-number or re-name them.
You will find the chart of accounts editor under Settings, Organisation Settings.
When you enter the accounts, they are just a flat list with no hierarchy. You can put some structure to them using Account Trees. Of course, you can use Account Trees to add multiple structures for different needs.
If you have a GST/VAT type tax in your country, nominate an appropriate tax code for each account. This ensures Calxa can calculate your tax correctly. After that, you can manage the timing in the Cashflow Settings.
Business Unit Setup
Whether you call them business units, branches, cost centres, departments or programs, you can add them in under Organisation Settings.
The structure is simple with just a name and number needed.
You can then create Business Unit Selections to group and summarise them in your reports.
Once you have them set up, you'll be able to budget by business unit and then consolidate them to the organisation level.
Budgets & Actuals
Under Budgets & Cashflow you will find Budgets & Actuals. Here you can enter budgets by account and by business unit if you are using these. As always, you can add budgets for up to 20 years ahead. Use the selector in the grey bar to switch between Budget Versions and Actuals.
As you enter Actuals, we will display an out of balance amount in the top row. This highlighted discrepancy will help you get the accounting integrity right.  We know some people will be using this just for an extra P&L budget. In this case, the out of balance amount  won't matter but if you're reporting on balance sheet or cashflow, it's important to get this right.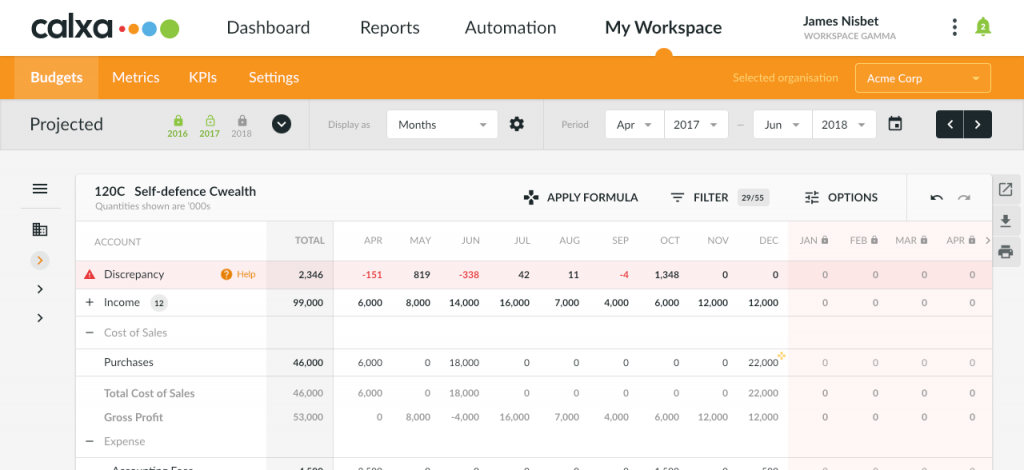 Importing Actuals
We mentioned Excel spreadsheet integration, didn't we? You will find that importing Actuals works exactly the same as importing budgets. We suggest first doing an Export which you'll find under Budget Tools. The export will provide you with the structure so you can populate the spreadsheet and then import it.
Why use Calxa's Excel Spreadsheet Integration?
Talking to our customers and prospective customers over the years, we have heard many good reasons for using Calxa with a spreadsheet. We've listed 7 examples but there are already more and the limit is your imagination and whatever your business needs!
Reporting from Xero, QuickBooks and MYOB has enabled us to reach many people over the past 10 years. While these systems work a treat for many businesses, there are many others that have more complex needs and are using other accounting systems. While those systems may be good at managing operational needs and give you detailed views, they often lack necessary management reports. In particular, they are missing a good cashflow forecast.
If we can help you improve your reporting, sign up for a free trial and check it out.