Management Reports for not-for-profits are the basis of good decision-making. With the NFP sector moving towards consumer directed funding, reporting at both the board-room and management level has now become more than just an exercise in advising how grant money was allocated to cover costs in the last year.
Preparing reports that provide the recipient with data that they can both understand and utilise to make sustainable and profitable decisions has now become an imperative. Selecting which reports are required is not always an easy task. Some recipients won't possess the financial literacy required to make sense of complex financial statements.
Getting the Mix of Reports Right for Not-for-Profits
When collating financial reports it helps to understand the recipients and their end use requirements. When selecting the reports make sure to consider:
A mix of different formats
Summarised versions for the financially illiterate and more detail for the accountant in the room
Use of charts for example, to provide data at a glance
As with most things, the first impression can sometimes be the strongest and most engaging and in turn lead to more effective decisions – so go for impact
Mixing charts with numerical reports can be a simple and effective way of gaining a higher level of financial response. It also helps with engagement and ultimately results in better outcomes for all.
7 Reports for Not-for-Profits that "Talk"
Keeping with the idea of reports that say something, here is a list of reports. They all contain features which should be considered when delivering information that could affect the sustainability of an NFP organisation.
1. Budget Summary Report (with Unspent Budget)
This is a handy report when reviewing progress on a project or grant funded activity. Having such data early in the cycle can avert disaster and allow decisions to be made BEFORE overspending can occur. This report can be at either the organisation or business unit level.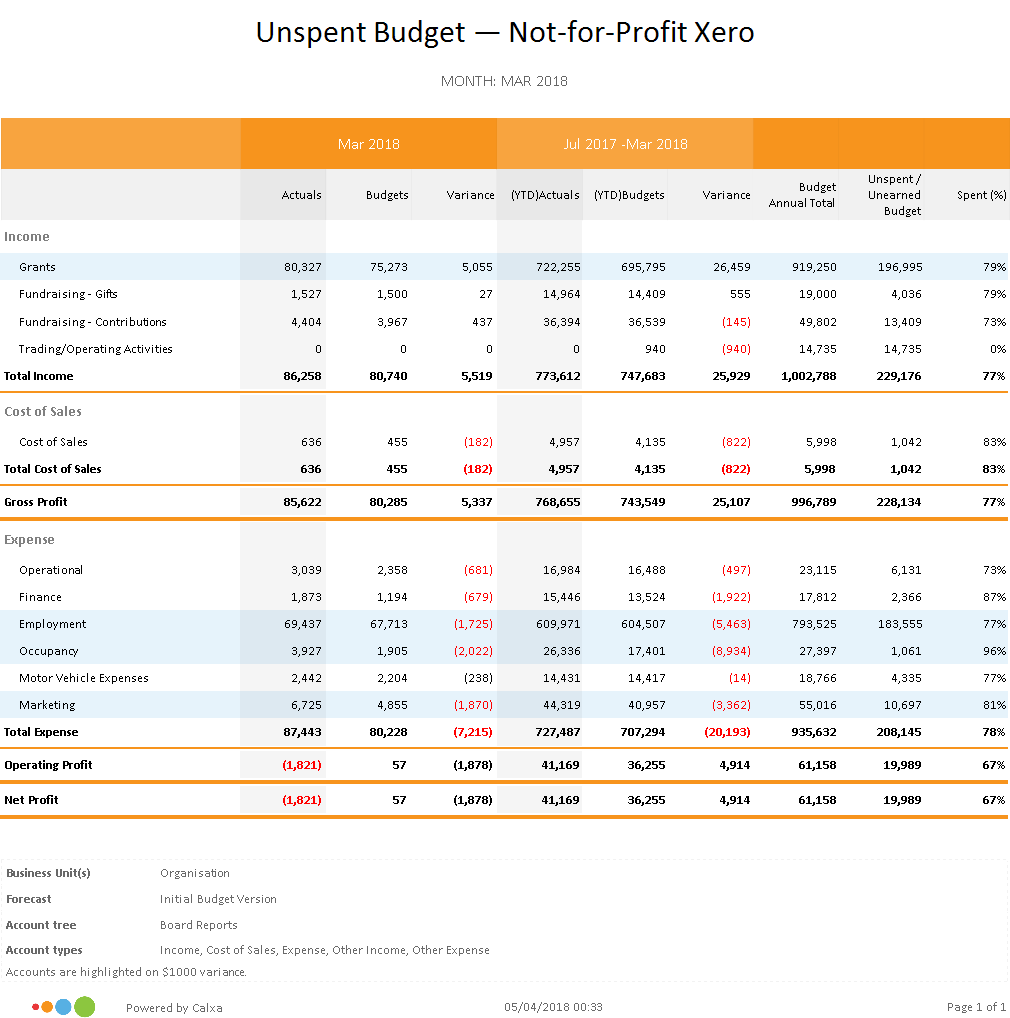 2. Cash Flow Forecast Report
Having a cash flow forecast helps you to plan for the months ahead. It should form the foundation of good management reports for not-for-profits. It also helps you to consider scenarios that would affect your organisation. Scenarios like:
Loss of 20% of your customers in the next year?
A reduction of 40% of your funding?
Unsuccessful grant applications that where factored into the future?
Government funding cuts for your sector?
If you don't know what your numbers look like, then you won't be able to manage changes in them effectively or at all. A cash flow forecast will enable you to see the overview of the numbers. It will let you make important decisions on how to maintain a sustainable organization.
For organisations operating within the NDIS, this is a particularly important report. It facilitates planning around periods of low cash flow or income. But mostly, it provides a lead time in which to plan mitigating activities. Consider the right level of detail for this report. For board members and senior managers, it probably makes sense to use an Account Tree to summarise the numbers. Don't overwhelm people with detail.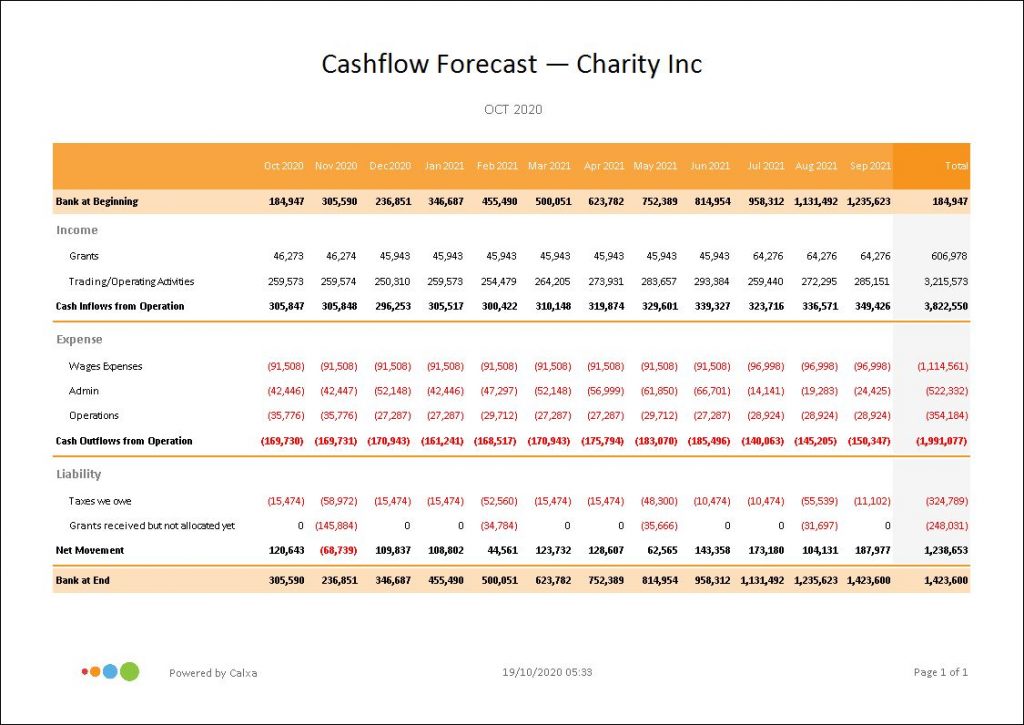 3. Cash Flow Forecast Chart
Board members of all organisations have a statutory responsibility not to trade while insolvent. The only sure way to avoid this is to regularly monitor forecasts of your cash flow. You don't need to be an accountant to understand this chart. It makes the position clear to any board member with its simple visual format.
4. Profit & Loss Forecast with Variance
Look at the completed months of the year and the budget for the coming months to understand the trends in each area and the projected end-of-year total. This report is great for identifying over-spending before it creates a crisis.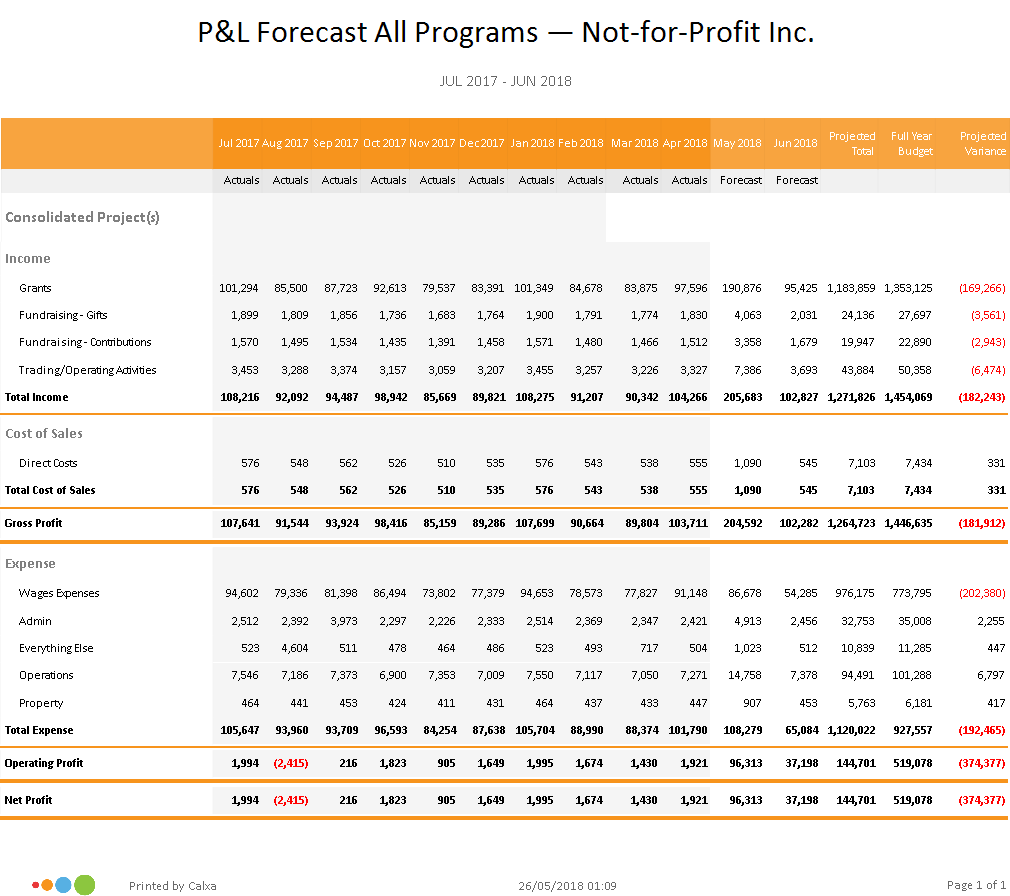 5. Cost Centre Budget Summary
For an overview of all your programs this is the best report. It shows one line for each so you can quickly identify which ones are performing well and which aren't. All without having to wade through the detail of every one.
6. Wages to Turnover KPI Chart
KPIs are now an essential part of NFP operations. Comparing wages to turnover establishes a good base KPI. This ratio measures organisational productivity which is an important factor in maintaining sustainability.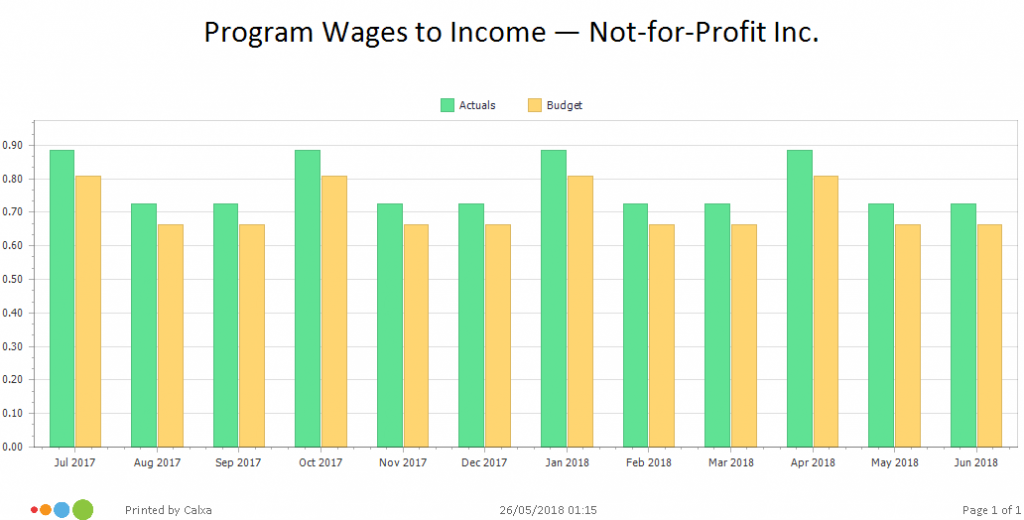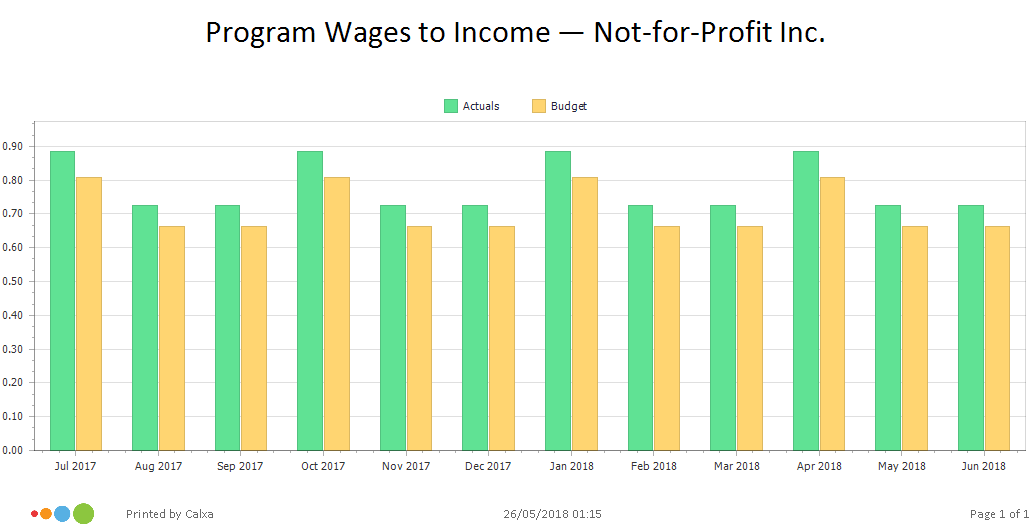 7. Account by Business Unit Chart
Break down your expenses or your income (or any individual account such as wages) by cost centre. This allows you to see which are consuming most resources and which are making the biggest contributions.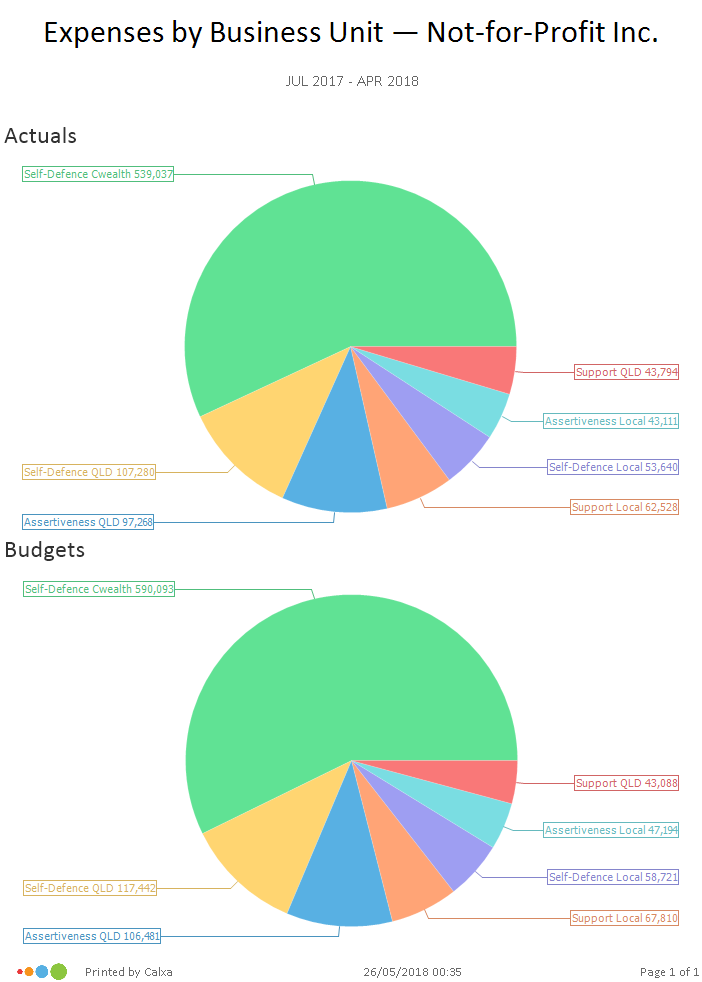 Reports for Not-for-Profits make for Better Decisions
It is not enough to simply run the reports and look at them briefly.
You need to carefully review and analyse what the reports are telling you.
Then, from what you've learnt you can make better decisions for your organisation moving forward. Decisions that will undoubtedly make your organisation more sustainable.
Part of an effective reporting process is the ability to produce such information with little to no aggravation and in a short time period. Utilising fit-for-purpose software will allow for more time being spent making sustainable decisions.
How Calxa can Help with Reports for Not-for-Profits
Calxa offers a standard NFP Reporting bundle (template with batched reports) which can eliminate hours, more often days, of report preparation. If you want to learn more about how to prepare budgets for your not-for-profit use this practical guide Budgeting Tips for Not-for-Profits.
For a real easy way to get going, check out the resources on our Getting Started Page and use our suggestions of three things to include in your board report article. Once you have decided on the selection of your reports make sure to read our article on automating board reports to save you some real time.