Budget reforecasting is an important business process. Setting a budget at the beginning of the year is a great way to benchmark your business. It allows you to look back later and measure your performance against your expectations. Furthermore, it sets targets in line with your strategic plan and gives everyone something to work towards. However, there are times when it's important to make changes. It is these changes to the initial budget that we call a Reforecast.
Why Reforecast your Budget?
The simplest reason for a reforecast is that the world has changed. Events have a habit of making even the best plans unreliable, sometimes even useless.
For some businesses, for example, the plans and budgets they put in place at the beginning of 2020 were in tatters just 3 months later as the COVID-19 pandemic disrupted life.
Most of the time the changes to our lives are less dramatic, but they can still render our numbers less useful.
Especially if you're forecasting your cashflow, you want to do that with your best possible estimate of future income and expenditure. Particularly, if you know something has been deferred, cancelled or brought forward, you should adjust the budget so that the cashflow timing is right. Now, just to clarify that last statement, we don't usually adjust the budget itself. We make changes to a copy of it, and call it our REFORECAST. The original budget is locked and untouched to provide that end of year benchmarking.
Understanding Reforecasting
To explain REFORECAST meaning, we found a definition that explains the term REFORECAST.
"Reforecast any revision on the agreed outcome… for the remainder of the specified calendar year made at any point during that year."
It is possible, maybe even probable, that your budget is out of date by the time it has been created. The best budget processes are short, sharp, and efficient. Even then, they can involve multiple iterations between a department manager, the finance team and senior management. And while it makes sense to get them done well before the start of the year, so everyone knows the plan, the longer that timeframe, the greater the likelihood of change.
For this reason, it makes sense to create your first reforecast as soon as you have finalised the budget so that you can record and manage changes to it. From there, it depends on how often you report and if you're using cashflow forecasts. As mentioned earlier, for cashflow forecasts you always want the current best estimate. For this reason, your reforecast needs to be a living, evolving document.
If your purpose is reporting to a board involving updating them periodically on changes to the original plan, then quarterly reforecasts are often sufficient.
Importance of the Project Budget Reforecast
It is common for boards and senior managers to be mostly concerned with the big picture of what's happening at the organisation level. However, it is important for project managers to have up-to-date forecasts on their areas too. Again, circumstances may have changed since the initial project budget was set.
After all, there are times when resources will be reallocated from one project to another during the year. This means, expenses that were expected to be incurred early in the project lifetime may have been deferred till later. It is important to prepare a project budget reforecast to reflect these changes so everyone is aligned with your plans.
How to Reforecast your Budget
Let us work through the process of reforecasting in Calxa. Firstly, we'll create the budget version for reforecasting. Then, we will finish with selecting a reforecast template that suits your needs.
To start off with, use the Budget Manager to manage and create different versions of your budget.
You will find the Budget Manager under Budget Tools. Be aware that a budget version contains all business units for all years. We recommend that you have an Initial or an Approved Budget and a Current Forecast that you reuse continuously.
Using the same budget versions across multiple financial years will simplify your reporting and budgeting:
Report bundles will work from one year to the next without changes
Multi-year reports comparing actuals to budgets are set up once and work always
Reports across financial year-end work on the same budget version
Organisation Groups won't need to be changed or copied
Use the Budget Factory to copy data from one year to the next
Formulas stay intact
And, this is how to reforecast budgets.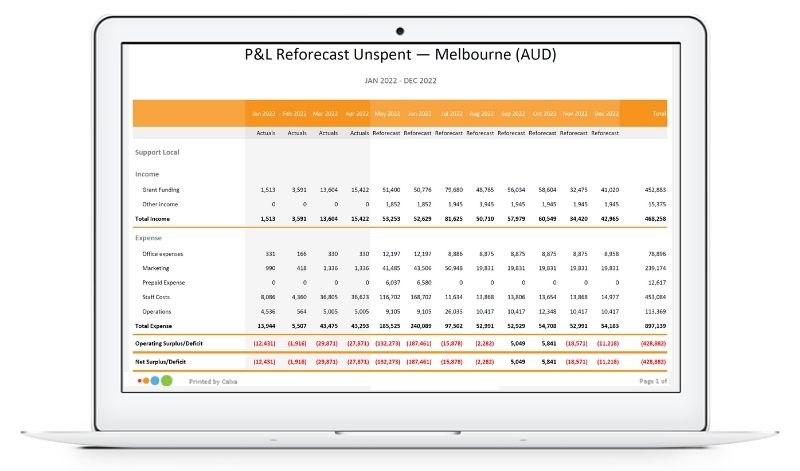 Best Practice for Reforecasts in Calxa
Before you start with anything else, here is our number one tip:
Set your Current Forecast as your main budget and use that for (almost) all of your changes. We even suggest that you create your very first budget in the Current Forecast!
Using Current Forecast without Losing Historical Data
By using the Current Forecast as the primary budget, you can keep all of your metrics and formulas there. After that, you can easily copy them from one year to the next. The process is quite simple:
Create next year's budget in the Current Forecast.
The next step is to complete this budget and get it signed off.
Now use the Budget Factory to copy it to the Approved Budget.
The Budget Factory copies numbers only. For this purpose, that is perfect. Make sure to lock the approved or initial budget and make it read only. You don't need to have formulas there that might accidentally be changed. This can happen, for example, if they relate to data outside the budget period that is independently changed.
To track forecasts at different times, use the Budget Factory to save the previous changes before making new ones, or after each set of changes. Here is an example of what this would look like:
End of Quarter One: make some changes that cause the forecast to diverge from the initial budget. Copy that to Forecast Q1 after they're done and then continue to use Current Forecast as your main budget.
End of Second Quarter: make your next round of changes and copy those to Forecast Q2.
End Result: you will end up with a forecast for each quarter but still have the continuity of the main one. As a result, you can report on any of them.
Bringing Year-to-Date Actuals into a Forecast
To report on actuals for the past months and forecast for the remainder of the year, use one of the P&L with Projected Total reports. However, if you prefer to change the forecast itself to include Actuals, that's not hard to do. Make sure to stop and consider which option is best for you.
If you're not using formulas, use the Budget Factory to update the Current Forecast. Set the source as Actuals for the current year. It will include the completed months and then the Current Forecast (assuming that's your main budget), for the rest of the year. This is quick and easy to run either at the organisation level or for many projects or departments.
For those of you using formulas, export the Actuals for year-to-date (Budget Tools, Export), selecting the completed months of the year. Then simply import them into your Current Forecast. It will over-write past periods but leave the formulas intact for future months (and years).
Reforecast Templates and Other Reporting
The simple method here is to choose the budget or forecast you want when filtering your reports. Did you know that there are some report templates that compare 2 budgets? In Reports, Builder select Multiple Budgets from the filters on the left. This will show you the reforecast templates available to generate the comparison.
The YTD vs Current and Approved report will show your year-to-date actuals compared to both the approved or initial budget and the forecast. Experiment with these reforecast templates and find the one that suits your needs.
For more tips, see our budgeting guide.