Did anyone doubt that Small Business Matters? Well, of course not! A recent report from ASBFEO (otherwise known as the Australian Small Business and Family Enterprise Ombudsman) puts forward the case that small businesses make a very important contribution to the Australian economy. They have headlined it Small Business Matters so we thought it was worth examining that claim.
What Counts as a Small Business?
Interestingly, there has been considerable inflation in the definition in recent years. It's not very long ago where $2 million was the common turnover threshold whereas now it's $10 million. What hasn't changed is the employee definition and that's businesses with fewer than 20. In the USA, by contrast, the general small business classification is under 500 employees, Companies House in the UK uses less than 50 employees and the EU works on less than 250.
Still, even by that definition, small businesses comprise 98% of all businesses in Australia.
What is a Small Business?
Looking more closely at the 2.5 million businesses classified as small in 2022, 60% of them were self-employed, leaving around a million who are employers. The Small Business Matter report also mentioned the difficulty in getting details on how many of these self-employed people are really carrying on a business. We know there are ongoing cases arguing the status of those in the gig economy. This is also true for  those working for mining companies. That 700,000 small businesses had a turnover of less than $50,000 also leads one to question their status. It's quite possible for a business to have low turnover for its first year or 2 as it grows but it would be surprising if 27% of businesses were at that stage.
By contrast, 33% had a turnover between $200,000 and $2m with 7.4% between there and $10m.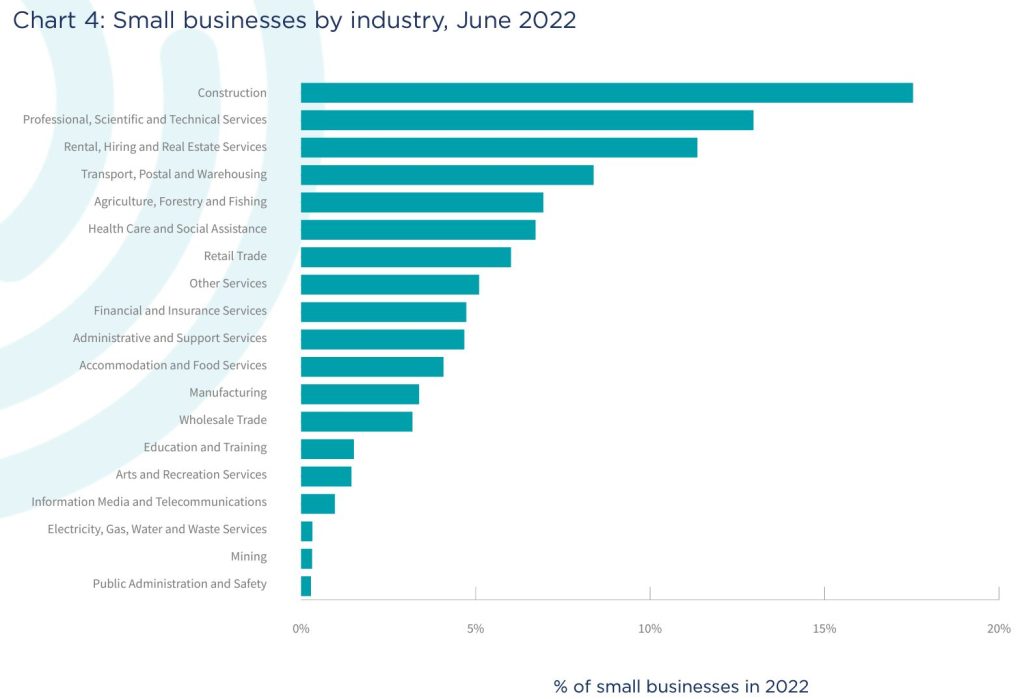 Small Business Matters As Employers
If we exclude the self-employed, we are left with:
71% (just over 700,000 businesses) who employ 1-4 people
And 22% with 5-19 employees.
This does account for more than 5.1 million people which is a significant part of the Australian workforce. So, a primary reason to establish that Small Business Matters.  
Small businesses accounted for almost one third of Australia's GDP in 2022 ($506 billion). This was a 15% increase on the previous year but we should remember that there was a pandemic in those years which had significant impacts on many small businesses.
The largest industry sectors for employment are construction, professional, scientific, and technical services and then food and accommodation.
How Old Are Small Business Owners?
Apparently, those of us who own small businesses are aging faster than the rest of the population! Or it could be that fewer young people are starting small businesses. These are statistics after all and we need to interpret them.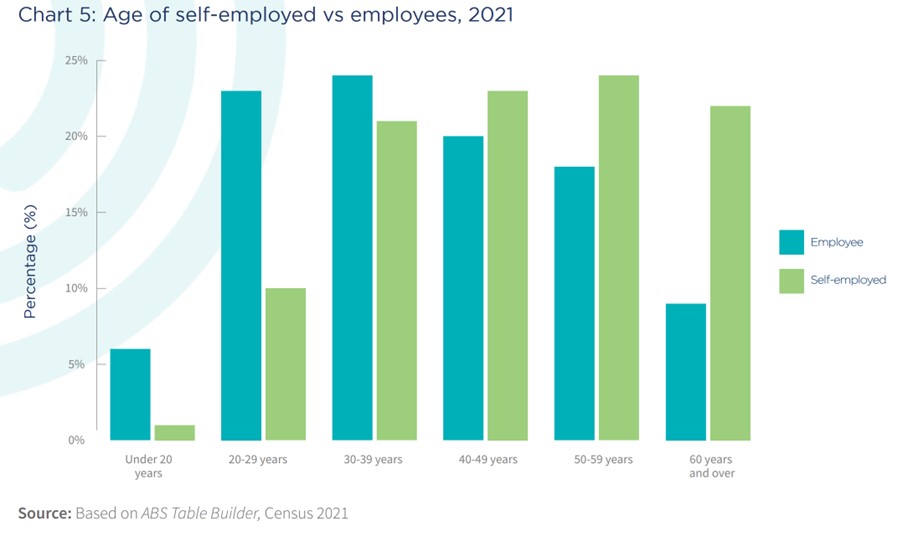 22% of small business owners are aged over 60, while only 9% of employees are. Is that because they're all enjoying it so much and don't want to stop? There is a PhD topic for someone…
Overall, 47% of small business owners are over 50 and that proportion has increased at each census since 1996. Way back in 1976, when we had never heard of Uber or sham contracting, 18% of small business owners were under 30 (it's now less than half that) and over half were between 30 and 49.
The self-employed option seems to work better for women wanting to work part time with 68% of them doing so, compared to 47% of female employees.
Does Small Business Pay Well?
Well, the good news is that some people do start small businesses that become medium businesses and big businesses. Some do earn more than the average weekly wage but they tend to be owner/managers of employing businesses.
In 2021 only around 15% of self-employed people earned more than the full-time average adult wage. 34% of them earned less than a third of it.
Though that's likely to include all the part-time self-employed people.
Around 35% of those who employ people earned more than the average wage with around 12% doubling it. It pays for some people but clearly not for all.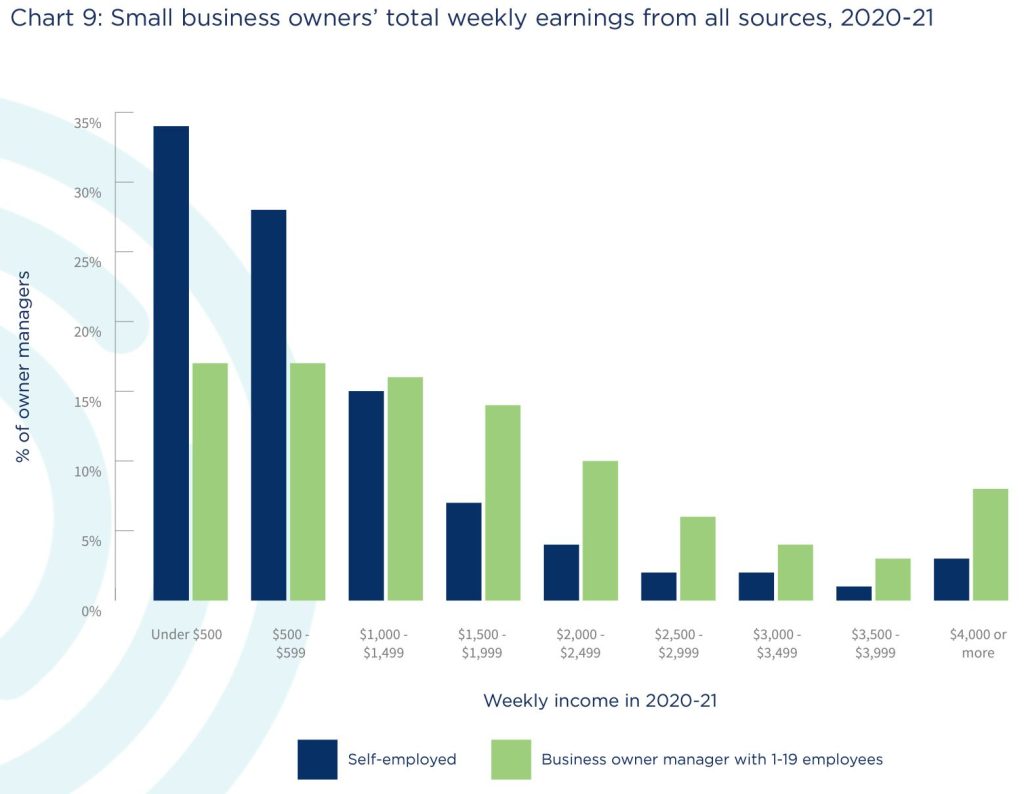 So, Does Small Business Matter?
Small businesses are important as much as anything for the variety and diversity they bring to our economy and communities. We all like choices in where we go for a haircut or for lunch or who we get to renovate our houses. Without small businesses that wouldn't happen.
It's hard work running a small business but that doesn't stop people from having a go and trying to build something important. If you are a business owners, have a look at the ATO Benchmarks Ratios for various industries. See how your business fares.
Another reason why small business matters, is that small business owners and self-employed people tend to be more likely to volunteer their time. In fact, 19% of them do that compared with 14% of the general adult population.
Acknowledgement
We would like to thank Amanda Gascoigne of The Balanced Firm for bringing this important report to our attention. Amanda says "Taking on the responsibility of owning and running a small business can be inspired by a range of goals and motivations, an abundance of purpose and meaning and be rich with unpredictability of challenges and income. It can be a hard slog and not always be as rewarding as people might hope".