Many of our Not-for-Profit customers need to track income and expenditure to prepare financial acquittals. These acquittal reports include reporting on different funding streams. Essentially, these streams could be individual donors or sometimes groups of them. When one funder provides a grant for one project, it's relatively simple to track. However,  when you have a mishmash of funders and projects, life can get complex. That's when you definitely need a tool like Calxa.
For some tips, have a look at the Connecting Up Reporting for Grants page that includes a webinar recording on this topic.
Setting up your Accounting System to Optimise Funding Streams
Where you have a project that is funded by multiple bodies, you need to be able to budget and report on each of those. To achieve the appropriate financial acquittal, this requires some careful thinking. For example, how you would set things up in your accounting system. Essentially, the general principles would be:
For Xero use one Tracking Category list for the projects, and one for the funders
In QuickBooks, it's most common to use Classes for projects and then Customers for the funders. Though technically you could alternately use Locations for the funders.
MYOB users have just one list of Jobs so the best option here is to have a header job for the project and the funders as sub-jobs under that.
Configuring Calxa to get the Financial Acquittal Report
For users of Xero and QuickBooks, the best option in Calxa is to use Combinations to capture the intersection of your projects and funders. These aren't activated by default, so turn them on under Settings, Organisation Settings, Configuration.
It doesn't matter whether you choose projects or funders as the primary entity. Choose the one that makes it easiest for you. You can switch options at any time. This diagram gives you an idea of how combinations work.
We generally recommend that you only set up the combinations you actually need as they will slow the sync process. Once they're set up, run a sync and we'll bring in the Actuals for the combinations you have chosen.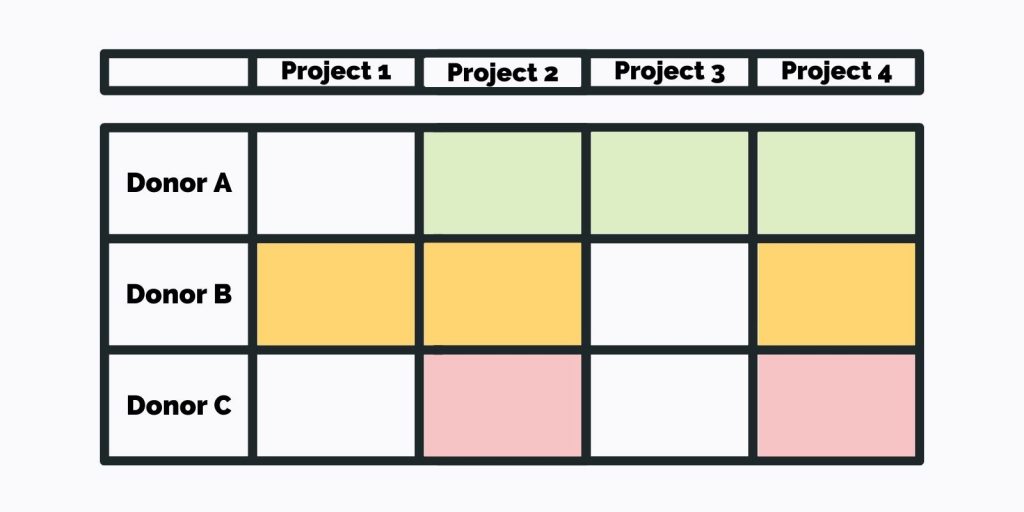 Budgeting for Funding Streams in Calxa
You'll have a choice of budgeting for projects, funders or combinations. As the smallest unit, Calxa's combinations are usually the best starting point. You could, though, budget just at the project or funder level if there is a 1:1 relationship in some cases.
If you are budgeting for everything as combinations, you could create budgets at the project or funder level but it's not necessary. Alternatively,  you could use Business Unit Trees to consolidate the combinations that make up each funder or project to enable your acquittal reports.
To stay on track with your financial acquittals, show budgets by funder or project, set formulas to automatically calculate them for you. To do this, it is easiest if you maximise the budget screen, using the icon to the top right of the grid. Then follow these steps:
Now either drag your mouse across the top of the columns to select them all or click in one cell and use Ctrl-A to select every month and column.

Choose Selected Accounts on the left of your formula, nothing on the right side.
For the Data Source pick Combinations
And then search to filter for your required funder.
Make sure to set the formula live so it recalculates automatically.
And then you're done!
Preparing for the Financial Acquittals Reports in Calxa
Now comes the fun part! Business Unit Trees are your friend when you are grouping your combinations into funding streams. If your financial acquittals are for one funder and need to show a number of projects that they contribute to, create a Business Unit Tree for these, adding each of the combinations.
However, if you are budgeting at the project level, you can add both combinations and projects to the same tree structure.
Tip: To avoid having headings in your reports like "Funder A x Project 1", create a header in your tree for each combination, with a friendlier name. Then set it to consolidated and the report will show the header, not the detail.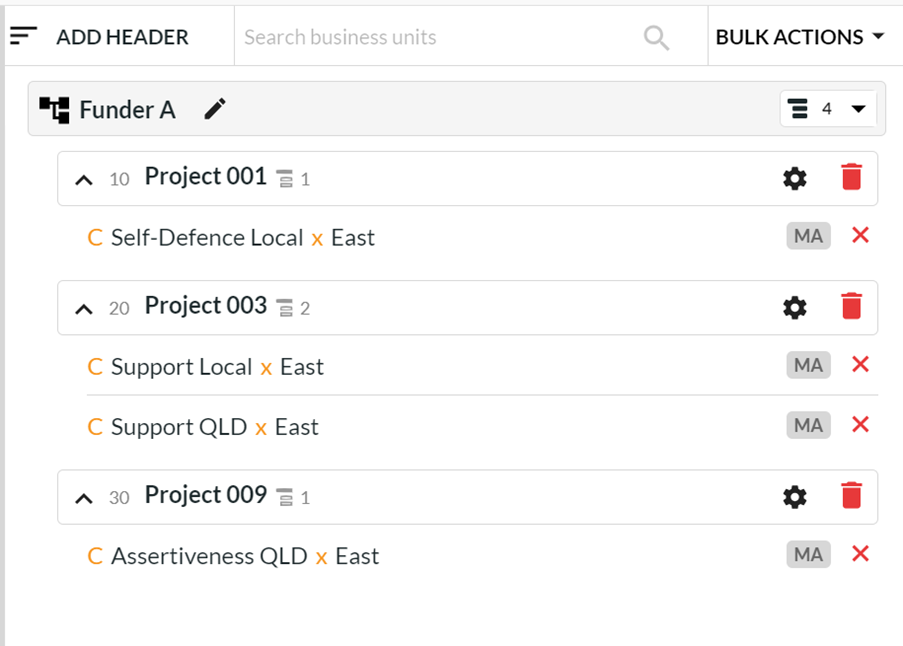 Lastly, if you need an acquittal report that lists all your funders, create a Business Unit Tree with a header for each funder and the combinations for those projects under each header. For example, use something like the Business Unit Income & Expense Summary to give you an overview of the funders with one line for each.
You can use your Business Unit Trees to filter any of the reports to get the information you need to run and manage your organisation better.
Finalising the Financial Acquittals
The last step in this process is to prepare your financial acquittals. To complete this process at the end of the funding period, check out our article Streamlining Grant Acquittals. It covers step-by-step how you would prepare the acquittal report.
Financial Acquittal Reports in Summary
Here is a short summary to outline the full process.
Calxa's Combinations help you track budgets and actuals for each program and funder.
Business Unit Trees help you display the data in the way you need. For example, by funder or by program or any grouping you need.
To create the acquittal report structure your funder needs, use Account Trees to summarise the outcome.
If your funder, needs some impact data, use Metrics to show non-financial numbers.
Finally, to add notes and supporting documentation, use Calxa's Document Editor to polish off your financial acquittals.