New in Calxa this next few weeks will include a real treat. Since we first introduced Account Trees in 2011, we have made a number of small changes. Then we made some big ones in 2019 which made the whole structure more flexible. Account Trees are a great way of grouping, summarising and sub-totalling rows in the management reports.
We have listened to your feedback and next month we will be adding much more flexibility.
Unveiling the Third Gen Account Trees
The 3rd Gen Account Trees will be much easier for those of you doing multi-organisation consolidations. Those of you with  just one will appreciate the:
more powerful total rows and
ability to add KPIs within the structure.
Whichever group you fit in, we are sure you will appreciate the new way of working with Account Trees.
When Are the New Account Trees Coming?
We are planning this release for the end of July and announcing it now so you have time to get prepared. The new capability is available in time for your End-of-Year Reporting and for anyone that uses Calxa to add to their Annual Reports.
To assist with the transition to the new functionality, you will have access to support:
As usual, we will prepare plenty of help material.
We are also hosting a webinar to introduce the changes. That is strongly recommended, especially for power users.
You can also book a session to dove-tail with the timing of your reporting week.
What Happens to my Old Account Trees?
All existing account trees will be migrated to the new structure. As a result, everything that is working now will continue to work the same in your reports. You will notice the changes when you go to create a new Account Tree or modify an existing one.
We are sure, some of you will be itching to take advantage of the new features!
What Makes Up the Third Gen Account Trees?
We have taken some of the concepts we introduced in Business Unit Trees and applied them to Account Trees. This powerful reporting feature, new in Calxa next month, will give you more consistency:
Account Trees are at the Workspace level and can include multiple organisations
Calculated totals can be added, replacing the current running totals
The Account Tree can include KPI rows, using any standard or custom KPI
Improved handling of new and unallocated accounts
Ability to export an Account Tree from one workspace and import it to another
Move Accounts to another account type if they have a negative balance
Account Trees for Consolidations
Those of you consolidating more than one organisation will love the new Account Trees. You can just create one tree that includes all of your organisations. Need to make a change? Update it in just one place. You are guaranteed consistent headers, totals and KPIs across the whole group.
Also, we have added bulk actions so you can select multiple accounts easily. In addition, you can move them where you want them. Simply select and move them using checkboxes and the menu option. Or, you can drag and drop as you could in the past. The choice is yours!
At each Header level you can choose detail or summary-only. If an account under this header is negative, you can automatically move it to another location. This is perfect for a bank account that is sometimes in funds and sometimes overdrawn.
Calculated Rows in Account Trees
Previously, running totals on an Account Tree Category were the sum of the accounts above them. We have expanded that logic to give you more flexibility. While you can still set Gross Profit to be Total Income – Total Cost of Sales, you can now repeat that for multiple groups.
For example:
If you manage departments in your Chart of Accounts, you could create headings for Bar Income and Bar Cost of Sales and a calculated row for Bar Gross Profit.
Then follow that with Restaurant Income and Restaurant Cost of Sales with another row for Restaurant Gross Profit.
Add as many departments as you like to the one Account Tree and you will simplify your reporting immensely.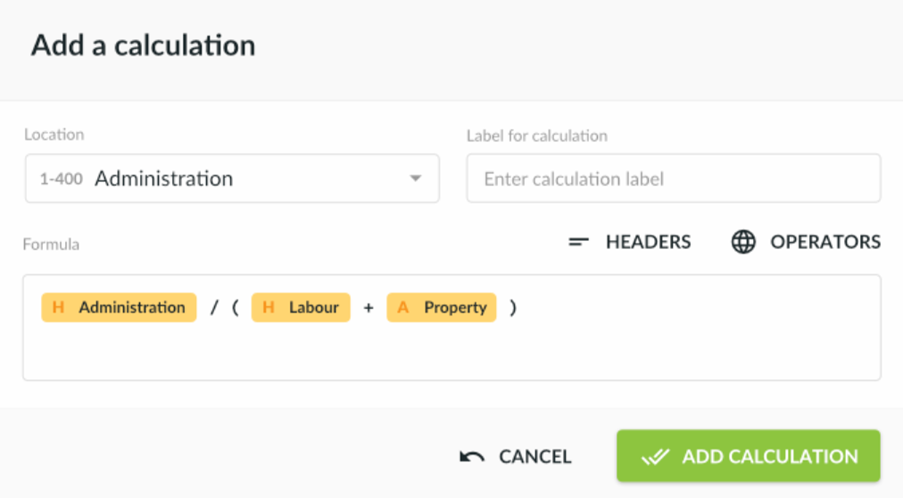 KPIs in Account Trees will be New in Calxa
Putting KPIs at the end of the report in the Additional Information section has worked well for many years. However, we knew there had to be a better way. And, you have asked us to do better. Now we are delivering on that.
In 3rd Gen Account Trees, you can add a KPI to any Header in any Account Tree. It will display after the accounts in that header section, after any calculation row. Add as many KPIs as you like. KPIs can be added to both the P&L and the Balance Sheet section.
Managing New and Unallocated Accounts
In a break from tradition, we will no longer insist on you allocating all accounts. Essentially, if you don't want to include them in your Account Tree, leave them in the left column. As a result, if you are only reporting on a sub-set of your accounts, just allocate the ones you need.
To help you out, we will mark new accounts that have come in from the accounting system. So, if you don't manage them, we will include them in your reports and highlight them there. You simply need to either allocate them in the correct location or clear the 'New' status.
Copying and Exporting Account Trees
Many of our accountants in practice like to standardise the accounts for their clients. Usually, this includes a standardised Account Tree. We are giving you 2 methods of achieving this.
The simplest, if you have the right permissions in both workspaces, is to simply copy the tree.
If you don't have the right permissions, because you are sharing the Account Tree structure with a client or a colleague in another business, simply export it to Excel. Then the other person can import it to their workspace.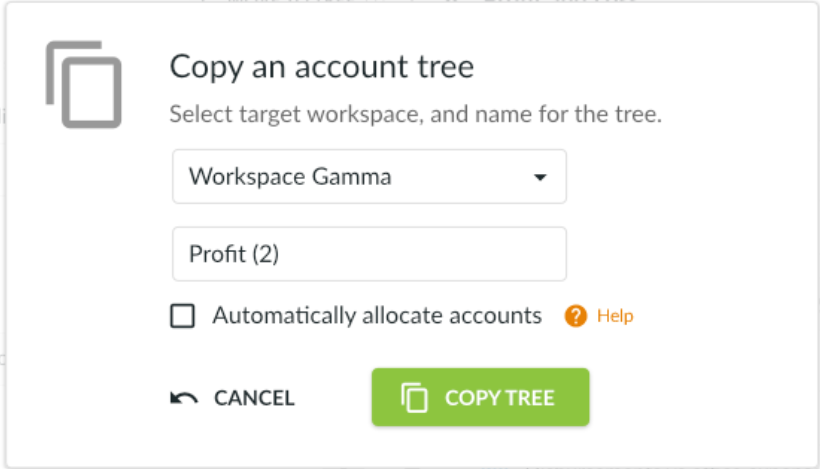 Managing Negative Balances in Account Trees
When you add a Header to your new Account Tree, you can set a linked header.
If the header is set to Summary only and the total amount is negative, it will be moved to the linked header. If it is not summarised, any detail account under the header will be moved if it's negative. That gives you the flexibility to keep accounts together when this is important to do so. However, you also get the choice to separate them when you need to.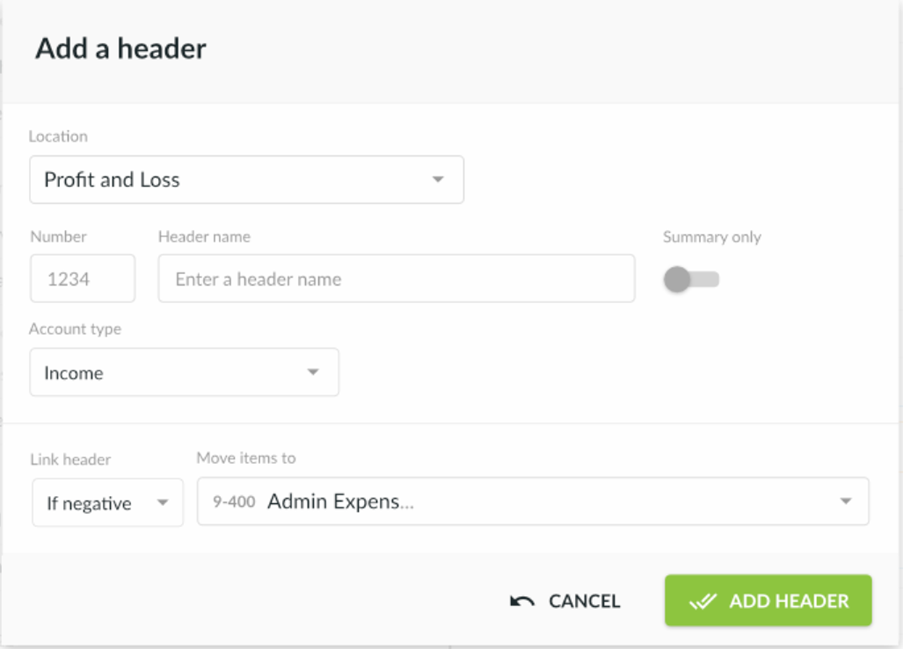 Learning About the Third Gen Account Trees
You will find plenty of material in the online help centre to assist you transition to the new Account Trees. We anticipate that you won't find them too hard to navigate or understand. For those of you wanting a kick start with a guided tour, watch this recording of our product webinar.
What Else is New in Calxa?
While the new Account Tree changes have taken up plenty of development time, we have kept part of the team busy working on smaller, but no less important, improvements. Here is the highlights from the past few weeks:
Cashflow Statement using the Direct Method. Now choose the report that suits your needs.
Report dates can now be displayed in your local time zone.
Simplified dates for report selection. This gives you quick shortcuts for the most common options but still gives you the option of a custom setting for full control.
We cleaned up the comparison reports, clearing out the unused columns.
We added more charts with fully flexible date options.
You can now record Company Tax Expense when recording Provisional Tax (PAYGI in Australia).
New in Calxa Coming Up
We are sure you don't expect us to stop there and stand still! We are already well under way with the next improvements for you the next 'New in Calxa' releases. Here is a quick preview of some of the upcoming highlights. They are in no particular order and with no commitments on timing:
Balance Sheet report with 2 prior periods.
Chart improvements with the option to group smaller amounts.
Centralisation of Metrics at the workspace level, allowing you to use the same ones in multiple organisations and business units.
Merge fields for dates on Report Bundle documents.
Improvements to Xero connections.
And (drumroll please!) we are making progress on customisation options for the dashboard. There will be a choice of pre-set dashboards for those who want simple options. Of course, there also will be more flexible and powerful alternatives for the power users among you. Watch this space!
As always, keep the feedback coming. We need to know what works for you and what needs to be done better. Let us know and we'll build the app you need!
To find out more about Calxa's new features, go to our Product Info articles or check out our change log.