New in Calxa this month you will find that working with reports is getting a big makeover. Ultimately, the goal is to make it easier for you to find and use the templates you need for each task. And other changes this month include new reports for FX currency reconciliations as well as the option to add extra contacts to receive invoices.
Improved Way of Finding Report Templates is New in Calxa
Here is what we've improved:
More methodical template search
Making switching templates easier
Added bulk editing to report bundles.
With over 180 different report templates, it's sometimes challenging to find the right one for the job. Essentially, we have addressed that with improved search and filtering and pop-up previews so you can see what a report will be like before generating it.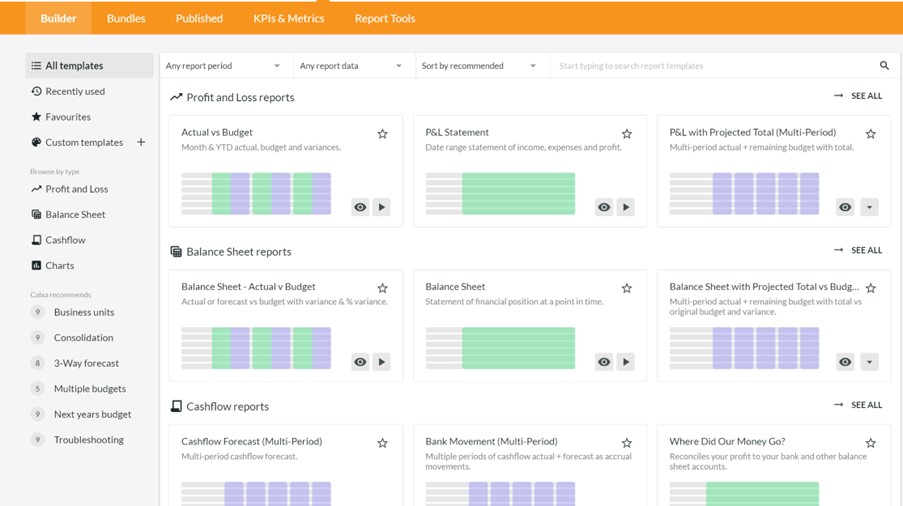 In addition, to the searchability improvements we have enhanced this area with extra capabilities:
Favourites: You will be able to save your favourites. If there are templates you use regularly, click the star at the top right and it will be saved to the Favourites list on the left.
Recommended: You'll find some of our selections in the Calxa recommends lists on the left side. Here you'll find useful reports for topics like consolidations or 3-way forecasts.
Sorting: You will be able to sort the results of any search by name, popularity and our recommendations. Popularity is dynamically calculated based on the templates other users have chosen in the past month. Sometimes those users may be on to something!
Next New Thing in Calxa Will be Switching Report Templates
The next part of the report improvements over the next few weeks will be making it easier to switch between templates. Basically, when you have chosen a template and you are configuring it and realise it is not quite what you want, you will have the option to choose a similar template without going back to the search.

Similarly, when you're configuring a report from a report bundle, you will be able to easily move to the next report in the bundle by selecting it from the dropdown at the top.
Bulk Edit of Report Bundles
Before Christmas this year, we'll add in the option to make bulk edits to your report bundles. You'll be able to choose some or all of the reports in a bundle and then set the Organisation, Business Units, Budgets, Account Tree and Report Style on all of them, all in one process. That should make it much simpler to re-purpose an existing bundle.
Bulk Connection of Xero Organisations Coming Soon
This improvement will be of most interest to accountants in practice or those of you with many entities in a group. Over the next few months, we will be working on an option to connect to Xero, selecting multiple organisations and then connect them all to Calxa in one go. We are planning to set some smart defaults for the basic cashflow settings and other choices which you will be able to update afterwards if needed.
Recent 'What's New in Calxa'
FX Reconciliation Reports
New in Calxa this month, you might have already noticed these new reports. When consolidating multiple entities with different currencies there always is a Currency Translation Difference as some accounts are reported using different exchange rates. There are various reasons for this:
This could be Retained Earnings using the rate from the end of last year
It could be an asset or equity account where you have applied a fixed rate.
However, we have now added 2 reports, the Currency Translation Comparison and the Currency Translation Differences. These will give you a breakdown by account so you can understand the numbers. Here is the help note that explains this in more detail.
Billing Contacts
On a different note, you can now add additional billing contacts to receive copies of invoices directly in the billing portal. For instance, this could be another person in your organisation, or it could be the email address for your purchases automation system. For example, send them directly to Xero, MYOB, Dext or whatever system you use.
It is a quick change, just follow this help note.
Feedback is Always Welcome
We value your feedback. To make the most of this feedback, we record every scrap of information we pick up from our day-to-day conversations with you. Here, our quest is to learn what you need. Ultimately, we want to deliver what will help you get your work done easier. So, feel free to give us unsolicited suggestions at any time. Some will take time to implement but sometimes we get ideas from customers that are very simple to change and make a big difference.
Look out for our change logs with all the details of recent changes. As always, you are most welcome to reach out any time you need a hand or simply book a session with our team.