Well, by now you will have seen what's new in Calxa. The first step in our dashboard overhaul is now live and so is stage 2. There is more to come in the next month so let's review the 4 stages of this release.
Updated 22 March 2023
March Update
We have had great feedback on the new pre-set dashboards. Here's what's coming next:
Released 23 March: is the first part of customisation and adding to bundles
Stage 3 is planned for April when we will be expanding with the ability to add your own Data Sources
The final Stage 4 is scheduled for May to give you a simpler way to customisation and is perfect for those who don't need every single option
So, let us go through each stage.
Stage 1: Pre-set Dashboards
In February we expanded our dashboard capability by adding some pre-set dashboards for Cash Management, Financial Position and Profitability. We've designed each of them to give you the key numbers in that area, to help you better run your business.
Cash Management Dashboard
The Cash Management dashboard shows you your bank balance for the past 6 months and the forecast for the next 6. The KPIs included are:
Working Capital Ratio, because it can be an early indicator of cashflow problems
Total Debt to Income Ratio, which compares your total liabilities to your annual income
Debtor Days and Creditor Days to track how well you are managing incoming and outgoing payments
Net Profit Margin to show how profitable your business is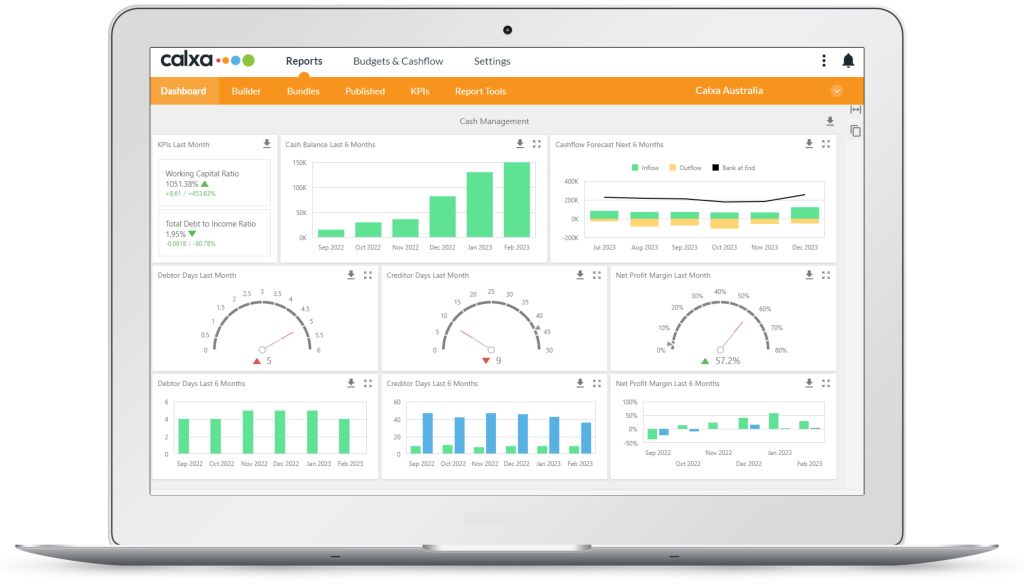 Financial Position Dashboard
The Financial Position dashboard shows what's happening on your Balance Sheet, where you are at a point in time. For non-accountants these charts can be easier to grasp than a report with numbers.
Working Capital Ratio, showing the relationship between your short-term assets and liabilities
Debt Ratio, like the working capital ratio but comparing all assets and liabilities
Return on Assets is your Net Profit compared to your total assets
Return on Equity shows your profit compared to the equity you have in the business
Net Worth shows your assets and liabilities month by month with the line for your net equity (the difference between them)
Asset and Liability pie charts. These show the breakdown of your biggest assets and liabilities.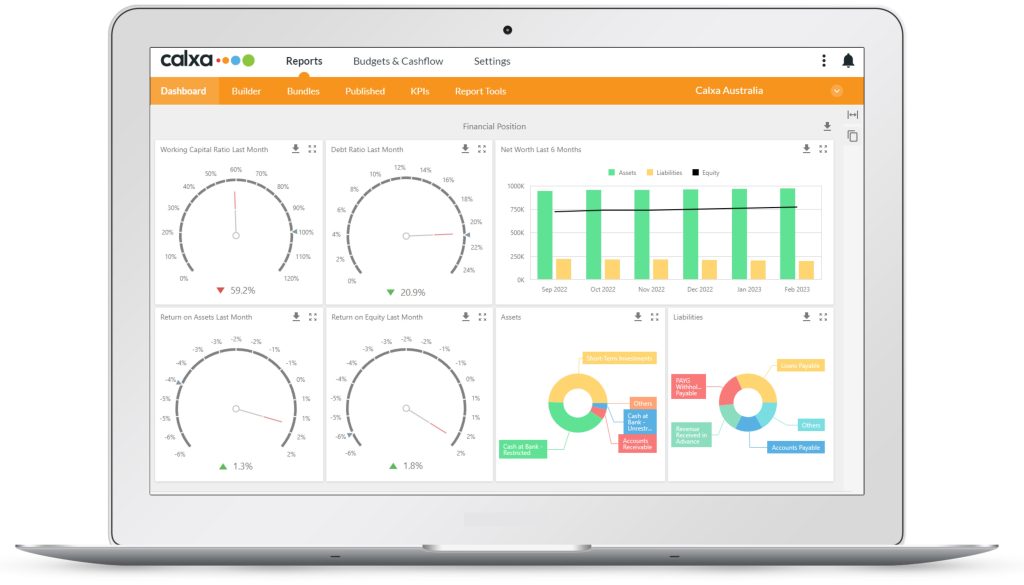 Profitability Dashboard
This one shows how much money you're making. You may not have collected it (the Cash Management one will show you that) but you have earned it. The charts on this dashboard show:
YTD Net Profit waterfall, showing how your income, cost of sales and expenses produce the net profit
Net Profit last 6 months compares this year's profit to last year and your budget, month by month
Cumulative Net Profit last 6 months shows how your total profit grows, or shrinks, month by month
Gross Profit Margin, showing the GP as a percentage of your income
Operating Profit margin deducts expenses from your Gross Profit and is again shown compared to total income
Net Profit margin takes into account any other income, other expenses you have.
New Dashboard Features
We didn't just add the new dashboards! We also gave you:
Export the whole dashboard, or any chart, to PDF, an image file or Excel. The spreadsheet export gives you a table of the underlying data.
Expand the dashboard to full screen
Use the dashboard for a consolidated group as well as any individual organisation
These dashboards will offer more choice to all users, especially those of you who don't want to get their hands dirty with any customisations.
Stage 2:  Empowering your Dashboards is now New in Calxa
We've released the next step in our dashboard journey. This will empower you to:
Add dashboards directly to a report bundle. Do this from your bundle, right at the top where you add PDFs or Documents.
Make a copy of the pre-set dashboards and modify them to suit your needs.
Create new dashboards.
Customise the layout of the dashboards.
Customise the charts using the available data. So, changing bar charts to line charts or filtering the data to use different (default) KPIs or different account groups. For now, you're restricted to level 1 accounts in the original account tree and their associated calculations. This will give you things like Total Income, Gross Profit, etc. Wait for Stage 3 and custom data sources for more flexibility.
Adding charts using Last Month and Year-to-date numbers for any of our default KPIs.
Change the height and width of your dashboard to produce a portrait version for your bundles.
For the serious customisation of the data sources, you'll need to wait a couple more weeks for Stage 3. We are aware that there are lots of options when customising the layout of a chart and that may thrill some of you but be daunting for others. If you are in the latter group, just be patient a little more as we will be adding some simpler editing in Stage 4.
Stage 3: Filter your Dashboards with Data Sources
The most important part of what's new in Calxa for dashboards will be the third stage. Here, you will be able to create and choose your own data source. What's a Data Source? It's the collection of elements that determine what numbers are used in your dashboard chart. These can include:
Account Trees, to filter and group the accounts you want to include, or just a single account.
Business Unit Trees to identify and group your selected business units, or just one or a group of business units.
Any KPIs or Metrics you want to add to your charts.
Budgets to give you the comparisons you want.
Date Ranges, such as Year-to-date, This financial year, Last calendar year, Rolling 12 months and many more.
Stage 4: Custom Dashboards made Easy
While we know that some of our customers like to have fun with the complex stuff that gives you complete control, we know some of you prefer things quick and easy. You just want to customise a dashboard and do it quickly with the minimum of effort. Don't fret, we haven't forgotten your needs!
Stage 4 of our dashboard release program is the one for you. The plan is that you'll be able to:
Choose from some pre-set dashboard layouts such a 4, 6 or 8 panels
Select a chart type and attach a data source
That's it!
The data source is where you will filter the information to present on the chart such as which KPI, account (or group of accounts) and the date range.
Sometimes it takes us longer to develop the simple ways of doing things and this is an example of that. If you look at the Stage 2 customisation options and they look too hard for you, hang on and wait for Stage 4 and you'll get the easier method.
There will be a bit of learning to get the hang of customising dashboards but it will be worth it for those of you who want to produce a particular set of charts. They'll allow you to enhance and personalise the reports you produce each month, providing your audience with clear information.
To show you what's new in Calxa, we have scheduled an Introduction to Dashboards webinar. This will help you learn about customising your dashboards. As always, you are most welcome to reach out any time you need a hand or simply book a session with our team.