We have exciting changes coming to the way you edit budgets in Calxa. Budgets aren't just dollars (or pounds or euros or ringgit). They are the GPS driving your business. They're often built from the ground up based on volumes of sales or hours worked. We've promised you budget formulas to help create your budgets and work has begun in earnest. We should have the first round for you by Christmas and more early in the New Year.
With budgeting being a core functionality of Calxa, here is a bit of a preview of what is coming in the next two months.
Account-Based Budget Formulas
Sometimes you want to calculate a budget from another account. This is where budget formulas will help. A classic example in Australia would be calculating Superannuation as a percentage of Wages. Wages in this example could be a single account, a Header account or a selection of accounts.
You will be able to create a formula like
"Wages x 9.5%".
Following on from this, you could use a Metric for the Superannuation Rate and the formula would then be "Wages x Superannuation Rate". This would make it easy to update when, as planned, the rate changes to 10% in July 2021.
When creating account-based budget formulas, you will be able to choose to base it on Actuals or any Budget. The date offset will choose either the current month or any previous period. For example, if you are anticipating a rapid growth in sales across the year, you could set your sales budget to
the previous month's budget + 5%.
Or for a seasonal trend,
set it to Actuals from 12 months ago plus some uplift.
Budget Formulas for Business Units
Mostly budget formulas will reference the current business unit or organisation you're working on but you won't be limited to that. When setting the budget for Department A, you'll be able to set it as a percentage of the budget for Department B. Or, if you have both departments and projects, you'll be able to set a department budget as the sum of a collection of projects.
If you have inter-company accounts, you'll be able to set the budget for Cost of Sales in one company to equal the Sales budget in another. This means you know they always balance. This would also work for movements in inter-company loan accounts.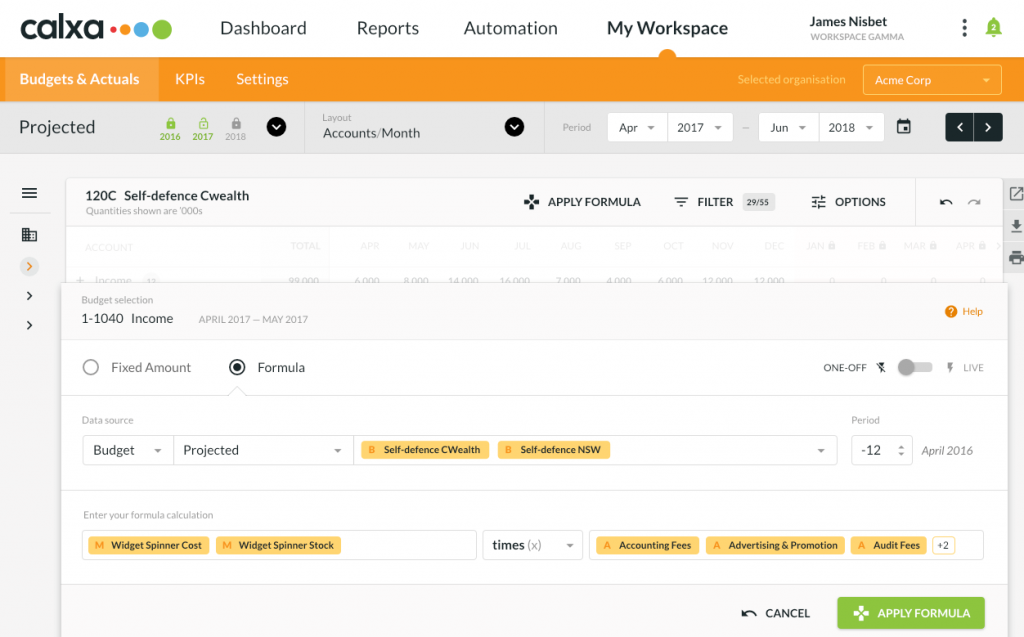 Fixed amounts in Budget Formulas
There are times when your budgets are time-based. You want to set sales based on the number of days in a month or wages based on the number of paydays. This option will include simple math formulas as well as flexible date options like the first Monday of every 3rd month.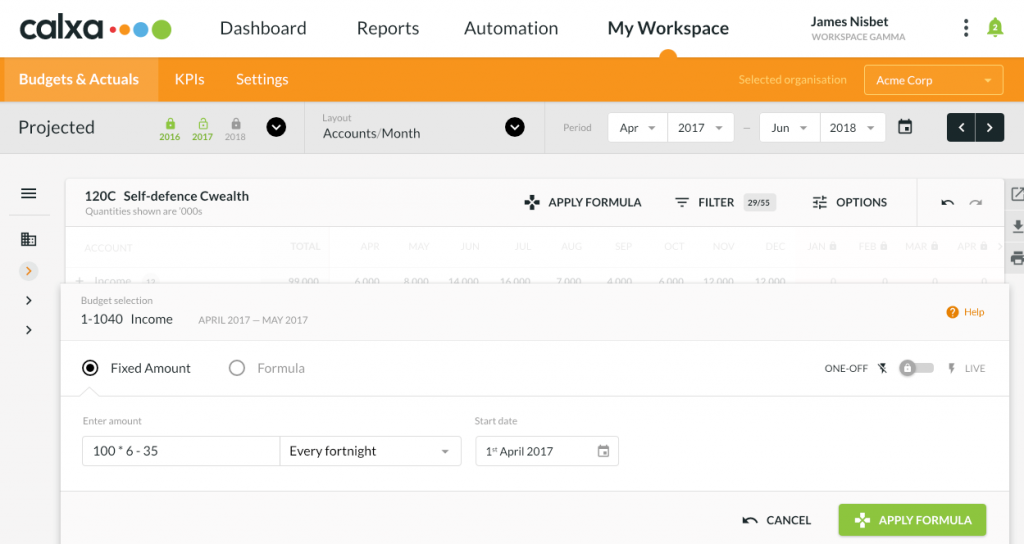 Driver-Based Budgets
Calxa has long included non-financial Metrics as inputs to KPIs for reporting. We're expanding their use so you will be able to build your budgets from them. If you have a Metric for product sales and one for the price, you'll be able to create a budget formula to calculate sales times price.
Build your wages budgets based on the number of employees and hourly rates and hours worked.
Improving Your View of Budgets
While our backend team is working on the nuts and bolts of the formulas, our frontend team will be giving you more flexibility on how you work with budgets.
Improving the Budget Sidebar
We will make the sidebar (where you select the business units you're working on) easier to use. We plan to improve the indenting and add highlighting so you can easily see which business units have budgets. For those of you with long lists, you'll like the search option to find what you want quickly. We will also include our Bulk Actions menu so you can select all or none, active or inactive and more.
Budgets by Account Tree
Account Trees are great to use for report layouts but we've had many requests to add them to the budget editor too. They're coming soon! You will be able to use the same Account Tree layout from your reports while editing budgets and expand and collapse the headings as you need.
Editing Total Rows in Budgets
In Calxa budgets, you've always had the ability to edit the Total column. Doing this spreads the amount evenly over the displayed columns if they are all empty. If there are existing budgets, it  changes them proportionally. We will apply this same logic to the editing of total rows. This will be available either at the top level like Income, Expense, etc. or any Header account level. That way you will be able to adjust the Income total and proportionately increase each of the detail accounts.
Budget Layouts
Most of the time it makes sense to edit your budgets month by month for a year. That's what most of us are familiar with. Since we moved Calxa online, the dates have always been flexible so you can display any number of months.
The next improvement will be to set your columns as quarters or years. The logic here will be the same as editing totals: changes will amend the underlying data proportionally or spread evenly if there is nothing there. We always store budgets as monthly values by Account, however, this will allow you quickly do high-level edits in any direction.
Combine this option with the editing of total rows and you will be able to set the layout to years and quickly make high level changes to the total income, expenses and so on.
Business Units by Month, Quarter or Year
Following on from the layout changes, we will give you the option to swap the sidebar and the left column of the budget grid. This means you can choose an account in the sidebar and see each business unit in the grid.
An example of the use of this would be if you wanted to adjust the wages budget for each of your projects. Select the wages account in the sidebar and then the layout as month, quarter or year. Then you can review the wages budget for each project and change them as you see fit. All within the one view.
Timetable for Budget Formulas, Drivers and New Views
Firstly, it's notoriously hard to predict timing in the world of software development. The companies that do it accurately do so by building something, then announcing the release date when they know the work is done.
To improve your productivity around the upcoming budgeting season, we will release these enhancements as soon as each is done and tested.
So, here is our plan.
We will release the first stage of budget formulas before Christmas. They'll be static and won't automatically recalculate if the underlying data changes but you will be able to select a group of accounts for a date range and recalculate them. We should also have the improved sidebar navigation and Account Tree layouts by then.
If all goes well, you'll also be able to edit total rows before the end of the year and do the fixed amount formulas. If we encounter any delays, they will be pushed into the beginning of the new year.
Towards the end of January, you'll get live recalculation of formulas. So, when you change the number or widgets you plan to sell or their price, the sales budget will automatically update. As will the Cost of Goods Sold line. By then we expect to have also completed the layout options.
What do you want to see in Budget Formulas?
We've discussed budget formulas and driver-based budgets with many of you over the past few years and we're doing our best to incorporate your suggestions. Those of you who miss the Budget Shortcuts we had in the desktop app will get that functionality plus fixes for many of the feedback requests.
We're confident we're on track to build the best budget editor ever but we are also sure this won't be the end of the story. If you can already spot glaring omissions, please let us know. There may still be time to squeeze in some more improvements to this round. The worst case is that you give us a starting point for the next round of improvements.
We appreciate the feedback and suggestions we've had from our customers who have helped us get this far. Now, it won't be long and you'll see the results!
Our Change Log is updated with each release, so make sure to look in over the next few weeks to see any new changes.