The Calxa Team has been building MYOB Integrations for more than 20 years. So, when we heard about the latest  MYOB Update, we realised this is a big one. Mostly, because for some users an update is necessary to continue operating as usual. MYOB AccountRight is moving to an automatic update model. In addition, MYOB are dropping online support for previous versions at a quicker rate than they have previously.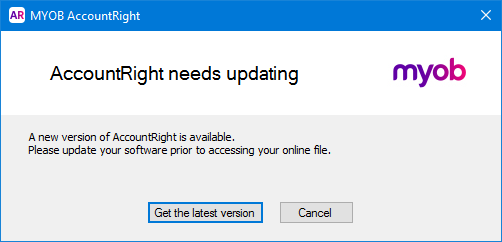 From 12 March 2021, all MYOB online users will need to be on the latest version (2021.1).
Previously, MYOB supported online access for the current and the previous 2 versions. This will no longer be the case so you should consider upgrading to 2021.1 soon.
| | |
| --- | --- |
| Current MYOB Version | Deadline |
| AccountRight 2020.2 | 23 February 2021 |
| AccountRight 2020.3 | 1 March 2021 |
| AccountRight 2020.4 | 12 March 2021 |
How Does This Affect Your Calxa?
For some of our Calxa customers this can mean a major change. In particular, this will affect you if you are on an unsupported MYOB version. To explain more, an unsupported MYOB version is software you possibly bought a while back as a desktop application. You may not be needing all the regular updates and have chosen to stay on this older version.
What To Expect From This MYOB Update
Here is a scenario you can expect if you are on an unsupported MYOB Version.
The API that we use to connect you to Calxa will fail to authenticate.
You will see a message suggesting that the MYOB username or password is incorrect.
In this case, it's likely that the problem is with your MYOB version.
What You Need To Do if You Are on An Unsupported MYOB Version
In this case, the solution is to update your MYOB AccountRight to 2021.1. This will enable your Calxa to sync again with your accounting system.
You are eligible for the latest version of AccountRight, whether you have a paid subscription or not.
Summarising This MYOB Update
Once you're on this MYOB update version 2021.1, future updates will be installed automatically, And, theoretically, these problems will never occur again. Some caution is served for AccoutRight Server Edition users. For now, you will need to update MYOB manually.