There is a lot of talk about bookkeepers and accountants moving into the 'advisor' space. This may mean different things to different people, but we think there is a difference between advising clients, and just looking out for your clients and ensuring they stay on track. We think the latter is more akin to 'value adding', and it is not such a big step for bookkeepers and accountants to move into this space using some simple tools such as Calxa.
We are pretty sure all bookkeepers and accountants didn't get in to the game because they like the long hours, the compliance rule changes, the constant technology challenges, or the frustrating clients that never have their paperwork ready for them. Most of them will have got into the industry because they have a genuine empathy and concern towards the small business owner,and would like to think that they can assist and take some pressure of these pillars of the Australian economy. And they don't have clients, just so that the client remain compliant with the ATO, although this is obviously very important. I'm sure everyone in this game endeavours to keep the ATO happy, but more importantly, the end goal is to ensure the client is happy. If you keep the ATO happy, well…..you will get no thanks or appreciation from them…they just won't bother you. If you keep your client happy, then you are bound to hear about it in any number of ways! And if the ATO is happy, and the client is happy, then the odds are that you are happy.
Let's consider how we can go about doing this, with some simple meaningful, 'value added' reports, that answer some of the most common questions you get from clients, such as;
If I have made a profit, why is there no money in the bank?
How much tax am I going to have to pay?
Can I afford to do ….xyz? (What will my bank balance be in the future?)
Now with addition of Financial Statements such as Profit & Loss and Balance Sheet in the Calxa reporting engine, we can answer questions about the Past, Present and Future. We have touched on this previously with our Heavyweight Reporting for Serious Athletes article, but let's look a bit more closely about how to do this, and the mechanics behind it.
Assuming your client file is up to date and reconciled, open up Calxa and select the Organisation Management icon on the toolbar.
Bring your accounting data into Calxa via the various accounting platforms through the 'Create New From' button.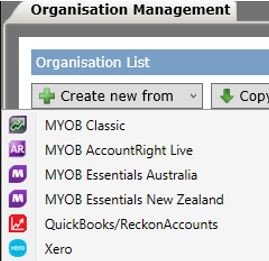 After the file has been imported, enter the clients Overdraft Limit (if applicable) in the Details area, which is located in the middle of the screen (and don't forget to hit the Save button!). This is important if you are wanting to prepare Cashflow Forecasts for the client, and show them what their 'Available Funds' are, rather than just their closing bank balance.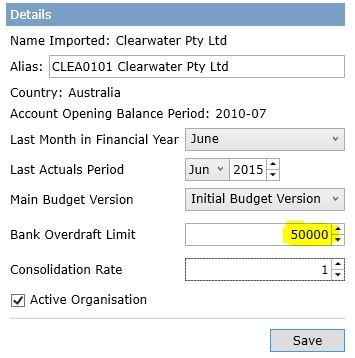 Once you have done this, you will need to configure the Default Accounts and Cashflow Settings for the client, which automatically sets payment periods for such things as BAS and superannuation payments.
This is a very important process if you are wanting for prepare accurate Cashflow Forecasts, as it is only done once. After it is configured, you generally do not need to do anymore in these screens after the initial configuration. However, you may need to review them if new accounts have been added to the source accounting file.
You are now ready to Create Budgets, and if no information is readily available from the client, simply create your budgets based on current year, or prior year actuals. If you prepare some forecasts for your client, and they ask you "Where have you got those numbers from?" you can simply say "It's what you did last year.." and then this will possibly open up the conversation with the client to fine tune the budget accordingly. Once you have created your budgets, review and fine tune them using the various Tools & Shortcuts. Budgets can be viewed and edited via the icons on the toolbar.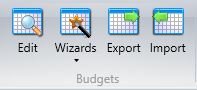 Once you have got your budgets set, it is then time to set up your Report Bundles, which can be done via the Reports icon on the toolbar.
It is worth noting that Report Bundles are specific to clients, so you will need to create a Bundle for each client. And if you have client codes, we suggest you prefix the Bundle name with the client code, so that they appear in a logical order.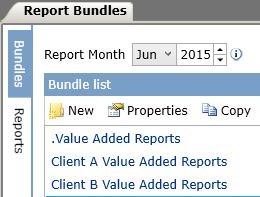 We suggest the following reports and charts will go a long way to answering those three common questions from your clients. Don't forget that you can Reorder your reports in any way, via the 'Reorder' button at the top of the Bundle.
Once you have created your first Bundle, you can simply Copy the Bundle and rename it for the next client.
After you have copied the Bundle, make sure you click on each individual report within the Bundle, and Edit the Criteria to select the new client (otherwise you may inadvertently send reports to the wrong client!).
Now that you have got this set up for your clients, it is literally a 3 step process to send these reports to your client each month. We estimate this will take you around 2 minutes per month.
Step 1: Update the data from your source accounting file through the Organisation Management window.

Step 2: Click onto the Reports icon, highlight the applicable Bundle, and select the reporting month (usually the last reconciled period). Calxa will automatically change the criteria for each report and roll it forward to the next month, without you having to do anything else.
Step 3: Display the Bundle, and Deliver the Reports to your client in their preferred method (via email or hardcopy), and in their preferred format (i.e. pdf, xls).
So, after the initial set up time (we estimate around one hour for each client), you can deliver meaningful reports to your clients that they will understand. Thus opening the door for further opportunities with your client, all at the cost of a couple of minutes of your time each month.
Do you think your client will see value in these reports? We think so.
Do you think it will be a productive use of your time? We think so.
Do you think your client will complain if you put your fees up slightly, in return for the extra value they are receiving? We don't think so.
Even if your client isn't prepared to pay any more for your service, by adding value with these reports anyway you will stand out from the crowd. Just a couple of minutes per month, could mean keeping a client for life.
As mentioned earlier, we think this is more 'Value Adding', rather than 'Advising'. If you are looking to really step into the Advisory space, then we can also help with things such as KPI Reporting & Editing, and Scenario Modelling, but we will leave that for another day.
One step at a time.