Foundations of a Great 

Cash Flow Forecast
A Guide to Setting the Foundations for a Cash Flow Forecast
Great cash flow forecasts are not produced out of thin air. Whether you're using an app or doing it in a spreadsheet, this guide will help you prepare before your meeting with your advisor. Foundations of a Cash Flow Forecast has not only some tips on what to review but also a worksheet that helps you prepare.
Foundations of a Great Cash Flow Forecast covers:
Taking stock of your current situation
Planning out your future
Worksheets to help you prepare – see the infographic below
Once complete, share the worksheets with your accountant or advisor.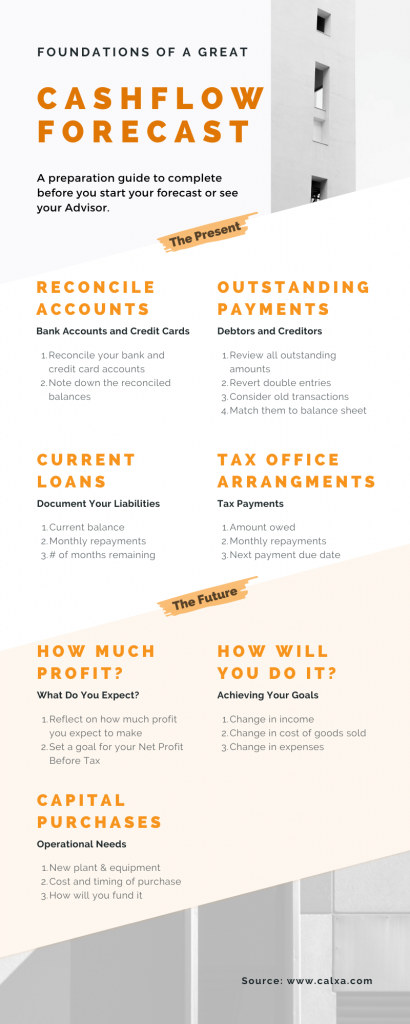 Cash Flow Forecasting in Calxa
Doing cash flow projections in a spreadsheet is hard work. Calxa works on helping you take some of the complex calculations out of this process.
Starting by connecting to your accounting system, Calxa gathers insights into the timings of your payments and receipts. Once you have prepared a budget for the next year or two, Calxa will apply these timings to produce your cashflow forecast.
This guide and worksheet gives you tips to help you be well prepared before you start work or see your accountant. It will make the creation of the cash flow projection much easier.
Once you have prepared the worksheets, you can jump straight into Calxa and prepare your first forecast. Sign up for your free 30-Day Trial to test this yourself.
Get Your Guide
Set the foundations for the best Cash Flow Forecast you have ever prepared.