The latest report on Not-for-Profit Technology has been released. The Infoxchange Group is a leading not-for-profit that uses technology to improve disadvantaged people's lives and assist the organisations that support them. Infoxchange, in collaboration with Connecting Up and TechSoup New Zealand, recently released its fifth annual Digital Technology in the Not-for-Profit Sector report. This research project investigates how NFPs across Australia and New Zealand use technology to grow and best achieve their missions. It also examines where improvements are still needed in the tech arena.
You can download the full report here.
COVID-19 Challenges Highlighted in Not-For-Profit Technology Report
The 2020 report uses data compiled from almost 500 organisations, mostly small- to medium-sized ones. It focuses on the technological challenges of COVID-19.
It found that only 30% of not-for-profits actually had the software programs and systems they required to meet their teams' needs when working from home during these turbulent times.
Unfortunately, most respondents also noted that the lockdowns and related pandemic issues caused major disruptions to service delivery. Only 3% of those surveyed reported that the delivery of their services was unchanged during this period. This result signals that NFPs must look for ways to continually integrate technology into their organisations. As a result, they will improve service delivery and employee productivity.
See where you are measuring on the capability scale. This matrix will help you identify your strengths.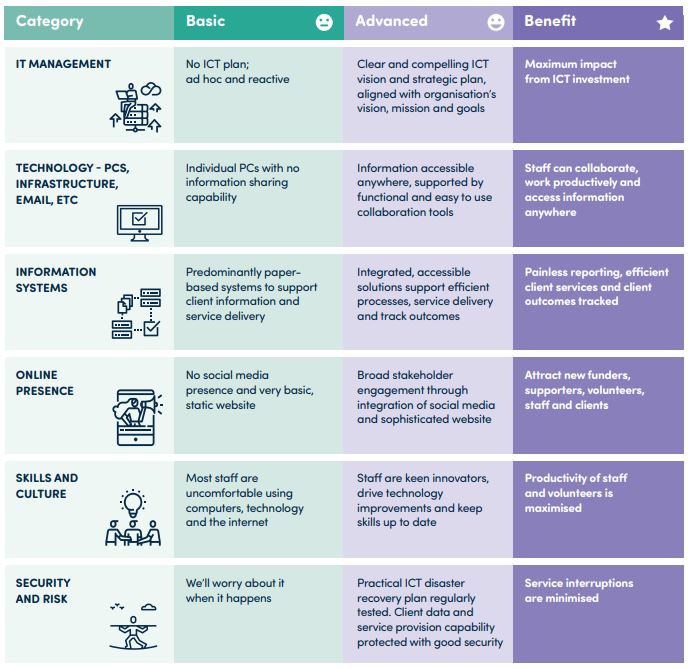 Improvements Needed for Not-for-Profit Technology
Going through this latest report, we have pulled out some of the key findings. These discoveries demonstrate room for improvement in not-for-profit technology.
54% of respondents are less than satisfied with the way they use technology.
49% of staff are less than confident using information systems and other tech.
Plus, worryingly, only 46% of NFPs have ways to actively monitor cyber risks and information security.
In this time of growing hacker attacks and more sophisticated techniques, CEOs and other leaders need to investigate this situation.
Sector Proving More Digitally Capable
In good news, though, the report showed that increasing numbers of not-for-profits are becoming more digitally capable. For example, 52% of respondents said they're using at least one type of new or emerging technology. Organisations utilise mobile apps, bulk SMS, data analytics, and assistive tech (e.g., designed for the elderly or people with disabilities), amongst other tools.
While 41% of those surveyed said improving their website is a top tech priority, there's now also more interest in working on other critical factors. Upgrading IT infrastructure, improving staff's digital capabilities, and moving to the cloud land at the top of this list.
Today, 46% of NFPs have moved to the cloud, which is a rise of 3% from 2019 figures and 11% from 2018's.
When you add in the number in the process of moving to the cloud, this percentage goes up to a significant 58%. The organisations that had moved to the cloud before the pandemic hit were better positioned to respond to the challenges that arose from it, especially when it came to staff working from home.
Another key improvement in the sector relates to tracking and reporting information. You will agree, this is even more critical since the pandemic. Government departments, philanthropic trusts, and corporations are increasingly changing the way they work with not-for-profits. These days, they require more details about how contributions have an impact. Digital technology is helpful when responding to requests for information, saving time and money.
Not-For-Profit Technology Captures Valuable Information
A large proportion (71%) of respondents mentioned that their primary systems enable them to capture valuable information about clients and services. This is a rise from last year. Also, only 44% of NFPs noted that these systems make it possible for them to truly understand the impact of their work. This insight represents a 7% increase from last year. Plus, 43% of organisations regularly track and report back to management on the performance of their online presence.
To stay viable today, you will need to be able to capture data on your service delivery. This information is critical at the time of grant acquittals and reporting. As an NDIS service provider, you will want to track client data. This will ensure you keep within the agreed unit cost. This Unit Costing Guide will help you better understand this concept.
Better Utilisation of Technology
Do you need help to better utilise your not-for-profit technology? Maybe you would like to improve reporting processes in areas such as budgeting and forecasting? If so, check out the Connecting Up Donation Program, designed for Australian and New Zealand NFPs.
If you operate a small not-for-profit organisation, you may be eligible for free access to Calxa's Premier reporting software that is part of the Connecting Up Donation Program. Learn more about the Calxa Donation Program and how it can help take your not-for-profit into the future.
About the Author
Kellie Byrnes is a freelance writer, children's author, and reviewer with a BA degree in Literature. Her work has been published on sites like Huffington Post, Lifehacker, Gumtree, Forbes, Entrepreneur and the MYOB Pulse. She creates content for companies around the world. Prior to writing full time, Kellie owned her own e-commerce business. She also spent time in sales, marketing, PR and publishing roles. You can find more information on Kellie on her website.