Sharing Dashboards will be coming up New in Calxa in the next weeks. We've been working on improving our customisable dashboards all year and the final piece will fall into place in December. Dashboards are meant for sharing. You'll be able to share them with other users in your organisation or with the world at large. And there are more improvements coming before the end of the year!
Sharing Dashboards are New in Calxa
To give you options, there will be a couple of ways to share your Calxa Dashboards.
Sharing within your Organisation
Anyone who is an owner, co-owner or full workspace user can already access all dashboards in a workspace, without restriction. For other users, who may only have permissions on some business units, it hasn't been so simple.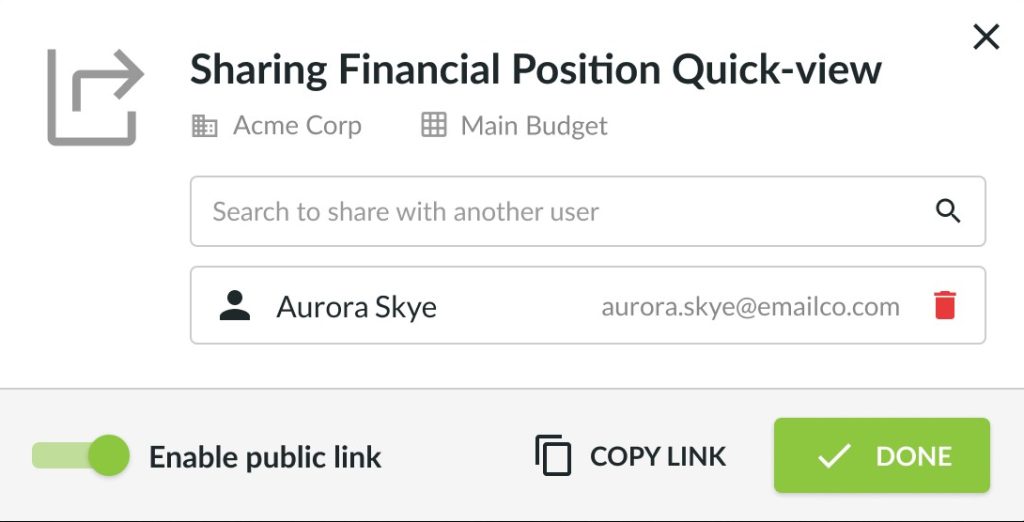 You will be able to grant permission on individual dashboards to any workspace user.  What's more, those permissions will over-ride any other restrictions on their activity in Calxa. If you share a dashboard with them they will see all charts on that dashboard, but won't be able to change them. This means  you will be able to create charts which could compare their department or project with others. Alternatively, you will be able to see KPIs by department without needing permissions on all those departments.
Public Sharing Links
The other way, is when you want to share a dashboard with someone who isn't a Calxa member. In this case, use a public link. This will allow them to see the dashboard without logging into Calxa. It will be perfect for accountants sharing data with clients or a CFO sharing charts with external board members.
The sharing link will work in a similar fashion to a public sharing link. For example, like sharing a file link in Dropbox which gives access to anyone with that link. One word of caution, you will need to be careful with the data you share this way. Ultimately, you do lose some control over who else the link could be shared with. However, you will be able to revoke the sharing link at any time.
Bulk Connections to Xero
Currently you can easily connect from Calxa to one Xero company file. There are times, especially when setting up reporting for a group of clients, when you may want to add 5 or 10 or 20 files all at once. That option is coming very soon. Watch this space!
Report Builder Improvements
New in Calxa shortly, will be an easier way for you to switch reports when making changes to the filters: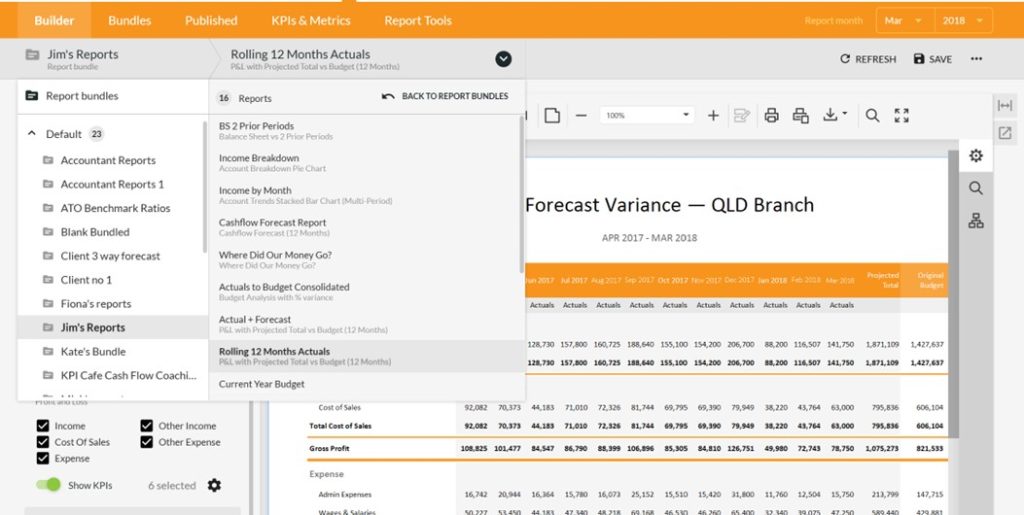 In the example above, we are configuring one report from a bundle. But you will see we can easily switch to any other report in that bundle without leaving this screen. Or indeed, we could switch to another bundle. Notice that we've added a Save button to the top right. Save your changes at any time and move on to the next report. On a new report, the Save button acts just like Add to Bundle has in the past.
If you've selected a report from the template library, rather than a bundle, you will be able to switch between similar templates or others from your search results without going back to the library. You will find the right report for your needs much quicker than in the past.
Bulk Edits of Report Bundles
The final change this year will be bulk edits to report bundles. Simply, select some or all of the reports in a bundle and then change the Organisation, Business Units, Budget, Account Tree or Report Style. All in one step!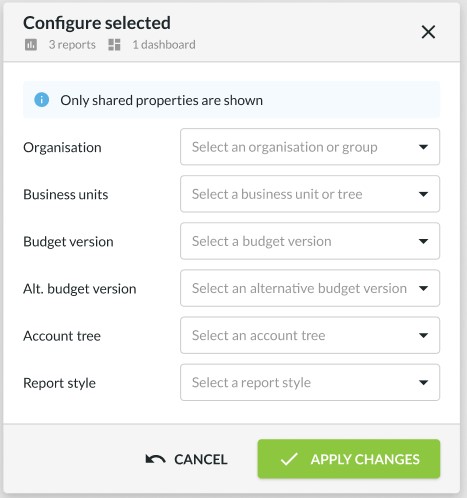 This will make it much easier to take an existing bundle and repurpose it for another client or another user in your organisation.
We build Calxa to make your life easier and to save you time with your reporting. Some or all of these changes should make a difference to you.
Feedback is Always Welcome
We value your feedback. To make the most of this feedback, we record every scrap of information we pick up from our day-to-day conversations with you. Here, our quest is to learn what you need. Ultimately, we want to deliver what will help you get your work done easier. So, feel free to give us unsolicited suggestions at any time. Some will take time to implement but sometimes we get ideas from customers that are very simple to change and make a big difference.
Look out for our change logs with all the details of recent changes. As always, you are most welcome to reach out any time you need a hand or simply book a session with our team.