We've always worked on giving you greater flexibility to produce the reports you want. Our latest project has taken that to the next level. This month, new in Calxa, will be our latest makeover of business unit reporting: Business Unit Trees. Report on one, some or all, whether they are within the same company or in different organisations, you'll have the flexibility you need.
Note: We are planning to release Business Unit Trees on Wednesday 3 November.
What's New in Business Units?
The big change is the introduction of Business Unit Trees. These give you the ability to create a hierarchy of your departments, projects or jobs. Add as many levels as you like and choose to report on a consolidated or detail basis at each level.
New in Calxa: Business Unit Selections become Business Unit Trees
But first, for those who want to keep things simple, all of your existing Business Unit Selections have been converted to Business Unit Trees. This means that your existing report bundles will run just the way they have in the past. You don't need to change anything. And, if you're just reporting on one department or project, you can select that directly within the report builder.
New in Calxa: Departments across Organisations
Have you ever had the need to report on departments or projects across different entities? Now you can. Build a Business Unit Tree to include the Sales department from your Dublin branch, your Berlin branch and your New York branch. You'll then be able to report on each individually, consolidated or both. You'll have access to all our 150+ reports. In addition, you can compare budgets to actuals or just a simple Profit & Loss report. Furthermore, see each department line by line or side by side.
And if your Dublin and Berlin companies report in Euros, and the New York office in USD, that's not a problem. Calxa's multi-currency consolidation works the same whether you're reporting on the whole company or just part of it. For example, create an organisation group for the 3 companies and then filter the reports using the Sales Business Unit Tree. Simple!
Will the Business Unit Makeover Affect My Reporting?
There are some changes to the report filters. Otherwise, for most of you, the process will be very similar to what you've been used to with Business Unit Selections. Also remember, when filtering your reports, we made some changes a couple of months ago so that you could choose just one business unit at a time. For most of you, you'll just now pick a Business Unit Tree where you would have chosen a Business Unit Selection.
The only exception to this is for those of you consolidating multiple organisations. Because the Business Unit Tree sits at the Workspace level, it works across organisations. As a result, , it effectively filters the report to include only the selected business units. Therefore, they could be from just one organisation or, as in our Sales Department example above, from 2 or more organisations.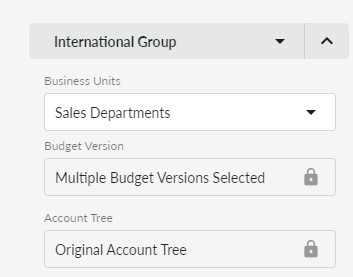 Learn About Business Unit Trees
Because this is new in Calxa and a big change, we're preparing lots of help material and videos. Ultimately, these will guide you through the process of creating your first Business Unit Tree. We're confident that once you've done the first one, you'll find the following ones easy.
We're presenting a webinar on Wednesday 3 November to introduce Business Unit Trees to you. Here is the webinar recording if you missed it.
Hope you welcome our new in Calxa business units. Keep adding your thoughts to the feature wishlist! To find out more about Calxa's new features, go to our Product Info articles or check out our change log.