Calxa provides a rich source of information for both franchisees and the franchisor. It makes it possible to easily consolidate franchises – either globally or for individual regions.
By generating KPIs for the entire group, franchisors can provide their franchisees with valuable benchmarking information whilst also track geographical performance to establish growth patterns.
For Franchisors
There are a few Calxa features that stand out as particularly useful to a franchisor, that give the information to see how the group as a whole is performing and to quickly identify those franchisees who are struggling.
1. Consolidation
The best way to get an overview of the whole group, is by reporting on them together, as a single entity.  
Calxa provides the tools to consolidate them effortlessly.
NOTE: They don't all need to be using the same accounting software or have the same chart of accounts. Calxa links to most common systems and provides the platform to re-arrange the Chart of Accounts to align it across all entities.
2. Report Bundles
Franchisors often are likely to have a number of reports to run each month – some consolidated, some detailed, some looking to the past, some to the future.
These reports are best all added  to a Report Bundle to enable to display them with a single click. This makes for consistent management reports each month.
3. KPIs
Financial information is great – and very necessary – but it's often the special numbers that make a difference in managing an organisation.
Using Metrics for the non-financial numbers and then adding them to KPIs will bring out patterns and ability to visualise the trends.
4. Manage Users
In a multi-user environment,  franchisees can be allowed access to Calxa to manage their own budgets and run reports for their businesses.
This can easily be done by setting permissions to limit users to what they should see whilst empowering them to manage their franchise well and monitor their own results.
5. High Level Overview of Performance
Using the Business Unit Income & Expense Summary Report to see which franchises are faring well and which are struggling, can initiate help and advise quickly as necessary.
It's an agile way to mentoring franchisees and turning them into a successful business.
For Franchisees
Franchisees will benefit from being able to manage budgets, forecast cashflow and report on their stores.
KPIs  form part of an easy and visual way of tracking performance. There's no need to wait until the end of the month for reports – they can be monitored on an ongoing basis to enable quick responses and  make relevant decisions  mitigating any shortfalls early.
1. Cashflow Forecasting
Being able to project the cash position is a vital point in many businesses' day-to-day.
Whether it is simply forecasting to determine upcoming employee costs, mitigating seasonal imbalances or new franchise opportunities, Calxa makes this process easier. Here is how you get started with Preparing a Cashflow Forecast.
2. Report Bundles
Batching reports into a Report Bundle is useful for management reports for  the individual franchise as well as running a standard bundle for a whole group. While the needs will be similar to the others, the variations of reports can be saved into separate bundles. It's as simple as this help note –  Create your bundle – explains then running the reports is just a click.
3. KPIs
By running the same KPIs as fellow franchisees, franchise members are able  to benchmark their performance.
Using Metrics for non-financial data like the number of employees, shop area, transaction volume, provides a great way of coming up with common trend data that allow for comparison so that all franchisees benefit.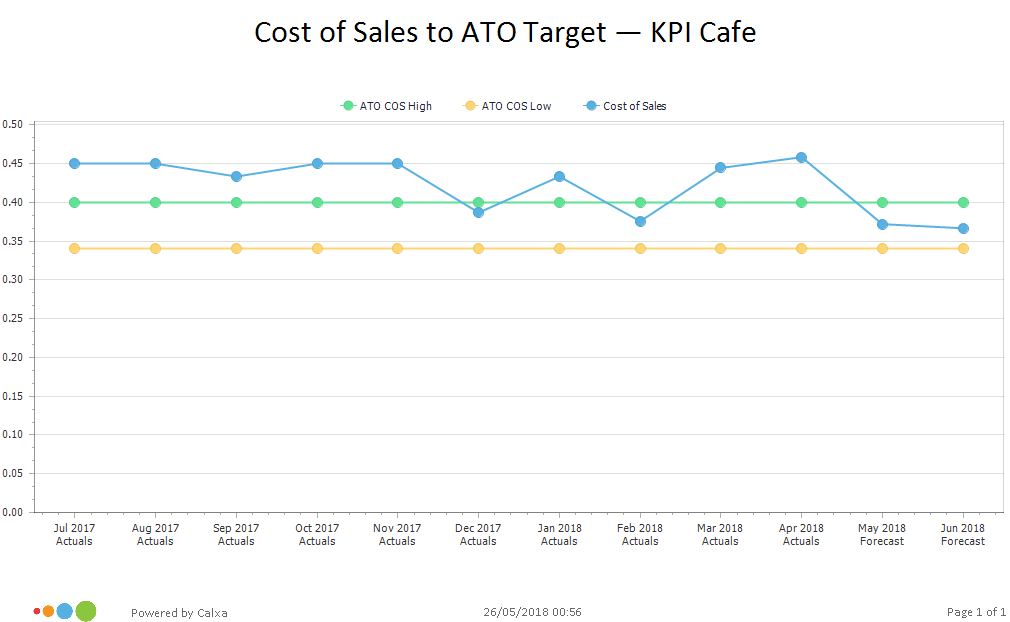 Calxa is designed to make reporting easier. It has the consolidation tools to satisfy the needs of the franchisor while still allowing for the individuality of each franchisee.