Power 3 Way Forecasts, Consolidation and Cost Centre Reports
Automated client management reports
Truly Integrated 3 Way Forecast
Using Calxa, you and your team will save time and deliver more.
Serious Grunt delivery by Accountants for Accountants. Simply create a P&L Forecast, a Balance Sheet Forecast and add the Cashflow Forecast for real 3 way Forecasting. As a certified add-on, Calxa links to popular accounting systems including Xero, Quick Books Online and MYOB. 
The P & L
The 3 way forecast starts with the Profit & Loss Forecast to form the building block for the cashflow projection.
The Balance Sheet
The Balance Sheet forecast is the key to be able to clearly see where the company will be at any point in the future.
Cashflow Forecast
Fully integrated 3 way forecast that includes the projected cashflow for 12 months or annually for up to 10 years ahead.
Simplify Cost Centre Reporting
Breakdown departments and business units with Calxa's Cost Centre Reports.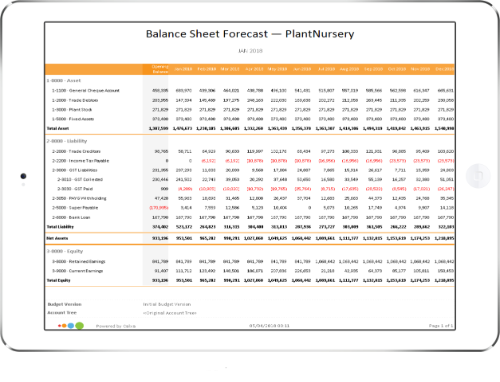 The power of a clean integration with popular accounting systems, means department level reporting and cost centre budgeting is not only easy but accurate. Break down departments and business units using Calxa's cost centre reporting.
Save time and deliver reports on departments, programs, jobs, activities and locations. Link directly to your clients' accounting data – no need to enter monthly actuals.
As a certified MYOB, Xero and QuickBooks Online Add On, you can be sure to get the right numbers.
Automate Company Consolidation
Merge Budgets, Cash Flow Data, Balance Sheet Forecasts For Multiple Entities.
With this powerful consolidations app you can run forecasts for one entity or many. Get quick and easy consolidation reports on balance sheet and forecasts across multiple entities and branches. Consolidate them and create workflows to update each and schedule delivery of your reports. 
Easily merge Budgets, Cash Flow Data, Balance Sheet Forecasts for multiple entities and deliver as group consolidations.
Automate the report delivery saving time and improving productivity doing complex management reports and build your income stream. Trial Now!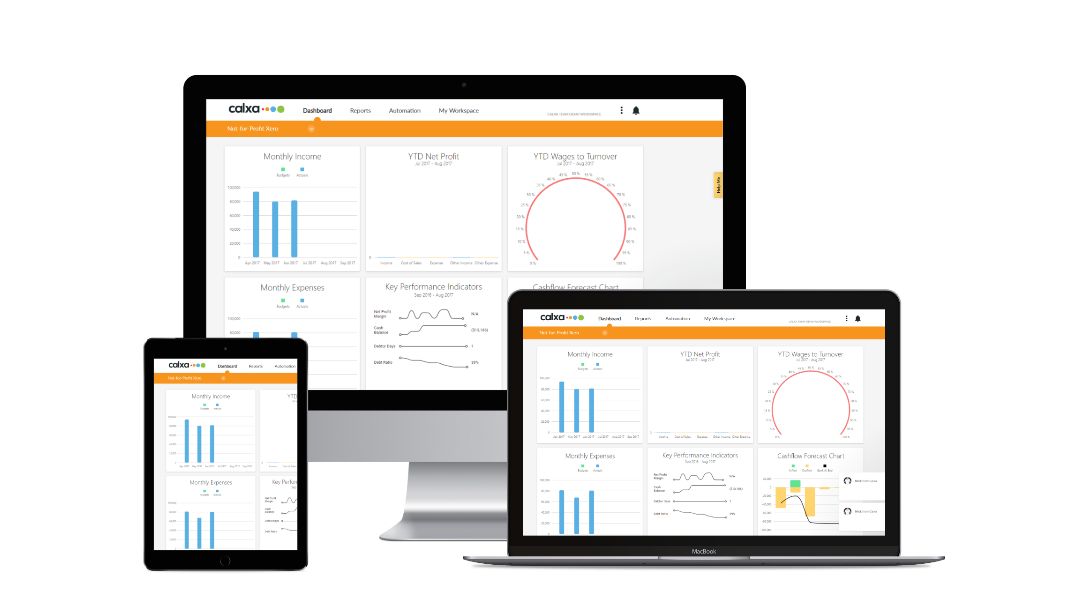 IMPROVE YOUR INCOME STREAM AND INCREASE YOUR MARGINS
Save Time with Automation
Works across multiple platforms and is ready for your whole team
No Data Processing
Linking directly to your clients' accounting data will relieve your team's workload. There is no need to enter monthly actuals as Calxa will do this for you with 100% accuracy.
Fast-Track Budget Creation
Create first drafts of client budgets using last year's actuals on a company level or use the Budget Factory to create hundreds of cost centre budgets in just minutes. 
workflows to automate delivery
Simply add workflows to auto-sync actuals from the accounts and deliver reports to your client's inbox at a time of your choice. Now start a conversation.
3 Way Forecasts made easy
Our customers love the 3 Way Forecasts, Consolidation and Cost Centre Reports

Ian Wheeler - Partner, WLF Accounting & Advisory
"Calxa is brilliant for management reporting and cashflow budgeting. It links seamlessly with the accounts without any fuss."

Heather Smith - Author, Xero for Dummies
"Loving Calxa plus Xero – fully customisable budgets and forecasts."

1. Connect to your Accounts
Calxa works with popular accounting systems such as Xero, QuickBooks Online, MYOB AccountRight and MYOB Essentials. Follow the simple steps to link once and then schedule updates monthly, weekly or daily, or whatever your clients need.
2. Build your Budgets
Use the Budget Builder to create Balance Sheet and P&L budgets or just use the Budget Factory wizard to quickly move last year's actuals to this year's budget. Alternatively, simply bring them in from the accounting system or import them from a spreadsheet.
3. Now for Bank-Ready Forecast
Set your cashflow settings and schedule to project forward the GST/VAT, payroll liabilities and tax payments. Select the Cash Flow Forecast report from the library of report templates to combine it all into a a true 3 Way Projection. You can run a chart or numbers if you prefer. Run the forecast 12 months ahead or 10 years – whatever your clients need.
SEE IT IN ACTION
What your Report Bundle would Look Like
We designed and built this app with the end-user in mind
Priced for the Growing Practice
Premier200 is our pricing plan designed for the progressive firm that has put advisory at the forefront of its growth. It will allow you to scale your revenue stream easily and increase your margins.
WORKSPACES
We provide you with containers where you can keep one client or many for sharing with your colleagues.
PERMISSIONS
Set permissions to manage access for your team, giving full or partial access by client.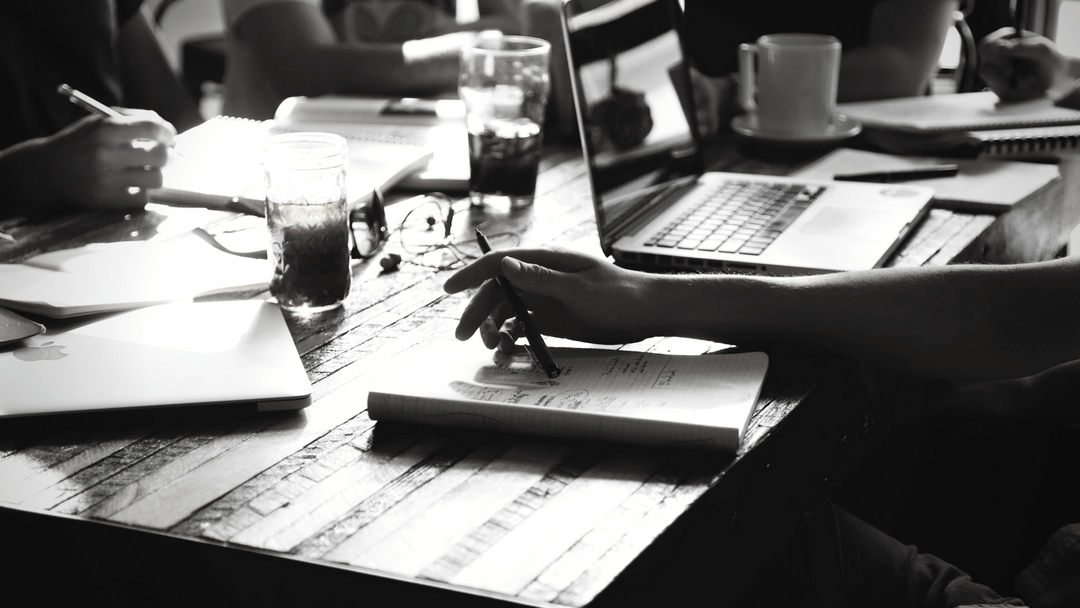 MORE FEATURES
Calxa Premier is Calxa on Steroids
If you desire advanced functionality and are a power user, this was so made for you
Cost Centres
Budget and report against cost centres, departments, branches, projects, programs, jobs… you name it.
Report Designer
Add and remove columns, delete footers, change titles, insert logos and more. This super-powers your reports.
Document Editor
Polish off your reports by adding cover pages, images, notes and annotations to your report bundles.
KPI Builder & Metrics
Build custom KPIs to dive deep into the company data. Use non-financial metrics to monitor the drivers of performance 
Account Trees
Re-order your account structure to deliver summarised reports. Add these to reports to help non-accountants better understand.
Group Consolidations
Merge budgets, cashflow, balance sheet forecasts and KPIs across multiple companies.
Loan Wizard
Run this wizard to quickly calculate loan payment plans. Automatically add principal and interest payments to your budget. (Coming 2019)
NDIA Claim Uploads
For NDIS Providers on MYOB AR Live, the NDIA bulk portal upload grabs time-billing invoices for quick claim submissions.
Customisable Dashboard
Populate the dashboard with information important to you. See at a glance how your business is performing. [Coming 2019]
It's flexible - we're built for the small right up to the big organisation.
Upgrade or downgrade your subscription any time.
120+
 reports
Budget Builder
Dashboard
Default 
KPIs
1 User
1 Organisation
Full Help Desk Support
120+ reports
Budget Builder
Dashboard
Default KPIs
KPI Calculator
Metric Formulas
And More!
5 Users
5 Organisations
Full Help Desk Support
120+ reports
Budget Builder
Dashboard
Default KPIs
KPI Calculator
Metric Formulas
And More!
10 Users
50 Organisations
Full Help Desk Support
120+ reports
Budget Builder
Dashboard
Default KPIs
KPI Calculator
Metric Formulas
And More!
20 Users
200 Organisations
Full Help Desk Support
30-Day Free Trial
Test-drive Calxa with your own data, import your budgets and play.
Book a Demo
Test-drive Calxa with your own data, import your budgets and play.