Calxa Case Study – First Class Accounts Fremantle
Watching the light-bulb moment when business owners start to understand their business and their numbers.
The Problem
Chelsea Sanginiti is well respected within the First Class Franchise community and loved by her clients. Here is a little snippet on what makes her get out of bed each morning.
Getting Started
8 years ago, Chelsea's mum persuaded her to take over her First Class Accounts franchise in Fremantle and she's taken it from strength to strength since. She's built a reputation for fantastic customer service and a specialisation in providing management reports to her clients. After her initial training and qualifications, she's now employing her mum as one of the team!
The big thrill for her is "watching the light-bulb moment when business owners start to understand their business and their numbers". It's been a journey to get to that point and Chelsea shares some of that with us.
Growing the Business
The learning hasn't stopped and Chelsea enrolled in a course with Confident Cashflows in Perth to improve her skills further and then settled on Calxa as the tool to simplify and streamline her reporting processes.
She's now providing condensed monthly reports and more detailed quarterly ones to her top clients. Again, it's about starting conversations, prompting thoughts and helping her clients think about better ways of running their businesses.
The First Class Accounts franchise has provided the stability and support she has needed to grow. The customer-focused culture suits her style and she obviously suits them as they recognised her as Franchisee of the Year in 2016.
The Solution
Management Accounting for Beginners
Finding a good mentor was the key to getting started with the management accounting side of the business. She took on work for Peter who guided her in using spreadsheets to provide reports for their mutual clients. Learning the manual way in Excel was important to understanding the principles required for good management reports that provide clients with clear insight into their businesses.
Chelsea enjoyed the challenge of the difficult clients, helping them re-arrange the chart of accounts and restructure departmental reporting so that they could see where they were making or losing money. She prompted conversations that led to decisions that made a difference to her clients.
Falling in love with her first client and marrying him was just an added bonus…
Satisfaction and rewards
As a bookkeeper, Chelsea feels close to the business owners she works with and gets a deep understanding of how they work. In the early days with a new client, she takes the time to understand the business and get a good feel for it. Her role is very much about communicating with the owner, far more than the traditional bookkeeper role of entering data.
Taking that time, working out what is important to each business, what makes them different is the key to providing insightful information. Sometimes it takes a little time for the owners to understand the new information but when that spark happens, the change is clear.
For one of her clients this was crucially enlightening,
"I presented Management Reports and watched the light-bulb moment when I was able to demonstrate that they were making money in one department but losing it in another. This has now opened up discussions between the two business partners on what they should and can do."
"Too often business owners fail to look and understand their numbers and if I can help in this way then I'm one happy Bookkeeper."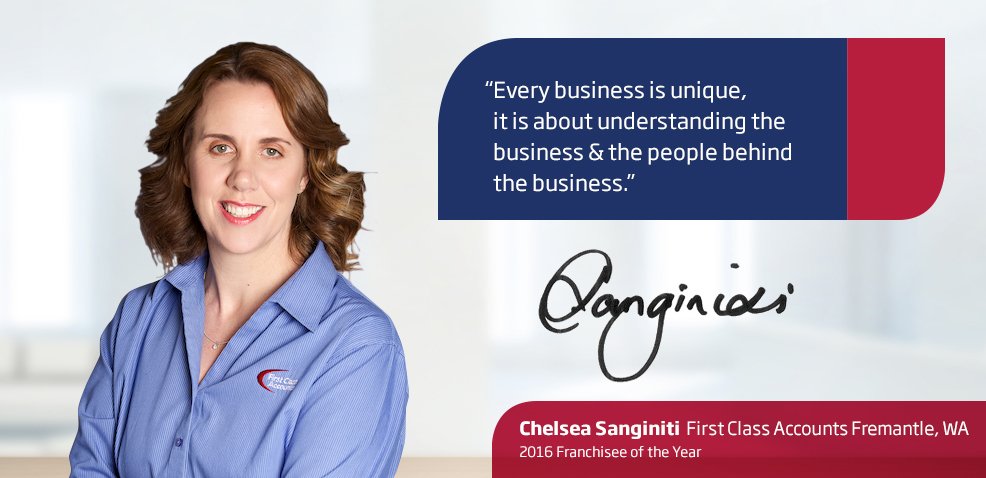 About First Class Accounts Fremantle
As 2016 Franchisee of the Year, Chelsea and her team at First Class Accounts Fremantle provide an exceptional customer service experience. They perform a range of expert bookkeeping services for Small to Medium Sized Businesses.
The Organisation
Organisation: First Class Accounts, Fremantle
Cause: Customised Bookkeeping Solutions with a Smile