A progress report and recount of challenges and excitements by the Calxa Team.
Intro
Going from legacy desktop software to cloud app is an interesting journey. We're not sure what is easier: designing a new app starting with a blank sheet of paper or converting a rich and functional application to the online platform. Either way for the Calxa team these are exciting times and an opportunity to do things better this time round. Each week bears fruit highlighting the amazing stuff we can do in the cloud. Here is an ongoing account of our diary entries documenting our challenges to meet our Roadmap targets.
Calxa Online is live. Check it out at any time to see how it is progressing. Simply use your existing Calxa log-in (or sign up for a free trial). Meanwhile, for full functionality you still need to go to the desktop application.
*Note: the most recent updates are at the top of the time entries.
** Note: some of the images shown below are wireframes and do not represent the final product.
3 April 2018: First Iteration of the Budget Builder
Today, the first part of the Budget Builder went live. It's exciting as once the full Budget Builder is done, we reach a major online milestone – Calxa Express. The whole editing budgets is a brand-new concept compared to the trusty desktop app. There is no longer the limitation of editing within a financial year, instead the user selects the date range they wish to work in. So, this could be a calendar year or simply a 4-months period.

For the rest of this month, our Dev Team will focus on building the next stage. There is still budget import to come and of course, we couldn't exist without the budget factory. And just to flag this here, the Shortcuts will be replaced, in a couple of months, by an advanced formula-style calculator.
8 March 2018: KPI Builder is looking good
Our designer has been busy on the KPI builder, going back and forth with the team to fine-tune the initial mockups and create something pretty special. We think you'll like it when you see it in a couple of months.
Some of the key feature improvements we've built into it are:
KPI Categories – so you can group related KPIs both in the builder and the reports;
Drag and drop ordering – within a group just drag to change the sequence (much better than our current alphabetical sorting on name!);
Autocomplete – for the advanced user who likes to type their formulas, Account Groups, Metrics and Functions will offer autocomplete options as you type;
KPIs built on KPIs – Many KPIs are simple with just one number divided by another, but some can get quite complex. You'll soon be able to use the results of one KPI within another so you can break down the complexity and make your formulas easier to read and understand;
Meanwhile, the development team are beavering away on the Budget Builder and we're hoping to show you some of that very soon. Watch this space!
27 February 2018: Woohoo! One Milestone Reached
Today's release completes the online reporting functionality. Everything you can do in the desktop application you can now do online (and we've had plenty of feedback to say it's both faster and easier).
You can create reusable organisation groups for easy consolidations and lists for business unit reporting with an organisation. All the Report Bundle features like copying a bundle and copying reports are there (and did you see you can re-order them by dragging and dropping?). Exporting a report from a bundle to Excel now puts it in a single worksheet – that should keep a few customers happy!
12 February 2018: Another Release
The next release is scheduled today. So just to point out what some may already know, we are now on a fortnightly sprint cycle. What does this mean? Essentially product development is planned and executed in 2-weekly lots. So smaller bit sized projects with more frequent releases. This allows our customers to gain access to more online features quicker.
Today's release is quite a bumper. It includes the remainder of the report templates, multi-organisation and business unit reporting ability and finally the first showing of the billing section. This is a self-serve portal where users can manage their subscriptions. As of today, one can upgrade or downgrade their Calxa and change their payment details. Soon to come will be an invoicing viewing section and a facility to add new subscriptions for our partners, franchise and enterprise customers.
08 February 2018: BU and Multi-Org
Another build is getting ready and testing of new functions like consolidation of multiple organisations is underway. So far, the word on the streets is "unable to break anything" – a good sign. The other bit being worked on is Business Unit (BU) selection. This will be great for those users needing to report against jobs, tracking categories and classes aka most of our customers, so you see it's an important function. It's funny how it goes sometime. We thought business units would be a piece of cake and multi-organisation would be the challenge. As it turns out, it all back to front.
01 February 2018: Workspace Transfer is here
Today was exciting as we released the latest build. Many of our customers are entrenched in the desktop application having invested time setting up their report bundles and custom KPIs. Now, the Workspace Transfer function will help users to move their local Calxa to an online workspace so they can take advantage of the new cloud app.
20 January 2018: Design on KPIs starts
It's now a few months since our focus really changed towards production with our dev team working mostly on the cloud app. With a big chunk of Calxa Online ready as a deliverable, the design project has slowed a bit and is focusing on the more advanced features. This week we started on KPIs. Our desire not just to improve the status but to inject some real flexibility is at the forefront.
A real challenge for our design team. With the various components including Account Groups, a formula builder and then making this look and feel 'real' easy. Here is a peak view into what the formula screen could look like.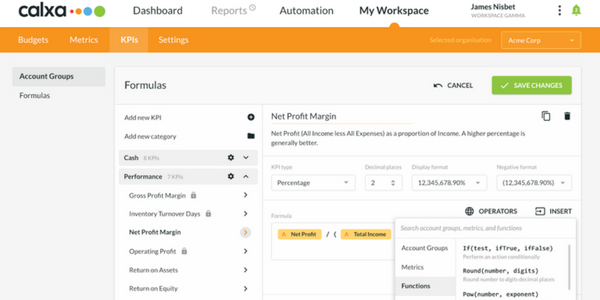 12 January 2018: Reporting Engine closing in
Finally, today our software release included the full complement of the report engine. For most customers, this is now enough to operate in the online space for most monthly uses (when it comes to delivering reports).
As we're saying this, we are still building some of the templates but the mechanics of the report builder as we know them in the Desktop application are all there. There is a listing of report templates incorporating various styles of reports such as numbers, chart-style and spreadsheet-style options and the filters help search for the right templates. Report Bundles can be created, run and altered here now. Any time one wants to stop an individual report from being included it can be toggled off and easily toggled on again.
20 December 2017: Account Trees designs a treat
We raced into Christmas keen to finish off the designs for the new-look Account Trees. Huge focus here was on making this easier to follow for our current customers and new users alike. Whilst Account Trees is often touted "best thing since sliced bread" it's not quite as intuitive to use in the current desktop app as we would like it to be.
Here is a first look and feel.
17 November 2017: Report Builder goes LIVE!
So today was worthy of champagne celebrations (our team did it with beer). Phase one of our report builder went live.
It pretty much looks like the mock-ups we logged in our diaries here on the 15 February – you got to love software development. It's all worth it when you finally can play with the real thing. Go on have a 'looksee' for yourself.
This first iteration includes around 30 of our re-designed reports with more to come over the next few weeks.
For the Calxa Administrators and Accountants out there, some increased heartbeats were felt on the release of the first round of Admin features. So now workspace owners can get a good overview of each workspace, what organisations there are, who are the users attached, invite new users and set specific permissions – you get the drift. Soon this will be complemented with the Billing area which will give access to subscription details.

06 November 2017: Change Log goes LIVE
Today the Change Log is now officially available had its first entry. Any time you want to catch up on the latest and newest features, feel free to check it out.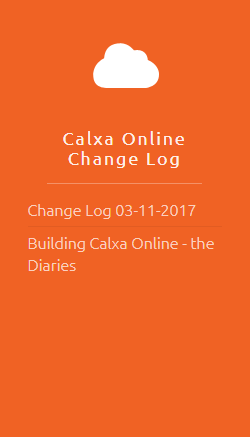 03 November 2017: Run existing Report Bundles online
DRUM ROLL PLEASE… this part is exciting. You can now run any existing report bundles created in the desktop version. All you do is log into the online app and select your bundle, then run. You can also create new bundles from the Bundle Kits (templates). At this stage, you can't change any of the reports but that is not far away.
01 November 2017: Releasing new stuff Online
Our first official Online Release is due. Whilst we have rolled out small incremental changes to Calxa Online over the year, the new online features are now coming in bigger chunks. A Change Log documenting the new stuff will be available for those that want to stay up-to-date. Here is a bit of a preview.
You can run any existing bundle online, or just an individual bundle report.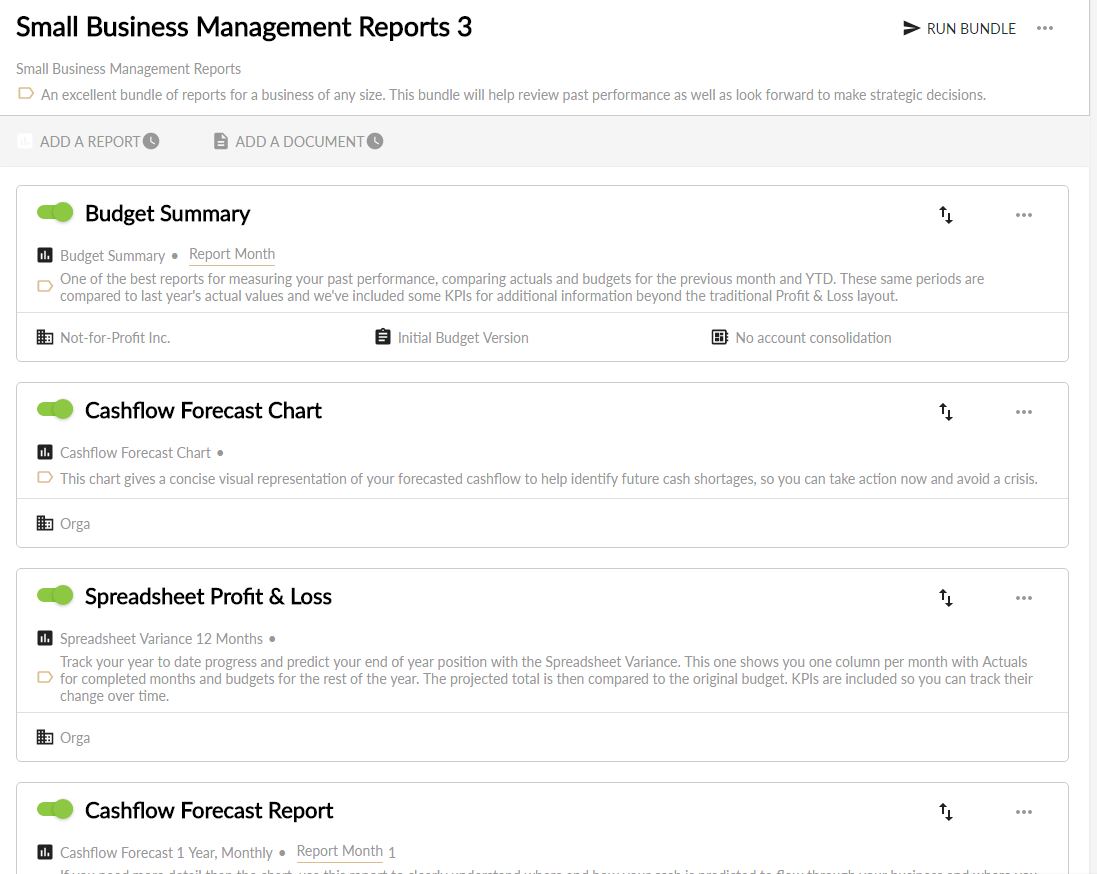 You will be able to create a report bundle from the default Bundle Kits.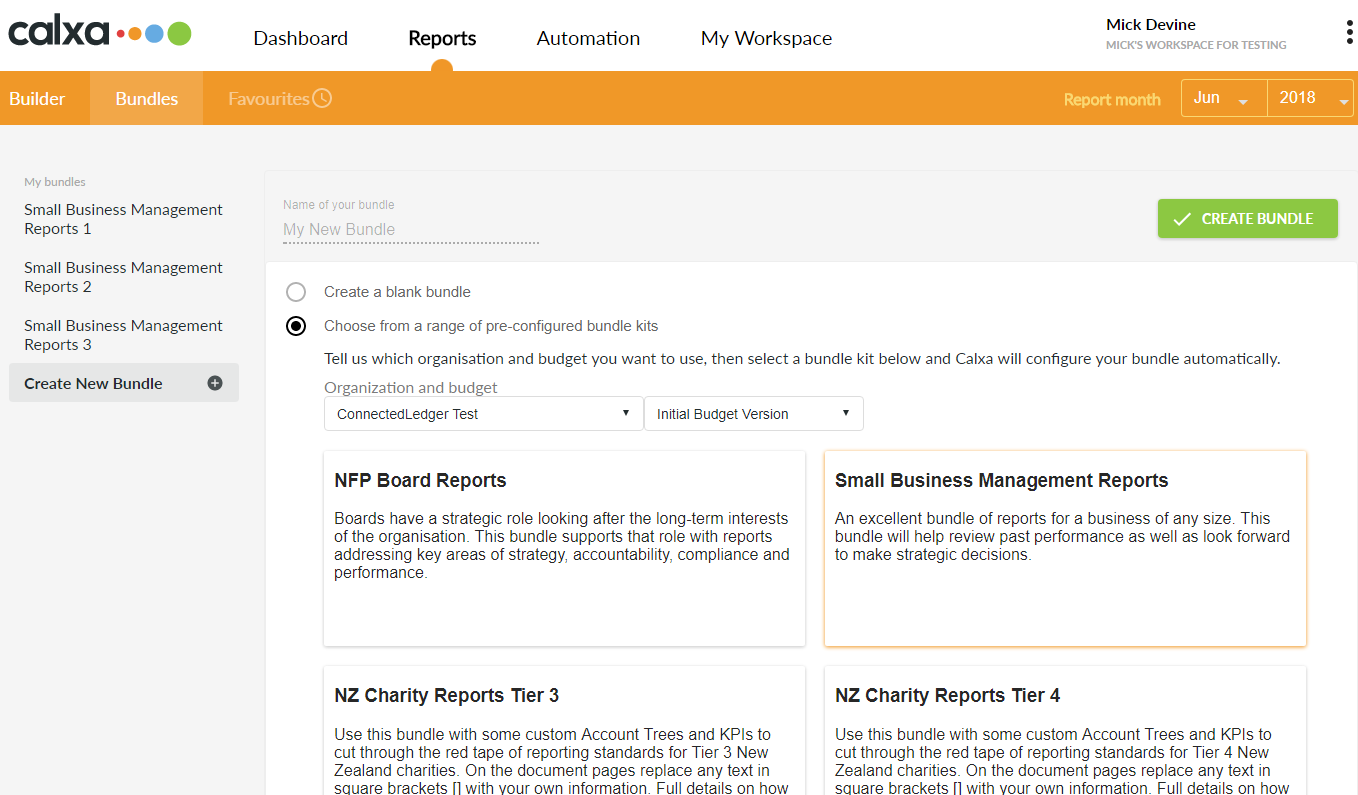 Workspaces will be easy to manage in the Admin section. You will be able to see what workspace are in your name and what organisations are in each workspace. From here will be the best place to add new organisations and invite new users. The idea is to have clear visibility on the current status.
Billing is also coming along. Changing and updating profiles, passwords and emails will be easy.
09 October 2017: New Team Member Joins
While the Dev Team has been working on the back end for what seems an eternity, we made the decision to add a front-end developer with specialist's skills to the team. Charged with the implementation of some of the designs that are backing up, we can't wait to finally see tangible progress. So, stay tuned.
29 September 2017: Re-designing the Budget Factory
One of the most favourite tools in the Calxa arsenal is the Budget Factory. Setting up next year's budgets for a multitude of business units (or call them jobs, tracking categories or classes) is an absolute breeze with this wizard. BUT, there is always a but, we've been really hanging to improve this tool and our designers excelled at this. The collaboration, reviews and many mock-ups later, we finished the concept and it is ready for development.
Some of the changes are mostly around the flow of the process. We want to make this clearer to take out some of the risk of overwriting existing data. This side-by-side screen of the where source and the destination budgets will give a clear snapshot of what one is creating.
And, before going off to accept the changes, the final step gives a great overview of what the figures will look like and an opportunity to change this before finalising the new budgets.
21 September 2017: Metrics, re-designed
If you love reporting against non-financial data, you will love budgeting with Metrics. The budget builder will have an option to calculate these within the formula builder. Watch this space!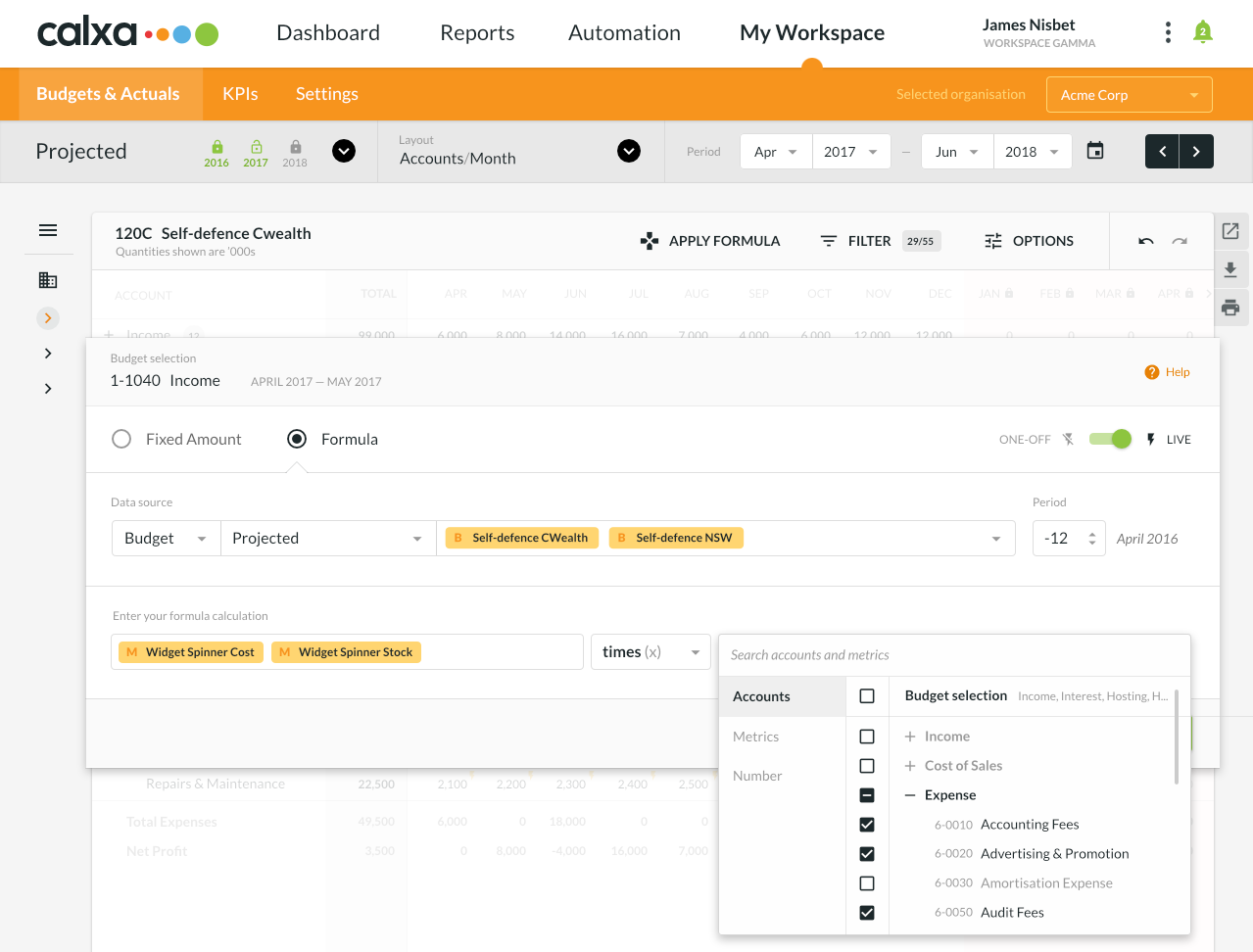 15 September 2017: MYOB Partner Choice Award
Ah did we tell you we won an award? Sorry for the brag but we are still stunned in amazement. MYOB Partner Choice of the year – WOOHOO!
What was humbling is the vote of confidence by this great bookkeeper and accounting community. These good people that work at the cold face with small businesses and not-for-profits, set up and troubleshoot their MYOB and give advice on so many other matters relating to business. We are eternally grateful for this recognition.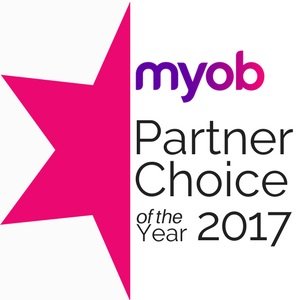 07 September 2017: Org Management next
So now we are fully back on the Calxa Online project. After a bit of tweaking of the organisation management area, the team will be moving to user management. This is where we are planning some great changes like improving the scope to permission levels providing more flexibility. We will also create new types of users such as a Subscription Co-Owner which comes in handy when your team has multi layers.
30 August 2017: New Help Centre coming
Some of our peripheral work in the past few months has been the conversion of our Help Centre to a new platform. Whilst not yet visible to the naked eye, the new Knowledge Base is exciting us. It will have a better categorisation system and a great search engine to quickly find the help resource needed. It has a ticketing system which we started testing using it to track open cases. Once live, Calxa customers can log their own tickets and monitor the progress. We will also be able to easily take feature requests.
Our developers are making sure your Calxa log-in will also work for the new Help Centre so you will only have to remember one set of sign in details.
22 August 2017: Designing the Budget Builder
This month we resumed work on Calxa Online and are charging full steam ahead. We are really excited about how the new Budget Builder is turning out. Here are some visuals to give you a taste of things to come.
We have been able to infiltrate some cool ideas around formulas, shortcuts and calculations which will make life so much easier. Can't wait for this to come to life.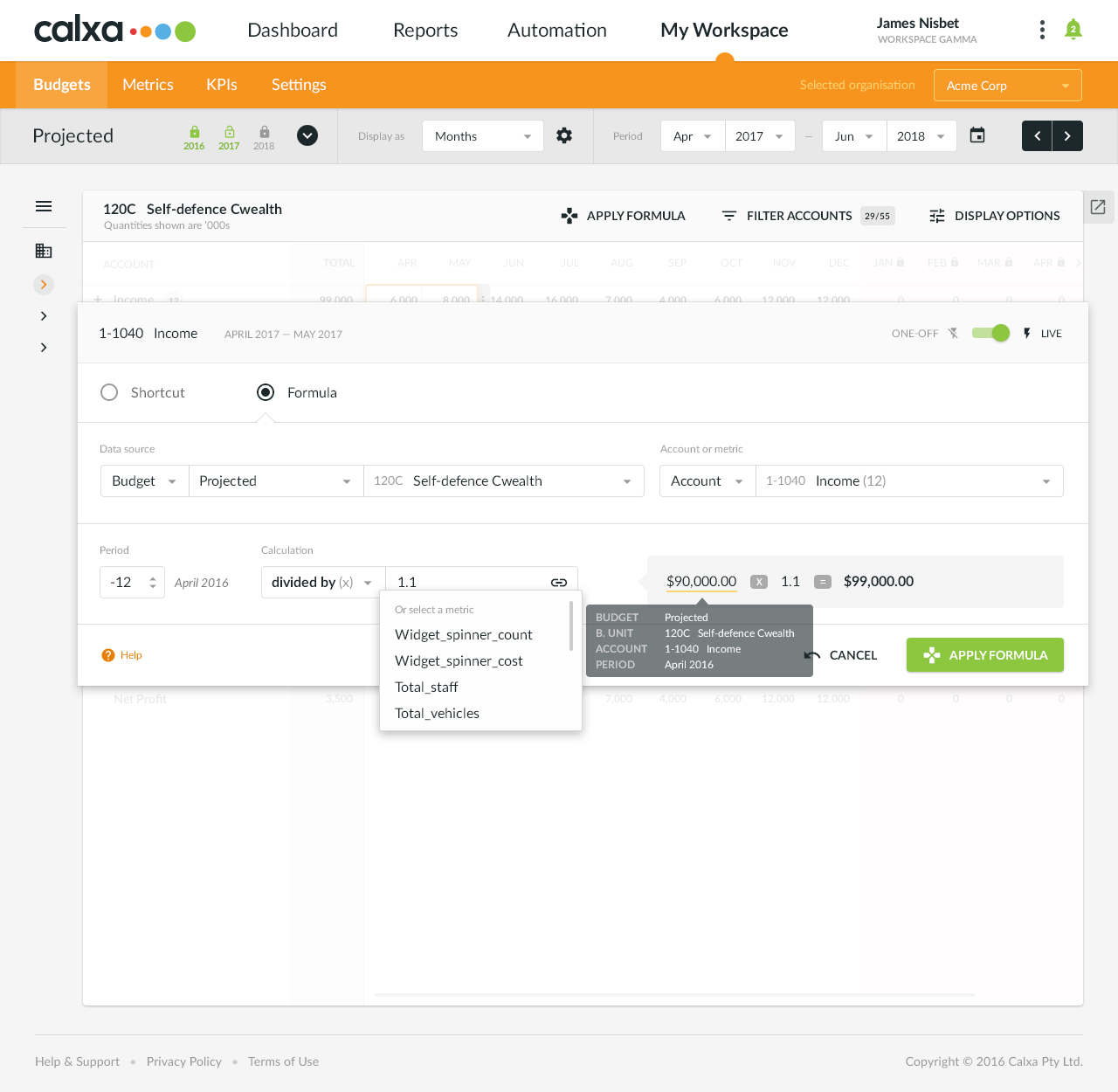 16 August 2017: Tick of Approval for Report Bundles
We had some great customer feedback on our new design of the Bundle Kit (aka Report Bundles). It coincided with Andrew from Wongutha Caps asking for some improvements to which we were able to reply with a mock-up of the planned design.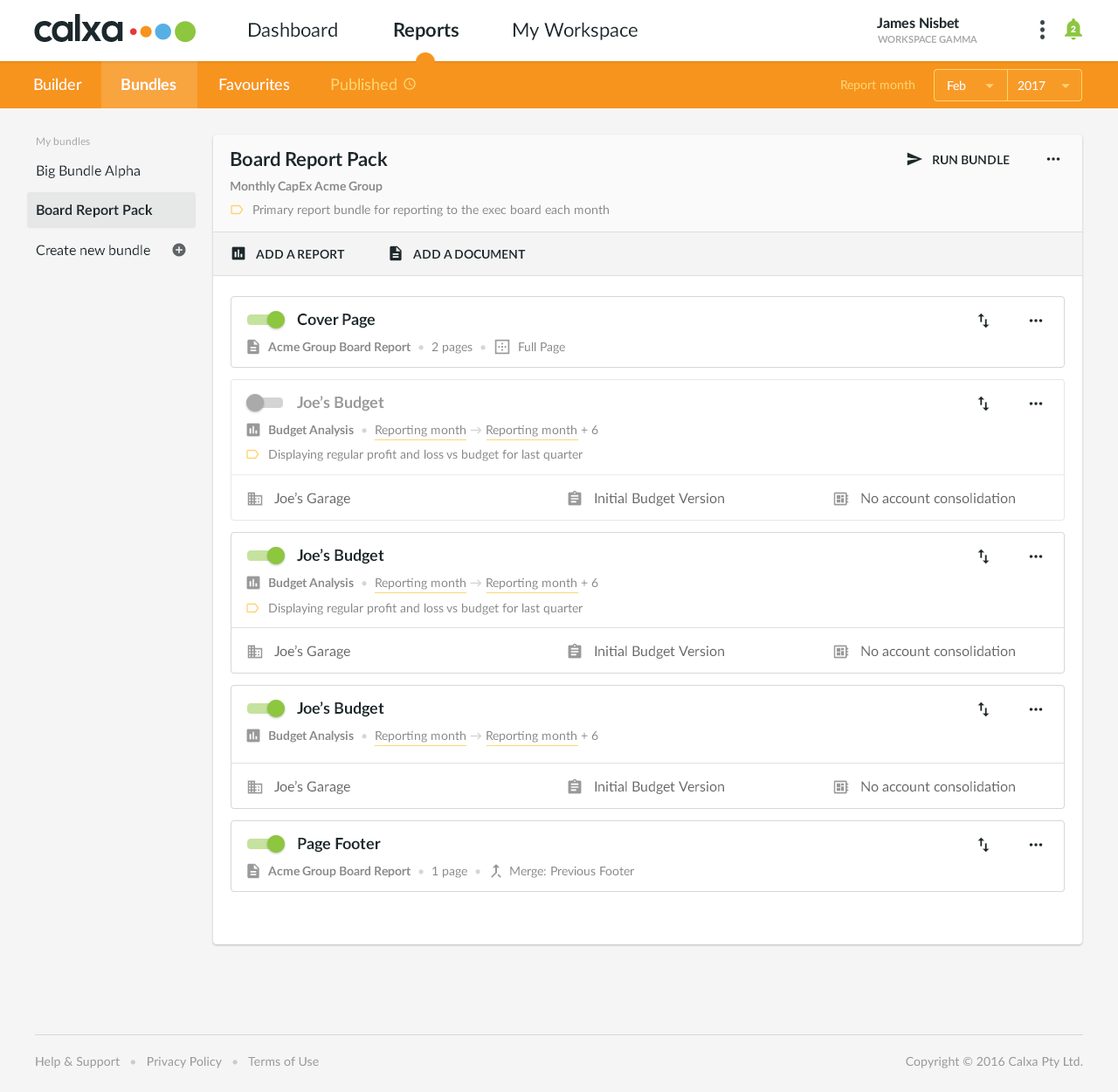 Andrew was impressed: "That looks pretty good.  I like the way the budget version is right there as well, handy." Another great example of how important feedback and suggestions are in improving Calxa today for tomorrow.
June & July 2017: We've been quiet – why?
The truth be known, we were working on a secret project – The Invisible Accountant. Tata….

It's Calxa's first pure cloud product. Technically we never stopped working on Calxa Online. Whilst the new app may look and feel different, in the back-end it is using the Calxa engine.
The Invisible Accountant is designed for small businesses that don't have much time or financial savviness but still want to see how their business is tracking. The whole process just takes a few minutes: sign up, connect to the online accounting system and fill in the short form. And that's it.
From here the new app will automatically create budgets based on last year's actuals, grab a report bundle, with 5 essential and 3 bonus reports, and deliver these to the inbox on the same day each month. The only time one needs to go into the app is to change the delivery date, the accounting system, add new recipients or to cancel the subscription. It's literally 'hands-off' reporting.
The idea of The Invisible Accountant was born more than 7 years ago, when we first conceptualised 'hands-free' reporting. Check out this video we created back in 2010 which was part of the Big Ideas Competition to show the Queensland Government how this would work in real life.
PS: Needless to say, we didn't win and the lucrative $50,000 was not forthcoming.
With other feature requests, it took us a while to get back to developing the report bundles and workflows to automate this process. Earlier this year, that's exactly what we released in the first iteration of Calxa Online.
So, to make The Invisible Accountant happen our team had to build the new Calxa report templates and the online functionalities to trigger the bundles in a 'hands-free' way.
In essence, The Invisible Accountant is helping us to nut out this crucial process which will drive Calxa Online.
23 May 2017
Frustratingly, the building of the app halted during the month in favour of working on the back-end performance. As Steve Jobs once said:
"When you're a carpenter making a beautiful chest of drawers,
you're not going to use a piece of plywood on the back."
We had our reality check and had to admit that even if we designed and built the best app in the world, it would be useless if it frustrates its users. So, the Dev Team went into diagnostic mode and had the big task to search, test, identify and fix the bottlenecks. A terrific job they did too.
They found ways of reducing times to the Dashboard and the Report loading, in particular the calling up of Business Units. The results are amazing, reducing the most complex business unit report for one customer from a 15-minutes duration time to a staggering 1.5 minutes. Wow! You can check it out yourself and login to the online app (green button above) and see how quickly the dashboard loads.
It's befitting to end this month with more wisdom from Steve.
"Sometimes life hits you in the head with a brick. Don't lose faith."
12 May 2017: Here is the Change of Plan
The big change is the introduction of 'Automation' to the main menu. This will house the workflows and some of the new features planned for later in the roadmap. Doing this gave space for bringing up some real important functions like 'Budgets', 'Metrics' and 'KPIs' into the orange feature bar whilst giving room for the settings details to be listed in the left navigation bar. Here is the first mockup.
10 May 2017: Oh no it's all wrong!
Now that we are drilling into the finer details, some of the earlier design choices – whilst thought through and discussed intimately – now seem not quite right. This week our team laboured over financial settings. It's not an area that many Calxa users will go to all the time, but nevertheless when you need to do your first set up, this is the place that needs to flow.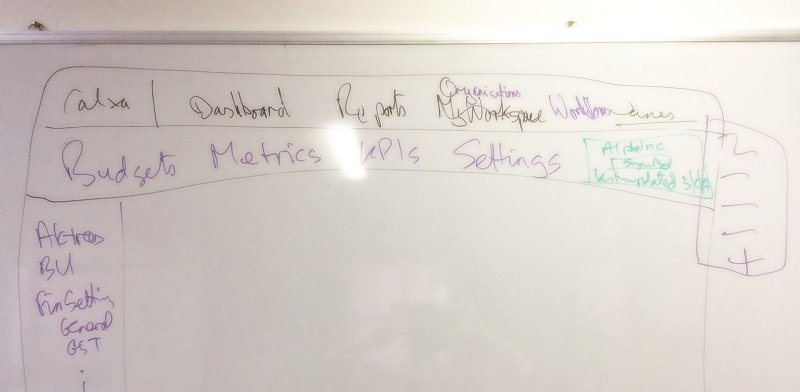 So the team spent considerable time debating on how to make this work best. This now is impacting on the overall hierarchy and working backwards we are now experimenting with a slightly different menu structure. Keep tuned for final designs this, no doubt this will take a bit of time to nut out.
3 May 2017: Now on the final Report Run
The final phase of our report layouts was to identify those reports that don't fit in the same mould (design-wise). These are the less 'spreadsheet' like reports like the Statement of Cashflows, Exception Reports and Notes Reports. These either require different orientation or additional colour highlights.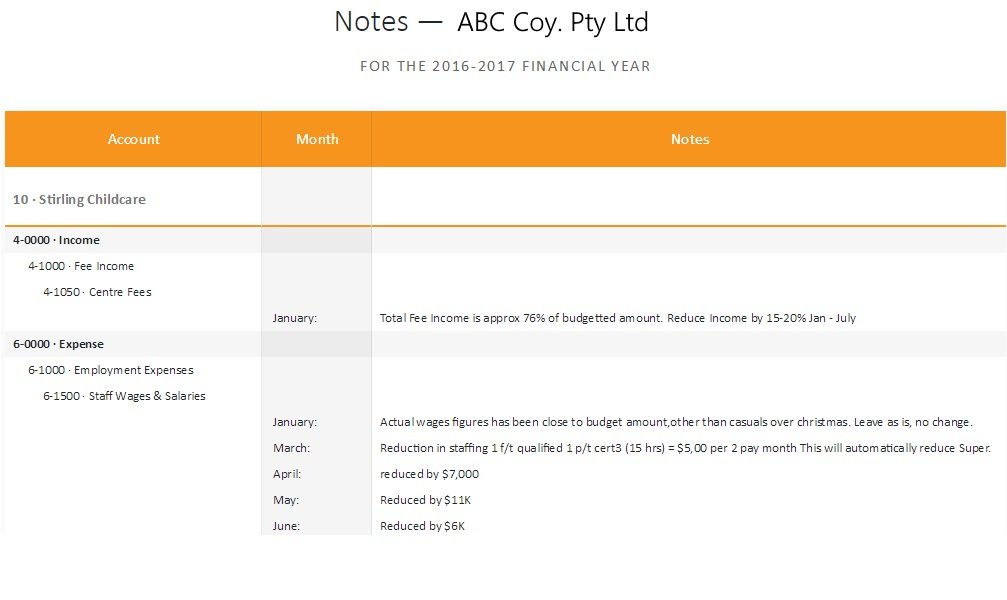 29 April 2017: Chart Layouts
Now that the colours are put to bed, the next step is to design the actual layout around the various types of charts. This presented a bit of a challenge where charts and 'Additional Information' are displayed jointly on the one report. So some compromise had to be made. See if you agree with the final call when these come to life in the next couple of months.
20 April 2017: Chart Colours for Accessibility
Continuing on from the report layouts equally involved is the process of selecting chart colours. The main criteria sounds reasonably simple but proved a lot harder in practice:
Select top 4 colours used in 80% of charts of all types to provide clarity to the reader, a visible pleasing experience and represent the Calxa way of reporting.
Add an additional 6 colours to the palette for those charts, like the donut charts, that displays multiple breakdown of data. These allows the 10 colours to repeat to maintain visual clarity where possible.
MOST IMPORTANT: consider accessibility score for vision impaired users.
Seems simple enough, right? Well here is what we learnt and how we solved the problems we faced.
Capping Charts at 10 Colours
A chart with more than 10 breakdowns will not look pleasing to the eye or be clear to read even if the colours are 'pretty'.  How Calxa will be getting around this it will allocate the 9 segments highest in value and then the 10th segment/colour will represent a grouped value of the remainder of the breakdown. This will ensure that readers will be able to read the labels and the colours will help with keeping the clarity for the reader.
Colours Converted in Accessibility Tool
We found it near impossible to come up with a colour palette that will serve all vision-impaired users. We did research the most common impairments of which colour-blindness is at the top – and even here there is different kinds of disabilities. Each round of colour selections were run through an accessibility tool that converted the Calxa colours into the view of the vision impaired. This is how a donut chart would convert for the colour blind user: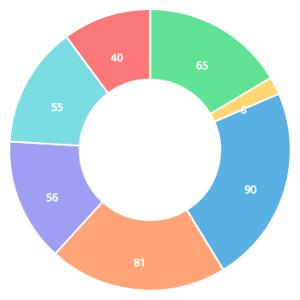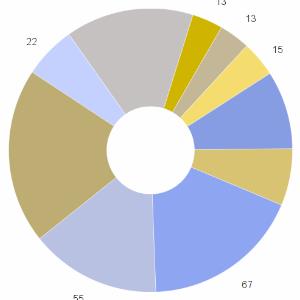 The final selection included a re-order of colours that would provide that clear segmentation and avoid sections bleeding into each other for as many scenarios as possible. Here is the palette as it stands with the conversion to the various impairment views.

We think this will be a pretty good compromise and serve the majority of our users and their report recipients. There are a few more tests to be completed but the proof will be in the pudding once we build the reports and our customers are starting to use them.
31 Mar 2017: Report Layouts are done
On return our focus was back on the online app. For most of this month we went back and forth with the designer to finalise the report layouts. The key criteria needed to be ticked off:
Reports that are legibible

Header rows and totals need to be visible
Make it easy to identify columns as you scroll down

Reports that build credibility

Look professional and focus on key areas
Have contemporary feel to impress external readers

Reports that are reputable

Give boards comfort that these numbers are reliable
Give bank managers what they need to manage risk
And in a way we did a full circle. Here is the progress time-lapse – it all started with Orange…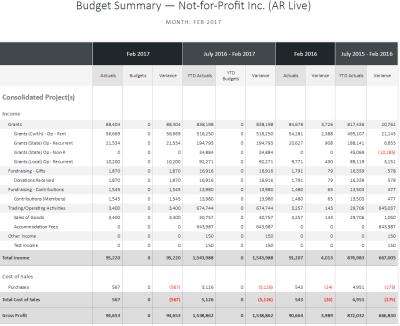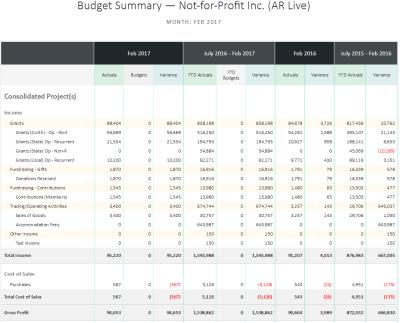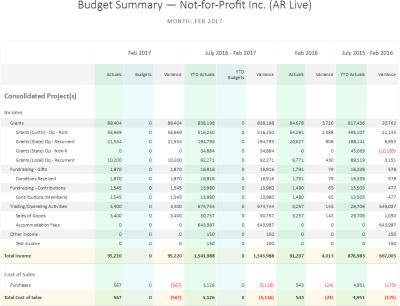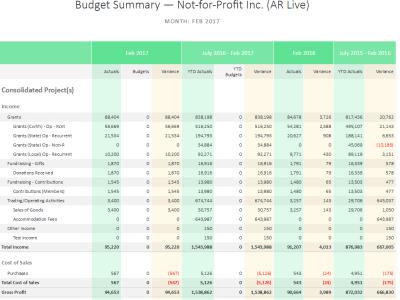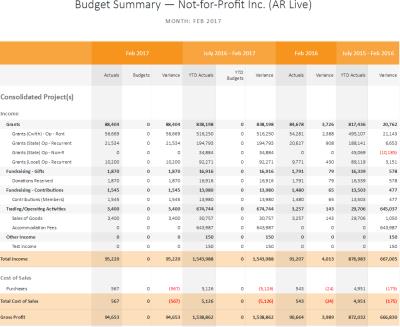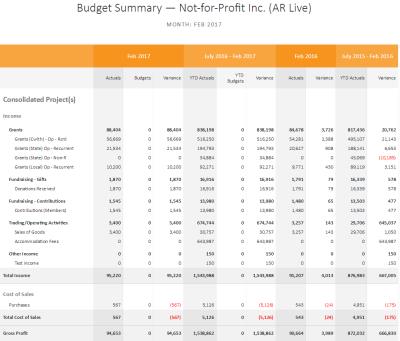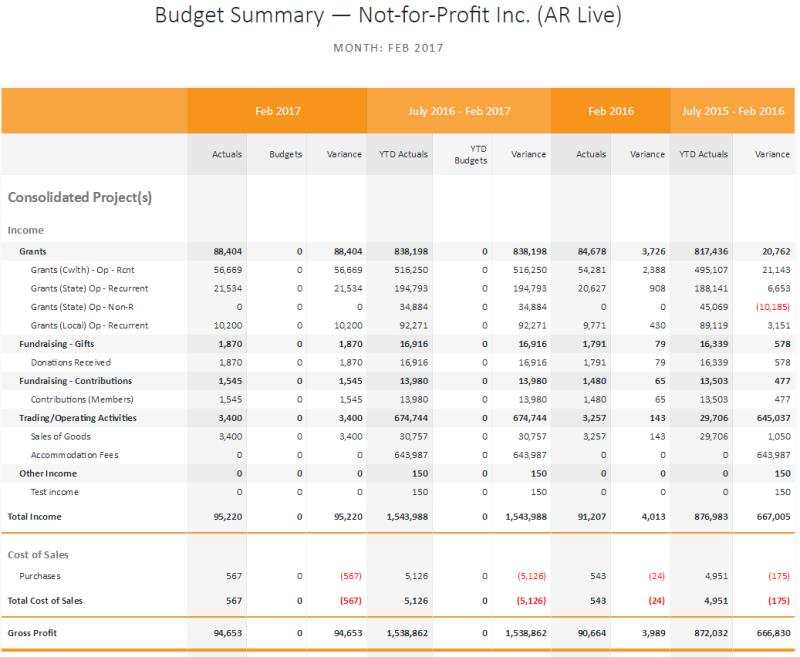 ….and is finishing with Orange. We hope you like it too.
28 Mar 2017: Ready for Cyclone Debbie
Whilst Cyclone Debbie made landfall in North Queensland, Townsville and our HQ were miraculously spared. The Calxa team activated the disaster management plan over a 48 hour period and decisions were made to close the office and set up shop at home to minimise support downtime. Thanks go to our customers who were fantastic and very understanding during this period. Looking outside our window it's as if Debbie never existed – our thoughts are with those southern communities who bore the brunt and are rebuilding.
10 Mar 2017: Report Layouts in the Focus now
Whilst we always get great feedback on our reports – their usability and content is unquestioned – our team has felt for a while that a modernisation and improved legibility would have to be addressed at some stage. The online app is providing the opportunity to overhaul the look and structure. So a big job ahead this month.
06 Mar 2017: New Report Criteria & Favourites are here
We left the hardest part of the reporting engine for last. Figuring out how to simplify the Report Criteria gave our team many restless moments. After plenty of re-visits and re-drawings, and surely some beer and cake consumed by our super designer James, we now have bedded this challenge and deliverables are done.
Throughout the process we have maintained the emphasis on usability and designed the app to have "Help" buttons in strategic locations.
The coolest of new features, we all agree, will be the ability to favour some reports and being able to access these quickly at any time.
01 Mar Feb 2017: Org V2 – the Finale
The back-end clean-up is nearing completion. Our Dev Team finished this big project  we call 'Org V2'. So now testing has begun. Our friendly team of early adopters will soon be unleashed to have a go and see how the performance in real life has changed. Not long and this back-end change will be rolled out and our focus will resume on building the front-end.
20 Feb 2017: And now welcome 'Report Bundle Kit'
So to finish off the 'nerve centre' aka the Calxa reporting, attention was focused on report bundles. An opportunity to fix up some minor details that haven't worked out so great in the desktop version. How to alleviate some of the daily misunderstandings? How do we handle the clash of 'Bundle Templates' and 'Report Templates'? Easy right?! Reports to be called 'Templates' and pre-made report bundles 'Report Bundle Kit'. So you use the Report Builder to 'build your reports, then you go to the Bundler to group your reports into a Report Bundle. And if you haven't got any reports as yet, just use on of our lovingly pre-made Report Bundle Kits. How does that sound?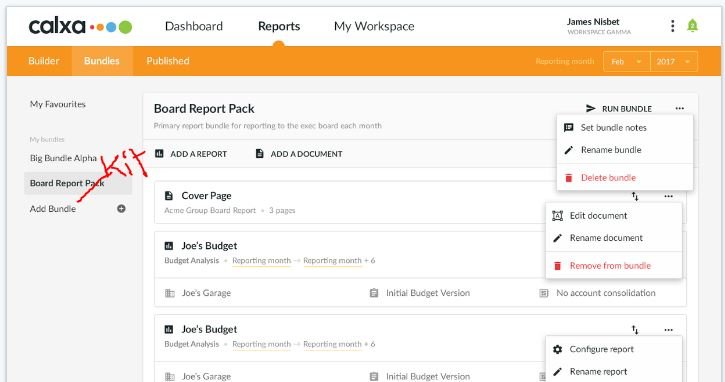 15 Feb 2017: And here goes 'The Report Builder'
So finally we figured it out. It took us a bit of back and forth but finally some pleasing mock ups that speak right to the heart. We invested a lot of time to get the reporting engine finely tuned to make the work hum along. What do you think? Do you like it?
This is how it's going to work:
The search field is to look up reports by name 'spreadsheet' or 'statement'
The left bar navigation helps drill down to specific report types 'line chart' or 'financial year'
The coloured tiles give an instant idea of the type of report(s) like a spreadsheet or chart
The best part is one can mark reports as favourites and it will save the lot including criteria ready to be used next time. If you're into customising reports, you will see those specially marked.
10 Feb 2017: Going Beyond Concept straight to Mock-up
We started with low fidelity sketches expressing some conceptual ideas on how the report section should be structured. Many sketches to be truthful. And, many review meetings and discussions later we now have a first round of mock-ups.
Introducing online app functionality like 'Favourite' reports got us exited.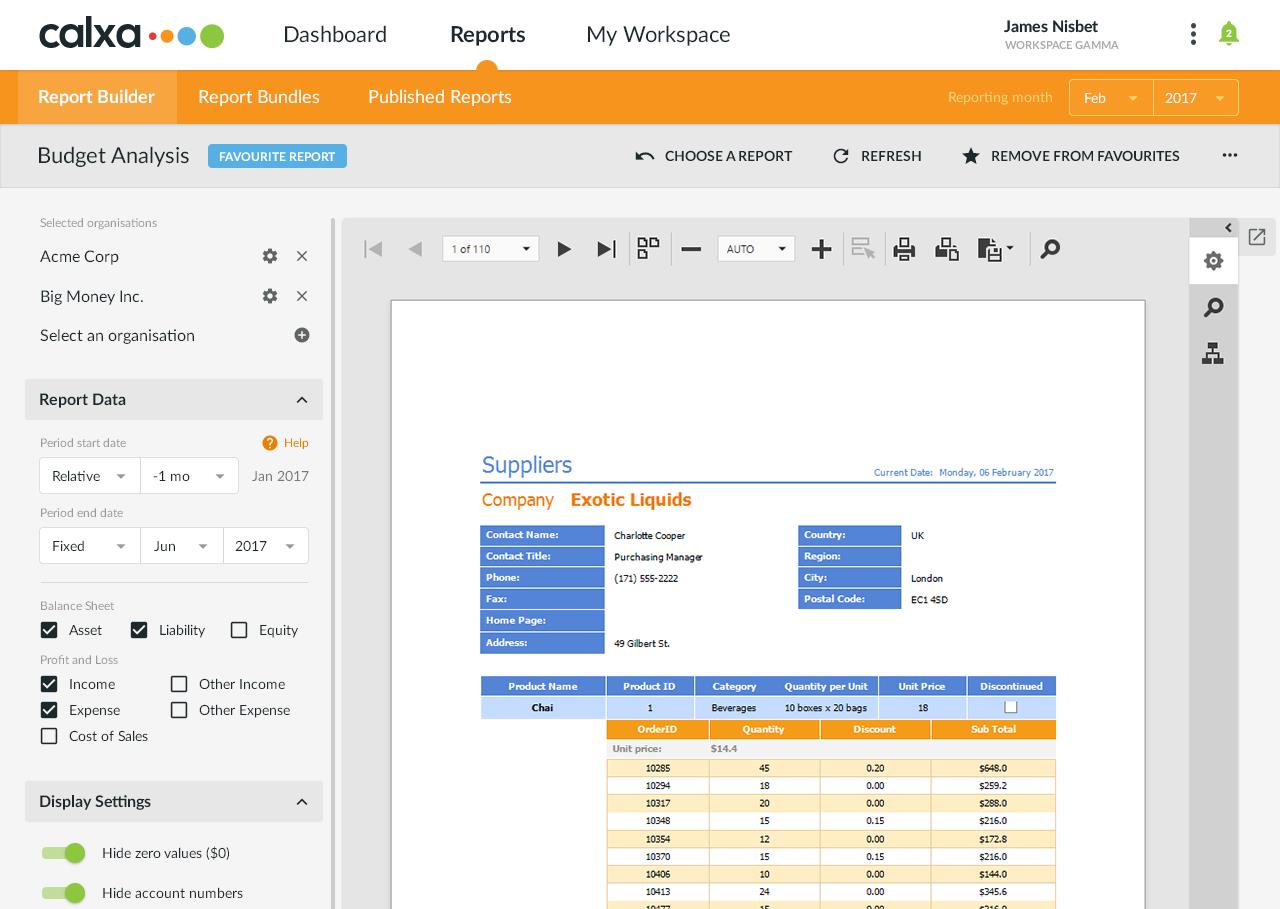 And, the best part we think, will be the anticipated performance improvement when building a report. So stay tuned as we're containing our excitement.
9 Feb 2017: Testing, Testing, Testing
While OrgV2 is pretty much ready to go, now the reality has set in. Continuous testing is the next phase. It seems like nothing is much happening but the teams are busy testing, bug logging, source code changing, re-testing and so on. This is an intimate collaboration between our customer support and dev teams.
Whilst this is how it feels….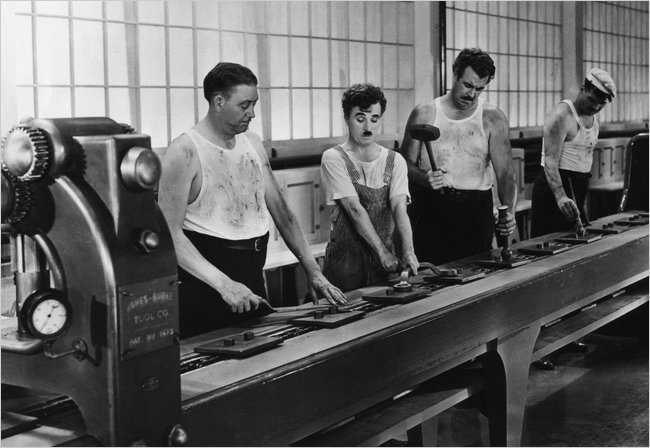 The outcome is more like….
5 Feb 2017:  Early Adopters Sign Up
After our call in our newsletter, we've had some great talent sign up to be our 'Early Adopters'. They will test drive the online app as we phasing in the various features over the next few months. Thanks to our great community of customers and friends of Calxa.
2 Feb 2017: Starting on the 'Big Kahuna'
There is no doubt in our mind that we have to deliver something special when it comes to reporting. You can call Calxa a budgeting or forecasting tool but really it's all about the output – the REPORTS. We have so many ideas in store from customer feedback and exhaustive past conversation.
Where to start…. Firstly we needed to prepare some specifications and detail the important things that Calxa already does and the great things that are possible to do with Calxa in the future.
It's about simplifying a range of functionalities:
Select templates
Choose report criteria
Saving ones reports
Separating organisation specific settings from workspace settings
Some of the new things:
Saving reports with the criteria
Access to previously published reports
Introducing account layouts – more than just Account Trees
Delivering contemporary themes and designs
1 Feb 2017: WTF
January was a tough month. Hours spent in meetings, looking at a gazillion wireframes, reviewing specs. Coming back to the question: What is the main objective here?
So when this little article came across our desk, it put a smile on our faces.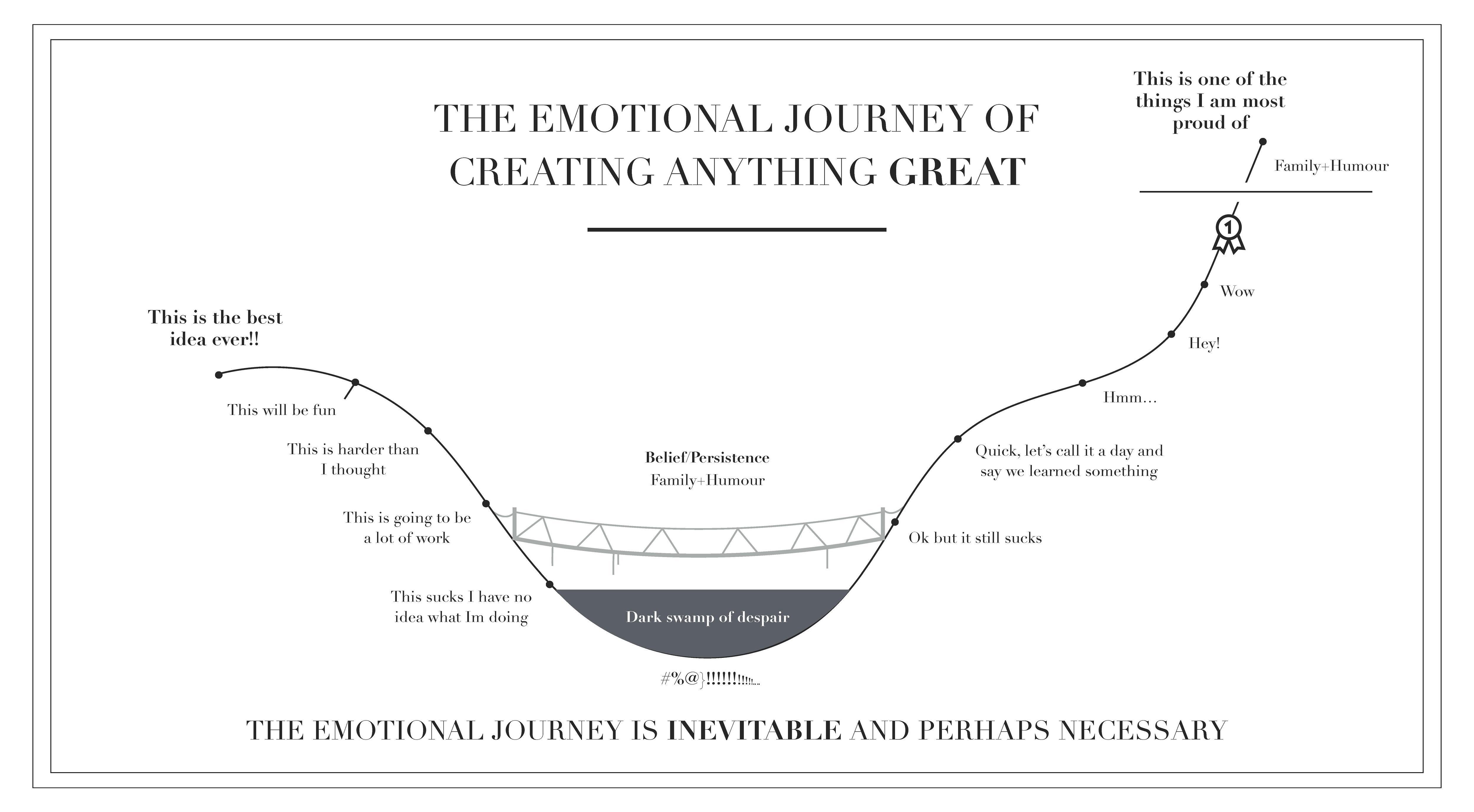 January 2017 in Summary
Design Team:
Organisation Management
Billing and Account Management
Dev Team:
'Org V2' (the engine) integration prep
CSS continued
27 Jan 2017: Billing is the Monster of them all
"1 week" on billing then let's move on to the big project "REPORTS". Well, 3 weeks later – we are still laughing. Yesterday we finally closed the billing project after a record-breaking number of wireframes and mock-ups.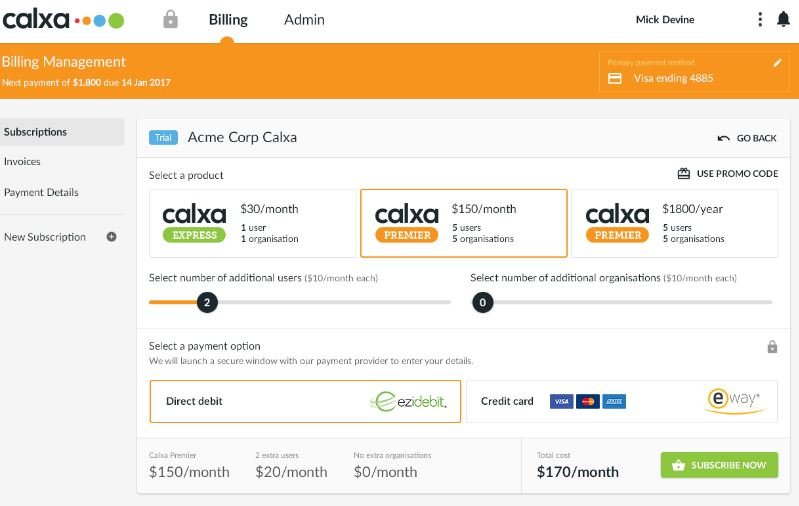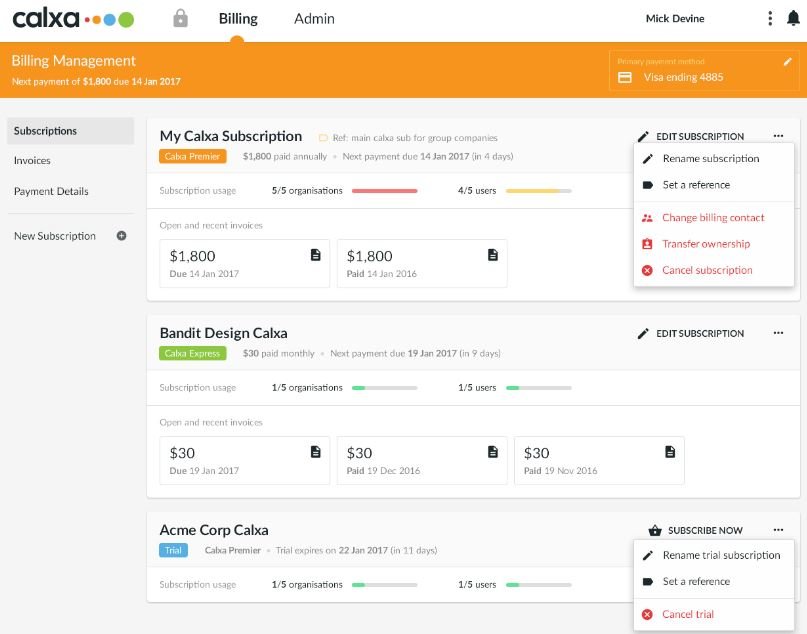 But once developed, this administration area will make transferring subscriptions and workspace ownership much easier and provide advisors a place to manage their clients. Pugh…
15 Jan 2017: Sharding, Sharding, Sharding
So the grunt work on the engine 'Org V2' continues. The Dev Team now are pooling resources and pretty much all on deck are working on the preparatory steps. Collaboration involves, meetings, sketches and a lot of coffee (maybe cake).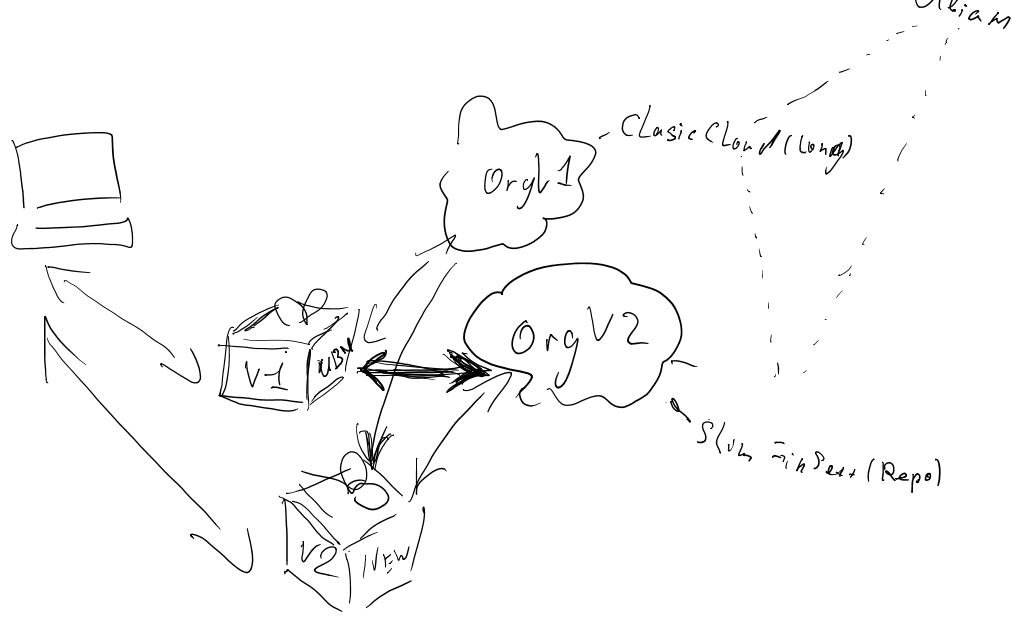 This will prepare the nerve centre with the ability to scale and handle multiple calls to update organisations and run all the workflows. Essentially is all about 'sharding'. If you've never heard of this, you're not alone. It's a techy term but googling it explains it with definitions like:
Sharding is a type of database partitioning that separates very large databases into smaller, faster, more easily managed parts called data shards. The word shard means a small part of a whole.
This upgrade work is a must if Calxa Online is to perform efficiently. We have opened the app to early adopters and would love any feedback.
7 Jan 2017: User Management
Finalising the user management process and designing these steps so they are easy to follow was our first priority in the New Year. As the picture shows some thought was placed on the transitioning period where users will juggle desktop and online app. It is importance to the Calxa Team that new functionality in the SAAS version is available to all customers as soon as it's functional whilst still having access to the rich features on the desktop.
Dec 24 2016-2 Jan 2017: Christmas is here
Big holiday break for some of us but our diligent Support and Dev Teams kept the ball rolling.
---
Dec 2016 in Summary (so far)
Design Team:
User Management
Organisation Management
Billing & Account Management
Transactional Emails
Dev Team:
Dashboard Implementation – for completion
User Management – for completion
'Org V2' (the engine) – in final stages
CSS installation – continues
16 Dec 2016: Integration Process
How do we make the integration process easier? That was the topic for the team meeting. First you need chocolate to get the brain juices going, then some debate on processes and wording. Is it Business Units, Cost Centres, Projects, Categories??? Where and when do customers ask the questions? Let's look up definitions for the right terminology. Finally – agreement. Business Units it is but combined with the accounting system terminology so user can make the two terms into one.
PS: note this image is just a prototype so don't get too excited, we're just pretending to have 'SAASU' integration:)
15 Dec 2016: Live Dashboard (the real thing)
Wow. Today we got to have our first peak at the app's Dashboard – dropped onto the Alpha server so we can start testing. Great work to the Dev Team for getting this pretty close to the design pics. A bit of fine-tuning and we can go live once the workflows are done. Hopefully this will be in early January so we can replace the current online space with the new look and more functional automation process.
8 Dec 2016: Billing and Account Management
How complicated does a Billing system have to be? Just add products, price and a checkout. DONE, right? One doesn't realise how convoluted a system one has until one reviews the process. So then the big debate: does the shop look different to the app? Should it all be the same so the user moves seamlessly from one  to the other? The jury is still out.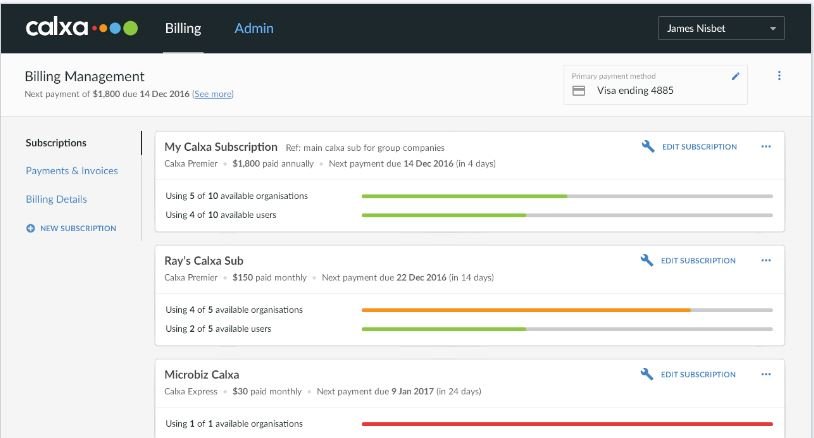 So many 'must-haves' to ensure security, confidentiality and usability.
Payer only has access here. Owners are in charge of workspace only.
Enable changing of subscription name but not workspace (don't create confusion for users)
How do customers buy extra users and extra orgs?
Distinguish open invoices from closed ones.
Dominant display of payment method – so customer sees how outstanding is to be paid.
1-2 Dec 2016: Planning User & Workspace Management
Oh boy, that was a session and a half. Running over two days, the team nutted out the relationship between the various users, what access permissions are to be granted to each level and how they will affect the management of their workspaces. Diagrams and flow charts were needed to put this into perspective.
---
Nov 2016 in Summary
Design Team:
Branding
Dashboard
Sign In Process
Workspace Management
Workflows including Actions and Triggers
Dev Team:
Final touches on 'Org V2' (the engine)
CSS installation begins
24 Nov 2016: Interface Development Really Begins
Deliverable assets are passed on to the Dev Team. Work on dashboard can now begin.
22 & 23 Nov 2016: Sign In Process
After days of to and fro, final decisions are reached on sign up process and all screen designs altered, re-jigged and approved. Go, go, go – Dev Team is waiting.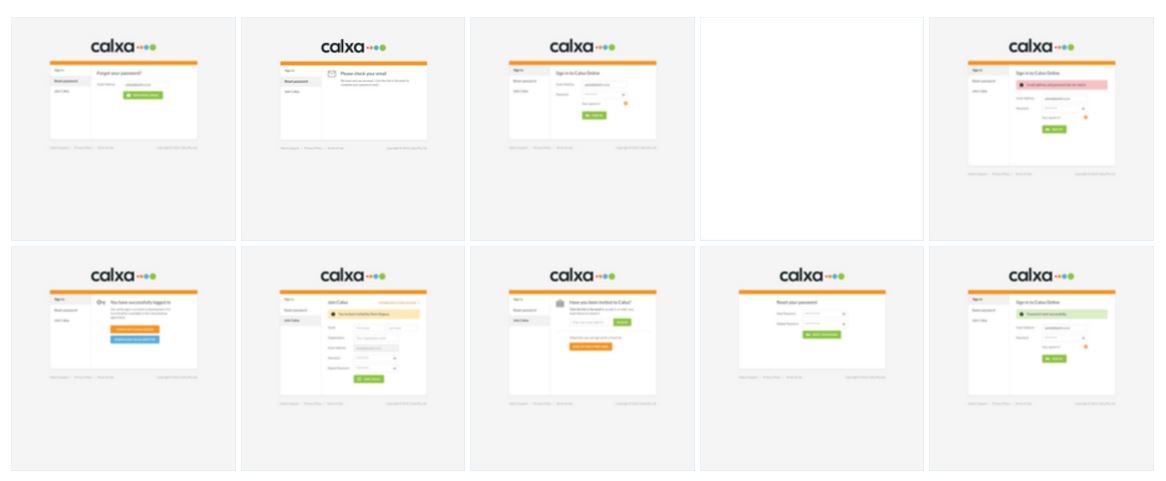 15-18 Nov 2016: Final Dashboard Report Selection
Last few days were spent mulling over what graphs and KPIs are most suitable for the first instalment of the static dashboard (customisable dashboard is on the roadmap for later). The visualisation has not just to be easy on the eye but represent valuable data for the majority of users including those with limited permission. Finally. Deliverable assets are passed to the Dev Team. What will it look like in the flesh? Fingers are tapping on desks with anticipation – stay tuned.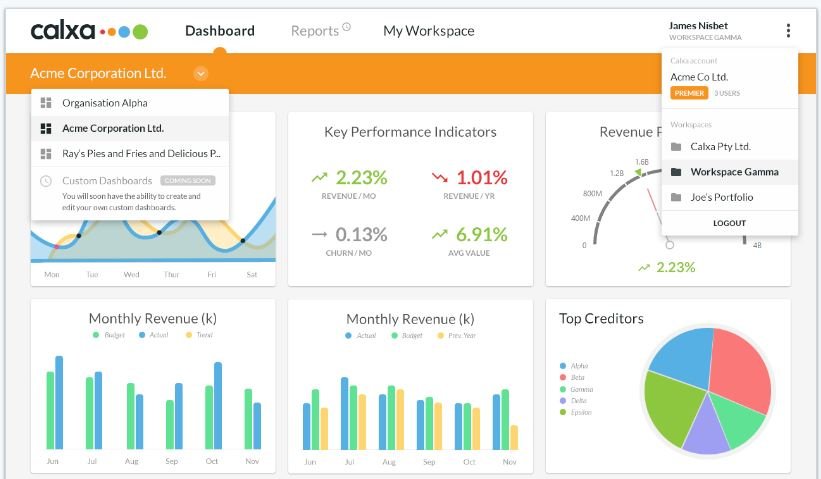 14 Nov 2016: Capturing Important Data
Another important factor that needs some decisions. When and where do we collect the information needed to help users? Make sign-up real easy. But Calxa needs to know what accounting data user is going to connect to. How can we help if we don't know what industry group the person associates with? At some stage we will need address and owner contact details to complete transactions. More of 'how do other apps handled this'.
10 Nov 2016: – Workspace Management
Many questions and hours of research are happening right there. How does a user create their first workspace? What is the most common use case for signing in and what are the general steps they will need to follow. How can we make this easy and intuitive? Would this benefit from a wizard? Let's consider the onboarding experience. First mock ups look really good.
1-10 Nov 2016 (ongoing): Research
Hours of checking out other browser apps. A hard task to remember where one has had a good experience. Is it Runkeeper? Now check Podio, Mailchimp, Canva, Zapier, MYOB…. the list goes on. How do they use colours? What does their billing look like? How does one sign in? But this is valuable time spent helping to narrow down the relevancy to a Calxa user.
1 Nov 2016: First Dashboard Wireframes
First wireframes look great. The concept of adding your graphs with KPIs and activities log is sitting right with the team. So that is the future, but for now let's focus on V1 of our dashboard – a static board to start off with.
The first colour concepts come through and: Mixed feelings. Where have all the Calxa colours gone? James, the designer, stays calm and says: Let's consider good UX (User Experience) principles. Use strong colours for 'doing/action' buttons, less 'in-your-face' hues for the graphical stuff. More cake and beer needed. Ok – there is acceptance.
Colour sign off turns into scientific process of exclusions. Can't use blue (everybody else has blue), can't use green (this is the positive colour only to be used for 'submit' actions), and can't use red (we'll want to use this for error messaging and besides it's too strong, 'toxic' is mentioned). Ok leaves orange as the dominant app colour – decision done. Extra beer is consumed.
26 Oct 2016: UI Frameworks
Conversations on selecting the right UI Frameworks are finally over. "Wahoo! I'm marking this one complete!" Shem, our Product Manager, was heard throughout the building. Hesitation, resistance, fear, threat and many more emotions later. A culmination of many discussions, some more heated than others, on 'material', 'semantic', office fabric' etc. now has an outcome and design can begin. Happiness all round.
13-21 Oct: Spec'ing the Job
Specs and more specs are written listing features and ideas to translate desktop application functionality to the browser based app. Use cases are outlining customer scenarios. User behaviours are discussed. Twice daily scrum meetings are held to make crucial decisions to move the project forward.
Oct 2016: New Logo, CSS and More
Finally, many cake & beer meetings later, the Calxa team settles on new logo and colours. Or have we? Here is a peak for now:


Design Note: Horizontal for better use in digital environment. Away from chaotic bubble arrangement ("quite liked chaos bubbles" thinks Alex, silent tear). Linear motion to depict 'automation' and 'workflow'. Remove yellow as mostly unusable for design, change red to more contemporary shade, bunch of supporting colours ("maybe this wants a re-visit at some stage").
Early Oct 2016: Revisiting Branding
The design project begins. Branding is first up on the list. Arg! So many hours of revisiting and reflecting on our brand. You would think it as simple as logo and some colours, right? "Well not quite so", Alex in Marketing get the task to write up specs outlining elements like the brand story, our vision/mission/values, what best reflects our voice, what are our taglines, typography, imagery, colour palette. Then onto how are we going to use our logo and where until we can come up with a full Brand Identity Kit.
23 Sept 2016: Finally a Designer
Memorable day: our search for a designer finally paid off. Sharing tips and conversations amongst add-on providers at MYOB Partner Connect pointed us in the direction of Bandit Designs – and the search is over. Thanks to the team at MinuteDock (pictured on the left).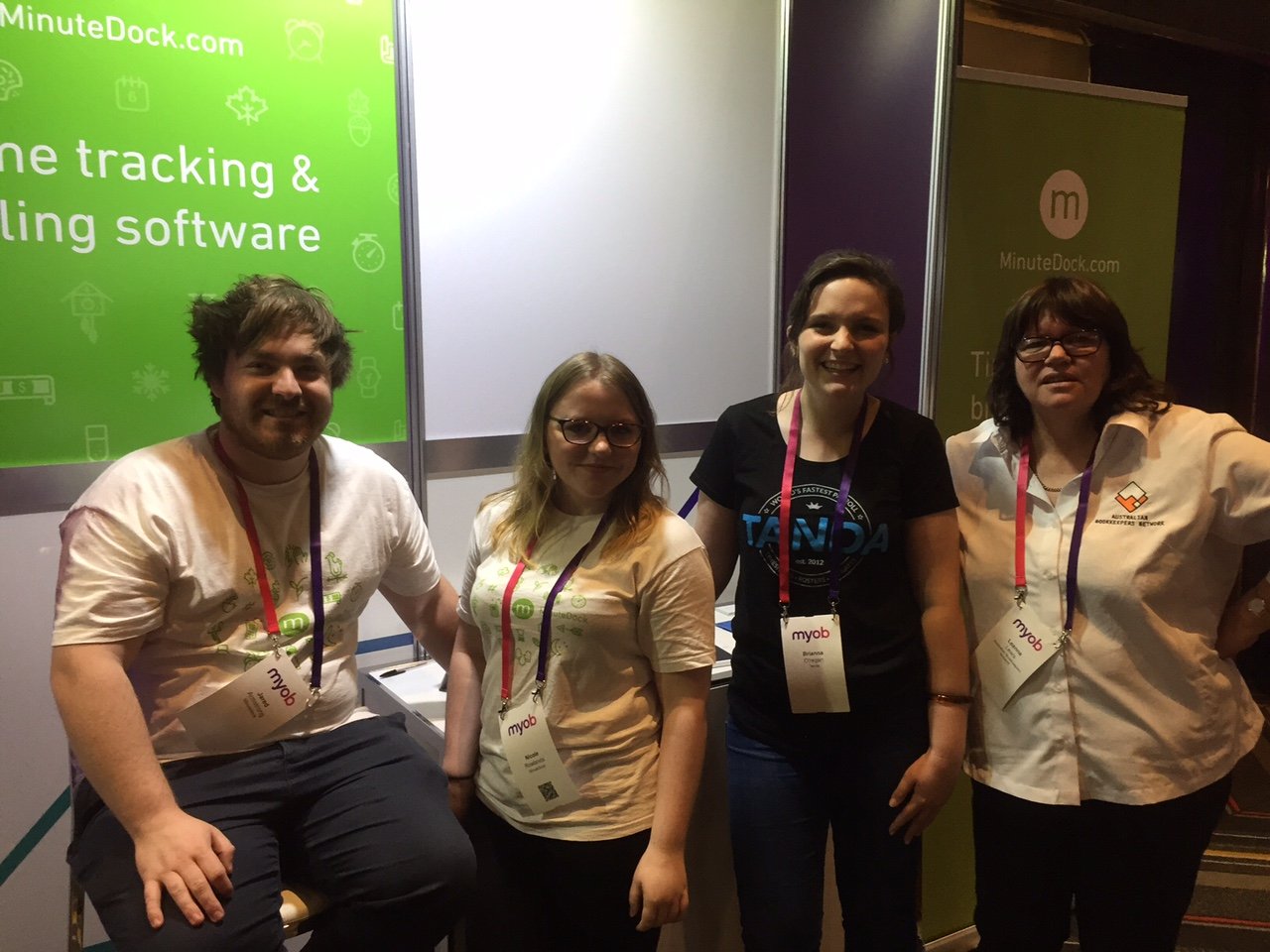 2016: Re-organising the Calxa Engine
During this period we put lots of effort into re-working our data storage to improve efficiency and performance and prepare it to scale to much higher numbers. This back-end redesign is a massive project affectionately called 'Org V2'. Our most senior Dev team members were/are involved in this and there have been many weeks spent testing different scenarios to come up with the best plan to store all of our customer data. Complex diagrams were scribbled on whiteboards accompanied by mysterious-sounding words like "sharding" and 'elastic pooling". And who would have thought you'd need a Masters Degree to understand what a "blob" is?
2015: First Customers Online
After a year of building infrastructure and services to manage the functionality and calculations required by Calxa, our first customers were online before Christmas. Lithgow Community Transport were an early adopter and saw immediate benefits in terms of time-savings.
2000-2015: The Prep Phase
It would be short sighted to say that Calxa Online was a child conceived in 2016. Realistically, the online app was in the making for over 15 years. Mick's, our CEO, first attempt at budgeting software spans back to the year 2000 coinciding with MYOB's release of the ODBC Driver – kind of a forerunner of an API. It provided external access to the accounting data suiting the extraction of actuals to match up with ones budgets. Straight-away there was no more double handling of data in laborious spreadsheets each month, overriding formulas, missing new accounting rows.
The lessons learnt where later transferred to designing Calxa in 2008 based on a new platform. And so here we are in 2016, with two products, Calxa Express for the single user and Calxa Premier for the departmental budgeter with complex forecasting and reporting needs. Now all this knowledge base, accumulated over time, is made to good use developing the best of breed reporting app. Stay tuned.
January 2017 in Summary
Design Team:
·         Organisation Management
·         Billing and Account Management
Dev Team:
·         'Org V2' (the engine) integration prep
·         CSS continued
27 Jan
"1 week" on billing then let's move on to the big project "REPORTS". Well, 3 weeks later, we are still laughingJ Yesterday we finally closed the billing project after a record-breaking number of wireframes and mock-ups.
08 September 2017: Designing the Budget Builder
So now we are fully back on the Calxa Online project. After a bit of tweaking of the organisation management area, the team will be moving to user management. This is where we are planning some great changes like improving the scope to permission levels providing more flexibility. We will also create new types of users such as a Co-Owner which comes in handy when your team has multi layers.
01 September 2017: New Help Centre coming soon
Some of our peripheral work in the past few months has been the conversion of our Help Centre to a new platform. Whilst not yet visible to the naked eye, the new Knowledge Base is exciting us. It will have a better categorisation system and a great search engine to quickly find the help resource needed. It has a ticketing system which we started testing using it to track open cases. Once live, Calxa customers can log their own tickets and monitor the progress. We will also be able to easily take feature requests.
Our developers are making sure your Calxa log-in will also work for the new Help Centre so you will only have to remember one set of sign in details.